Pope says contemplation of key moments from the past will give you the strength to go forward
Need an idea for Lenten almsgiving?
Help us spread faith on the internet. Would you consider donating just $10, so we can continue creating free, uplifting content?
Make a Lenten donation here
Pope Francis returned today in his morning homily to a theme that he has repeatedly drawn on: the role of our memories in Christian life, in fostering hope, joy, and fidelity.
He described Christian memory as the salt of life. Delving into your memory to relive your first meetings with the Lord is necessary in order "to find strength and be able to continue walking forward," he said.
"Christian memory is always an encounter with Jesus Christ."
The pope has often made this his theme when speaking with groups of religious or priests, particularly on apostolic visits. "Christian memory is like the salt of life," he said today. "Without memory we cannot go on. When we encounter 'forgetful' Christians, we can immediately see that they have lost the flavour of Christian life and have ended up being people who obey the Commandments without spirituality."
The Holy Father said three elements in particular can help us to enliven our Christian memories: Recalling the beginning of our lives as Christians, speaking to our ancestors, and in considering God's law.
Citing the Letter to the Hebrews (10:32), which invites to think back on the early days when you first learned about Christ and remember how you remained faithful, the pope said that in each of our lives there are moments when "Jesus approached us, manifested himself…"
"Do not forget these moments: think back and relive them because they are moments of inspiration, of meeting with Christ."
"Each of us has moments such as these: when I got to know Jesus, when He changed my life, when the Lord showed me my vocation, when the Lord visited me at a difficult time… We all have these moments in our hearts. Let's contemplate them."
The second encounter with Jesus, Francis continued, takes place through the memory of your ancestors, which the Letter to the Hebrews calls "your leaders, those who taught you the faith."
In his Second Letter to Timothy, St. Paul exhorts: "Remember your mother and grandmother as they have transmitted the faith to you."
"We have not received the faith by mail," Francis said, but through those who passed it on to us.
And again, taking his cue from the Letter to the Hebrews, he said: "Look at them who are a multitude of witnesses and take strength from them."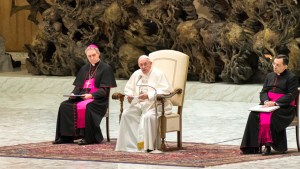 Read more:
Pope Francis on why we strike our breasts at Mass
Finally, the Holy Father noted how in the Gospel of Mark today, Jesus reminds us that the first commandment is: "Hear, O Israel! The Lord our God is Lord alone!"
He said we must have "memory" of the law, which is God's gift to us to direct us on our path to heaven, showing us how to live as human beings. This is not the purely juridical law, he said, but the law of love that God has placed in our hearts.
"Am I faithful to the law, do I remember the law, do I repeat the law? Sometimes we Christians, even the consecrated ones, have difficulty repeating by heart the commandments," the pope observed.
Memory and hope, he continued, go hand in hand. "Remember Jesus Christ, the Lord who came, who gave his life for me and who will come again. He is the Lord of memory, the Lord of hope."
Read more:
Pope Francis: Anchor Your Heart in Hope, Not False Security
Some days ago, Pope Francis spoke of memory as a way to foster joy.
Joy is a fruit of the Holy Spirit, he said, but there's a practical tip for fostering it. The key, he said, is memory.
Memory is the solid rock on which the Christian finds joy, the Holy Father said. Remembering "what the Lord has done for us … regenerates us."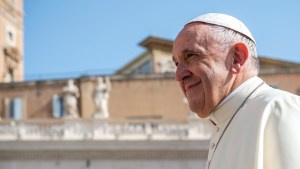 Read more:
Joy isn't living from laugh to laugh, says Francis. Here's what it really is