The Grammy-nominated singer-songwriter discusses God's love and community as expressed in her new album "Sacraments"
What can God do in your life with one Bible verse a day?
Subscribe to Aleteia's new service and bring Scripture into your morning:
Just one verse each day.
Click to bring God's word to your inbox
In the life of the Catholic Church, the seven sacraments are visible signs or rituals instituted by Christ that serve as channels of God's supernatural grace. There's Baptism, Confession, Communion, Confirmation, Marriage, Holy Orders and Anointing of the Sick.
Singer songwriter Sarah Hart has now created an album called "Sacrament," with songs that serve as meditations on these important and timeless aspects of our faith lives, and can also be used during Masses.
The project's genesis came when her daughter was preparing for Confirmation several years ago. Hart looked at the song selection and saw that many of them didn't fit the service. She decided to write a song specifically geared toward the meaning of Confirmation. It's called "May You Walk," and includes the lyrics, "As you are sealed with the truth / So may you seal the truth in your heart. / Write God's word upon your soul / and know you belong."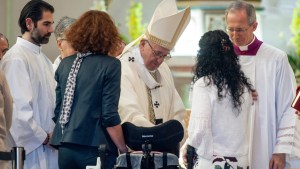 Read more:
A therapeutic oil that represents the Holy Spirit's work?: Pope Francis explains
During an interview with me on "Christopher Closeup," Hart explained that making the album was a refresher course in the sacraments that led her to gain a deeper understanding of each one.
For instance, after reading the Rites of Baptism for guidance and inspiration for the track "Gather at the Water," she said, "There's a little passage that talks about receiving the garment of God. [I thought], what a great image to be receiving! We're not just standing around dipping a baby in water. We are receiving the garment of God's love. We're receiving God's mercy. And the biggest thing is we are receiving the welcome of the community that we're entering….[and] the supernatural welcome of God, where He says, 'Welcome to the family.' That's all a precedent that was set by Jesus when John the Baptist baptized Him. And so, this is an ancient and beautiful tradition and this sacrament has been welcoming people for thousands of years."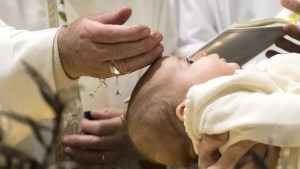 Read more:
Read Francis' endearing homily to new parents at their children's baptism
Hart is also a big proponent of building community in the Church, so her song "To Live With Him Forever," which addresses the Eucharist, focuses on the "communal" part of Communion, which connects us to the body of Christ.
She said, "I can boil that down by telling you one of my favorite lyrics. It's in the last verse and the words say this: 'To the throne of grace we run for help and timely comforts / With faith that He will not reject the flock His heart has purchased.' That's where the whole song points to me: that we take Communion knowing and believing in a God who does not reject us, but accepts us, loves us and expects us to take Communion, and also to give communion to the world. It's one of my big things personally that church doesn't stop at the door. The world is church. Life is church and holiness. So [we take] Communion with the body of believers. We take it with the saints, but we also take it with the whole world because that's where we're meant to share it: with the whole world."
Read more:
Pope Francis: The Eucharist transforms us into "spiritual food for our brothers and sisters"
That theme of community and relationship is also present in the track geared toward Marriage, called "Beloved, Arise," sung with PJ Anderson. Hart said she had her husband in mind the whole time she wrote it, and found inspiration in the Song of Songs. But she also believes the lyrics can reach even further into people's experiences.
"When I do this song in concert," said Hart, "I ask, 'Who's in relationship?' Maybe five people raise their hand. [Then I say], 'I should see every hand in the room go up because we are all in relationship with someone.' So this song applies to us all. And I think it goes a step further in that my second goal is to paint not just the union in marriage, but the mystical union of Christ in his Church. He is calling us all constantly saying, 'Beloved arise… Come with Me. Don't waste your time. Serve Me, love Me, let Me love you, and let's do something wonderful on this planet while you have the time."
That notion of God's love is something Hart tries to convey to her audiences all the time, especially when it comes to young people. The mother of two teen daughters, she said, "Love is a very convoluted thing, especially for our teenagers. It drives me nuts the kind of pressures that we put on our kids that surround dating and dances and proms and prom-posals…So their image of the love of God is mirrored by what they think love is supposed to look like on Earth. And when they discover that the love of God is actually something different – extremely unconditional, extremely vast, has been forever and will be forever – I think once they grab the basic concepts, then it's much easier for them…When I do youth conferences, my goal is to hug as many kids that want to hug me and let them know that God loves them. [I tell them], 'You are loved. You are not just loved but beloved,' which is a totally different thing. You are beloved of God. You were wanted. You were placed here. You are seen and you are heard. That's what our kids need to know."
Read more:
Pope Francis: "Each of us is God's love story"
(To listen to my full interview with Sarah Hart – including conversation about the other songs on her album, the idea of moving beyond politics and into love, and why she believes the chaos of life can also be prayer – click the podcast link below.)