It will not only help you focus your mind and heart, but demonstrate respect for the couple.
What can God do in your life with one Bible verse a day?
Subscribe to Aleteia's new service and bring Scripture into your morning:
Just one verse each day.
Click to bring God's word to your inbox
Some people can still remember wedding celebrations where the only person taking photos was a commissioned photographer or an amateur photographer relative. Today, by contrast, everyone has a camera built into their smartphone, and isn't afraid to use it. Unfortunately, this is starting to have a growing — and not necessarily good — effect on how we experience weddings, how they unfold, and even our memories of them.
Increasingly, wedding guests in English-speaking countries are receiving wedding invitations bearing the word unplugged. We're familiar with the term from "unplugged" pop concerts, played on acoustic instruments instead of amplified electronic ones, so as to create a more artistic atmosphere that's a bit more solemn, more intimate, closer, and even magical. When applied to weddings, the term means that the bride and groom are asking their guests to leave their phones behind for the church ceremony, for similar reasons.
Here's why it's a good idea to have an "unplugged" wedding:
First: Prayer
Prayer is why we meet at a church and not in a photographer's studio or the forest. We praise the Lord and thank Him for the gift of love, and we ask the Holy Spirit to guide and strengthen the newlyweds; that is best done in a specifically sacred setting. Taking photos with a phone in that kind of spiritual setting interferes with our being present in the here and now.
When you listen to the Gospel, profess your faith, and listen to the wedding vows, you need your heart and mind — not your camera — to be focused. We all know how annoying it is when you're in a conversation with someone, and they are fiddling with their phone instead of listening or responding to you; the same applies when, during the liturgy, we are supposed to be listening to God and talking to Him.
When the phone is at home, or in the car, or simply deactivated in your purse or pocket (not muted or in flight mode, but OFF), there is no temptation to pull you away from this wonderful reality.
Second: Community
A marriage usually involves many people — family, friends, coworkers, church groups, etc.It's not an accident that you're there, and in that moment you're all joined by a particular spiritual bond. When someone raises a phone over everyone else's heads, the sacredness of the moment is weakened; you're not just distracting yourself, but those around you as well.
You might even be distracting the priest, who faces a challenge in trying to concentrate on saying the sermon when he is clearly not being listened to by people who are only looking for the right angle to take a photo. In the name of brotherly love, it might be worth giving up that little pleasure in order to respect other people's concentration, prayer, and duties during the liturgy.
Third: Photographer is at work
This is another reason to leave your phone in your purse: there's usually a professional photographer whose job it is to document the event. Increasingly, the photographers have a problem doing their job, because the clients expect beautiful portraits of guests, and in almost every shot there are people with smartphones blocking their faces. You could say, "Well, that's what it's like these days," but perhaps you could just not use your phone under such circumstances.
You should take into account that the bride and groom often ask the photographer to get especially good photos of particular situations — the vows, the kiss, or maybe the sign of Peace. Sometimes the photographer isn't able to take a good picture because the guests and their phones are in the way. Don't be one of them. Leave your phone in your pocket.
Fourth: Just be present
Among the attendees of a wedding, there are often people who haven't been in a church since their baptism or their first communion, if ever. They simply don't know what's going on. They could be a bit confused, and tempted to take photos to keep busy and hide their feeling of awkwardness. If you're one of those people, I can tell you that you don't need to do anything. Just be present.
Not using your phone helps you to live the moment and participate more intensely. When you feel very strong emotions — being thrilled by the bride's wedding dress, or moved when the bride and groom say their vows — emotions grab you by the heart. However, the immediacy and impact of such things is diminished when, instead of experiencing them directly, you're looking at it all on the screen of your phone. The bond between you and them at that moment is weakened by the presence of an electronic intruder.
There are even scientific studies showing that when we take photos of things or events with our phones, we tend to remember them more poorly than if we focus just on what is in front of us. So, if you want to be truly present, turn off your camera, put away your phone, and then, afterwards, you can enjoy your memories and talk about the actual event, not about the photos you took.
The most beautiful, most important, and best thing that you can give the bride and groom on their wedding day is your presence, sincerely experiencing the joy of their marriage covenant, joining them in reverent prayer, and ensuring that the most precious memories will be not on your phone, but in your heart. A pro can take care of the photos.
Read more:
Why I skipped a popular Catholic tradition at my sacramental wedding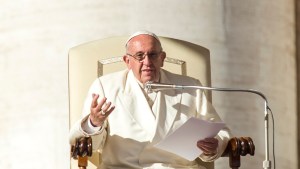 Read more:
The Mass isn't a show, says pope, chiding those who take cell phone pictures during liturgy