Morgan Neville's examination of the life and legacy of Fred Rogers in 'Won't You Be My Neighbor,' is now in theaters.
What can God do in your life with one Bible verse a day?
Subscribe to Aleteia's new service and bring Scripture into your morning:
Just one verse each day.
Click to bring God's word to your inbox
Summer is a time of must-see blockbusters — at least for those of us who must see them. Superhero fans clamored for Avengers: Infinity War and Deadpool 2, and eagerly await Ant-Man and the Wasp (July 6). Solo: A Star Wars Story made more than $100 million its first weekend. Pixar's Incredibles 2 and Universal's Jurassic World: Fallen Kingdom are still to come.
I like all of these big-budget, CGI extravaganzas just fine.
But the movie I most wanted to see this summer and did? A low-budget documentary called Won't You Be My Neighbor, which opened this weekend in select theaters and will roll wider in the coming weeks.
I wasn't disappointed.
In the movie, Oscar-winning director Morgan Neville trains his lens at the career, philosophy and heart of Fred Rogers, the unassuming Presbyterian minister who created the most enduring of children's shows, Mister Rogers' Neighborhood. For parts of five decades, Rogers took young viewers by the hands and led them to his peaceful, pleasant world — both his fairly realistic "neighborhood" and, accessible via trolley ride, the Neighborhood of Make-Believe.
I was one of the kids to whom Rogers' talked across that "holy ground" (as Rogers says in the movie) between his cameras and my television screen. I learned a lot from him back in the day: How to tie my shoes, how to tell the truth even when it's hard, how you can never go down the drain. But watching Won't You Be My Neighbor, I learned — or re-learned — some stuff from Mister Rogers as an adult, too. So why don't you take off your shoes, slip on a sweater and let me tell you all about it?
Ritual is powerful stuff
Every episode of Mister Rogers' Neighborhood began the same way: He'd walk in, singing. He'd take off his suitcoat and put on his sweater. He'd take off his shoes and put on his sneakers. For more than 900 episodes, this opening ritual was as reliable as death and taxes. He had other rituals, too: feeding the fish, talking to Picture Picture, bringing out the trolley. Sure, Mister Rogers gave us variety, too — a tour of a factory or a visit from Mr. McFeely or even a funeral for a dead goldfish. But Rogers' routine — his ritual — allowed young viewers (some of whom might've had precious little stability in their own homes) to slip into the show as comfortably as Rogers slipped on his sneakers and deal with whatever upheaval might be in the offing, either on or off-screen.
We've lost some of our appreciation for ritual today. We forget how it can calm and focus us. One of the few places we find it, honestly, is in the confines of church — the comforting cadence that allows us to turn away from the chaos in our own lives and look toward God. I find when I have routine and ritual in my own life — my half-hour breakfast time, with an old-fashioned newspaper at the table and two cups of coffee — that it makes the other 23-and-a-half hours go more smoothly.
You don't have to be loud to make a difference
Don't let his quiet demeanor and gentle voice voice fool you. As Won't You Be My Neighbor shows us, Mister Rogers was a revolutionary. His very first week on the show, the show tackled the war in Vietnam. When he soaked his feet with the African American Officer Clemmens, he did so when Southern hotel owners were throwing bleach in their pools where blacks were swimming, hoping to drive them out. He convinced hard-bitten politicians to keep funding for PBS flowing and pushed tirelessly for people to create more shows like his — shows that took their young viewers seriously. The fact that he lost that battle, year after year, didn't stop his fight.
We live in a noisy world, and it's easy to imagine that what we say isn't as important as how — and how loudly — we say it. Mister Rogers (who died in 2003) would've been out of step in our time, but he was out of step in his, too, filled as it was with raging, sometimes violent protests and its polarized politics. But no matter: He continued to remind us, in his own gentle voice, that a whisper, well-thought and well-placed, is far more powerful than any amount of pointless bluster.
Listening is beautiful
"To Fred, silence was his delight," we're told in the movie — a statement followed by a montage of moments when Mister Rogers, almost awkwardly, never said a word on camera. It's a funny segment, but it illustrates perhaps the real power behind Rogers' appeal. He listened: He listened to his guests, his viewers, the world around him. We see him staring intently at children as they tell him their secrets — sometimes funny, sometimes painful, sometimes profound. He never looks as though he's thinking of something else, or that he would rather be elsewhere. In that moment — in seemingly every moment — Mister Rogers' attention is focused, and focused fully, on who he's talking to. Rather, who he's listening to.
I used to think of myself as a pretty good listener. I'm not sure if I could say that anymore. As we get older, it seems, the more we imagine we have things to say … and that what we have to say is more important than what anyone else does. Sometimes there may be truth to that: Mister Rogers certainly knew more about a lot of things than his young fans. But he always gave them the floor and, by truly listening to them, he knew that much better about how to speak into their hopes and dreams and pain. If only we could all be so wise.
You are loved
Not everyone was so enamored with Mister Rogers. Toward the end of the film, we see that some thought that his tireless message of self-worth and self-acceptance — "I like you just the way you are" — created a nation of weak-willed snowflakes, expecting the world to be handed to them on a golden plate simply because they were so special.
But Mister Rogers was never about entitlement: He was simply following the model of love that God shows us every day. We are loved. We are, despite our flaws and failings, lovable. We are special. And because we can go into our lives with the confidence that we are both loved and lovable, that makes us want to love back. We want to grow.
"Love is at the root of everything," Mister Rogers said. "All learning, all relationships. Love, or the lack of it." It's so true. When we feel love, we feel the confidence to move forward, to take risks, to dare. When we don't feel that love, we cower back, afraid. A child who feels love is a child primed to make a difference in the world. And the same can be said of us.
Mister Rogers did a lot in his life. He helped shape a lot of kids, and mostly for the better. And he did it all with kindness, sincerity and without ever raising his voice. We could learn a lot from him, even today.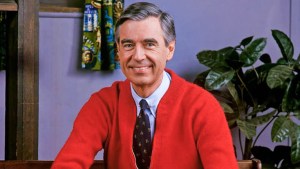 Read more:
It's been 15 years since Mister Rogers died, but he's still with us