The four cardinal and three theological virtues don't come easier with age, even if perspective does.
What can God do in your life with one Bible verse a day?
Subscribe to Aleteia's new service and bring Scripture into your morning:
Just one verse each day.
Click to bring God's word to your inbox
Since I am beyond age 65, someone thought I'd be up to writing about how older people – that would obviously include me, and thanks for noticing – might find a greater freedom to develop the Seven Virtues within themselves.
I take from this that whereas younger people, still beset by the great temptations of life, might have trouble working virtue into their tight schedules with job, kids, school, marriage, et cetera, older folks might find it a snap, since they virtually have nothing else to do save grow even older.
It is an amusing notion. Somewhere post-age 65 the Christian life becomes easier, and becomes still easier as the years roll on. It's not exactly belly-laugh-rolling-on-the-floor amusing; arthritis may naturally inhibit any floor rolling.
In any case, I don't think it's at all true. That's because as I've discovered much of life actually becomes harder, physically and spiritually. The limitations of age do abrade both body and spirit, and some days it's not easy to say which governs which with an upper hand.
There was a time, I admit, when I thought growing older would bring deeper wisdom, greater confidence, and tamed passions. But, no, that isn't so. Not for me at any rate. Longevity simply extends the time where ambitions range wide and sin still seems to standardize my life.
Let me pause here and describe the Seven Virtues. There are two sorts, Cardinal (4) and Theological (3).
The Cardinal virtues are: Prudence (assessing the consequences of doing or not doing something; thinking ahead in short), Justice (which shapes our dealings with others), Fortitude (courage or an enduring patience), and Temperance (moderation connected to reason where life becomes more than mere appetite and a search for easy living).
That's four of the seven. These are not specifically Christian or rather they are not for Christians only. These sorts of virtues seem to be instinctive to the aspirations of all humanity, something God planted for us to discover on our own, Christian or not.
One may find common virtues littered across the history of ancient literature, from Egypt and the Near East to Aristotle and Plato in Greece and to the Roman emperor, Marcus Aurelius, and perhaps from dozens of places and people in between. Though conditioned by the cultures where they arose, they seek universal truths and express them in remarkably uniform ways. Ecclesiastes – another ancient wisdom book — puts it, God "has planted eternity in the human heart, but even so, people cannot see the whole scope of God's work from beginning to end." (Eccl. 3:11)
We cannot see the entire scope of God's work. That, in part, is why the Theological virtues show up. While the Cardinal virtues are accessible to everyone, by reason and observation (largely of watching what we bring upon ourselves when we mess up), the Theological virtues are gifts from the hand of God, revealed by him.
These are faith, hope, and charity (love), listed by St. Paul in First Corinthians 13:13. You'll hear them read mostly at weddings, is my guess. But in context they had nothing to do with marriage. They had everything to do with the Body of Christ, the Church.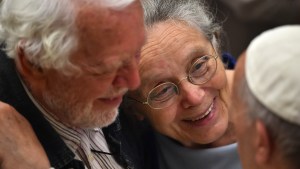 Read more:
Pope reveals most important virtue for marriage
Paul was dealing with squabbles in the church at Corinth. There were many but two will do here. Who had the "superior" spiritual gift? Was it healing or speaking in tongues? Communion practice was chaotic. Whatever you're doing, he told them, it's not the Lord's Supper. (11:20) If you can't discern the Body of Christ in the body of your brother and sister, you're not likely to find him in the Bread, either.
If you think your parish is a little scratchy now and again, read First Corinthians. After you've spent some time with the Corinthians, whatever's going on where you are is a Sunday picnic.
It was in this discussion of spiritual gifts that Paul declared three gifts that eternally abide: Faith, Hope, and Love. Of these, love — the mutual regard and respect we reveal to one another through Christ — is the greatest.
And reveal is the right word. These are theological virtues because, as Aquinas understood them, they point us to God, and it is God who gives them as gifts, endowing them upon us by his Spirit. Naturally, as gifts given, we ought to say thank you and tend them well.
In my post-65 life, the virtue of mindfully practicing the Seven Virtues — for an old guy like me — is the same for anyone at any age. I see my failures in clearer light, and pray again for Christ to turn my heart to God.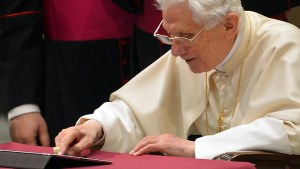 Read more:
Seeking truth is the "golden thread" of Benedict XVI's life, says longtime secretary