Gloria Thurn und Taxis may be a member of the German nobility, but faith guides her life and decisions.
What are princesses like today, and what are their lives like?
We wondered this before meeting Gloria Thurn und Taxis, who was known in the 1980s as an international jet-setter and wife of the now-deceased Prince Johannes von Thurn und Taxis of Germany. (While Germany is no longer ruled by a monarchy, and the noble families lost their legal privileges a hundred years ago, they continue to use and pass on their titles.)
Princess Gloria welcomed us with simplicity at her house in Rome and opened her heart to us in an impassioned conversation, starting with the role of faith in her life …
Aleteia: Have you always been a Christian believer?
Princess Gloria: I grew up in a very Catholic family, and my grandparents played a big role in all of this. My Russian grandmother was Orthodox, while the other was Polish and Catholic. We also prayed together with my parents before eating, and before going to sleep, and we always celebrated Sundays and the various holidays by going to Mass.
Ever since I was a little girl, I realized that I needed to give direction to my life, to choose to be on the side of good or evil. And there's an image, a dream that I've carried inside me since then: I knew that listening to the devil would mean promises of great success, whereas with the angels I'd have a beautiful life, but [only] at the end of my life. I wanted to work with the angels.
In the '70s and '80s, when I became a young adult, leaving home, religion no longer played that important role in my life, as it had when I was a child. But then, when I was a young wife and I became a mother, I wanted to give my children a Catholic education. The most important thing I tried to pass on to them is absolute trust in heaven. Even though faith is a gift.
What does it mean for you to be a committed Catholic?
I owe a lot to an aunt of mine, a Benedictine nun who always told me that I should put my name at the service of the Lord; my fame should serve to help show the beauty of the Gospel.
I made that invitation my own, and I understood that I wanted to promote Catholic life, the [Catholic] lifestyle on all occasions, even with the press.
Another important element of my faith are reference points in the Church. I was educated in Regensburg and I understood very quickly that, if I wanted to be in the Church, I needed to understand it better and needed to have priests to turn to, with whom I would have a relationship of trust and friendship. So, I found a network of priests. Among them was also then-cardinal Ratzinger, who came to Regensburg for his vacations and with whom I established a good rapport.
Do you believe in Providence?
I've always let myself by guided by events, by Providence, by what is good. But in particular by my [guardian] angel, to whom I entrust myself completely. Msgr. Josemaría Escrivá used to say that when he had to go through a doorway, he always let his angel go first. And that is the relationship that we should have with our own guardian angel. I don't feel his presence, but I know he's there.
After the death of your husband, you found yourself having to raise three children alone. Where did you find the strength?
A strong, "habitual" faith and the network of the Church were my support. During those days, there were many people who wanted to take advantage of me, of the fact that I was alone. But the fountain of my faith nourished me and I succeeded.
I entrusted myself to the angels, and they guided me. They helped me in many ways; for example, putting people in front of me whom I needed at that exact moment. Entrusting myself to the angels has been the best decision that I could have made, and also the most appropriate for my character, because I don't like making plans, but I want to be open, trusting.
How do you take care of the "least"?
For almost 100 years, our family has systematically taken charge of organizing a "soup kitchen" for the poor, within the castle of Regensburg, in the very beautiful dining room of the Benedictines.
In 1919, also in Germany, after the war, there was a great deal of poverty, and the people were hungry. My husband's grandmother opened this service for the poor.
When I was widowed and I found myself administrating my husband's patrimony, having to make cutbacks, I asked myself if I should close that institution, given that in our day that post-war hunger didn't exist anymore. But before making a decision, I had a study done, and the results showed that in wealthy Germany there are people who go hungry. Today, the new poor are students and the elderly. The elderly live with very little, and for them a hot meal is often the only meal of the day. This is why I decided to leave that institution open; we haven't publicized it, because in our mentality, you do good and you don't publicize it.
What is your favorite prayer?
Every day, I have a list of prayers in German; in particular, I pray to the Holy Spirit, and I don't neglect to turn my prayers many times during the day to the angels Gabriel, Michael, and Raphael. And naturally, the Rosary to Our Lady. When I can't fall asleep, the Rosary is the best gift from heaven. My life's motto is: "Place before me, O Lord, what I should do, give me the vision to see what I should do." Because of this, Heaven knows me quite well!
Many people would envy your social status. What would you say to them? What is really important to you?
Certainly, being the T&T princess is wonderful, but I could have lived closed up in my castle; instead, I chose to live outside, among the people. My aunt, the nun, always said that I should be among the people, because through my life, I could make them fall in love with the Lord. And, that's what I do. For example, in Germany I participate in televised quiz shows, and even if we talk about superficial things, I always have the possibility of raising something profound.
We know that you had a great friendship with the pope emeritus, Benedict XVI. Who is Joseph Ratzinger, seen close up? Have you met with him recently?
I saw the pope before Christmas. He really is the same person, just a few years older. He has his usual curiosity about life, and he always wants to laugh. Since he resigned from the pontificate, he's gone back to being himself.
Your greatest dream?
As far as my dreams go, I've already done everything I could wish for. What I want for my children is that they find a partner who will help them to grow in their faith.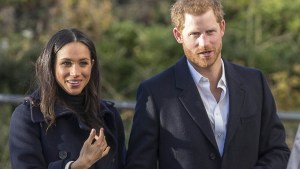 Read more:
Future princess Meghan Markle looks to her Catholic education for inspiration
Read more:
The princess who was kicked out of her castle for serving the poor