Eustace is an early martyr and a legendary saint. He found Christ because he sought the truth.
What can God do in your life with one Bible verse a day?
Subscribe to Aleteia's new service and bring Scripture into your morning:
Just one verse each day.
Click to bring God's word to your inbox
Coming across this video from a church of St. Eustace in France, we couldn't help but be reminded of the story of this saint and the role of a stag in his conversion. It seems almost too much to be coincidence, but any occasion is a great one to learn about the saints.
Here's his story.
At the beginning of the second century there lived in Rome a man named Placidus. Placidus was the commanding general of the Roman army under Emperor Trajan. He was an outstanding soldier. He was married to a woman who loved him dearly and respected him. He also respected her, and they had two sons.
Even though they worshipped pagan idols, Placidus and his wife always gave alms to the poor and helped the needy. They knew nothing of Jesus Christ, but indeed, God had filled them with the graces to perform the corporal works of mercy. They responded to these graces. Many people receive these graces and ignore them. That is what is known as "making choices."
Placidus was a great hunter and loved to spend spare time hunting with his soldiers. But there was one day that would change his life forever. He was riding through the woods with his men, following a herd of stags. In unison, the herd would turn left and then turn right.
The men did their best to keep their eyes on the fleeing stags. Suddenly, one of the stags broke from the group and took off on his own. Placidus, telling his men to continue, turned his horse and followed the lone stag, which led him deeper and deeper into the forest. Placidus tried to catch up to the stag but, try as he may, he could never quite get to it. Finally, the stag stopped.
Placidus reined in his horse and also stopped. He realized that they were on top of a high peak. Placidus quickly began planning how to catch the prize stag. Then the stag turned to Placidus and began staring at him. The magnificent animal had tremendous antlers.
Placidus became transfixed and just stared. Between the antlers was a bright light and within the light was what appeared to be a cross. On the cross was the image of a man. Then Placidus heard a man's voice coming from the stag. "Oh Placidus, why are you pursuing me? For your sake, I have appeared to you in an animal. I am the Christ, the only True God."
Jesus told Placidus that it was his acts of mercy that had led Him to appear to him like an animal. Jesus told him that He could read all hearts and knew that Placidus searched for the truth. He was told that anyone who searches for the truth with good will, will always find Jesus.
Placidus, filled with fear, fell from his horse. When he recovered, Jesus explained who he was. Placidus said, "Lord, I believe you are the Christ, and that you made all things, and that you convert the erring."
Placidus was instructed to go to the bishop of the city and get baptized. He was also told to have his wife and sons baptized. Jesus told him he would come back with further instructions. Placidus went home, woke up his wife, and told her what had happened. Incredibly, she told him that she had a similar "dream" and knew what he was going to tell her.
They gathered the children and left immediately for the home of the Bishop of Rome, the pope. The Holy Father was thrilled with his new converts and gave them new names. Placidus' wife would be called Theospis, their one son, Agapetus, and the other, Theospitus. Placidus from then on would be known as Eustace.
It is recorded that Eustace and his family did experience much hardship after their conversion. But they were exalted in the richness of the Spirit and did not suffer long. It is reported that Eustace was martyred in the year 118, which would have been under the papal reign of Pope St. Sixtus I. How Eustace and his family died is not definitely known.
Saint Eustace's feast day is celebrated in the Roman Catholic Church and Eastern Orthodox Church on September 20. Eustace is the patron saint of hunters, firefighters, a patron of Madrid, Spain, and one of the Fourteen Holy Helpers of the Church.
St. Eustace, pray for us.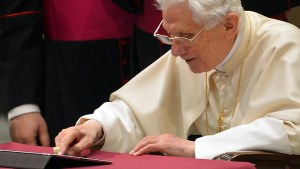 Read more:
Seeking truth is the "golden thread" of Benedict XVI's life, says longtime secretary