Here's a reason to push through the exhaustion and sweat a little.
What can God do in your life with one Bible verse a day?
Subscribe to Aleteia's new service and bring Scripture into your morning:
Just one verse each day.
Click to bring God's word to your inbox
One of the most common objections I hear when I talk to people about working out is this one: "I'm already exhausted — all my energy goes to my job/kids/life, and I just don't have any left to spend on exercise."
It's not that I don't understand why people think this is true — trust me, I totally get it. I get up at 4 a.m. and train my CG camps until 8 a.m. By that point, the last thing I want to do is go exercise … in fact, I usually want to do nothing except go home and take a nap.
But as often as possible, I make myself hit up a different camp nearby or go home and beat up the punching bag for an hour. I don't do it because I'm addicted to exercise or terrified of gaining weight — I do it because I have five kids and a full-time job, and I need every single ounce of energy my body can create. And one of the most effective ways to create energy is to exercise.
Yeah, I know what you're thinking: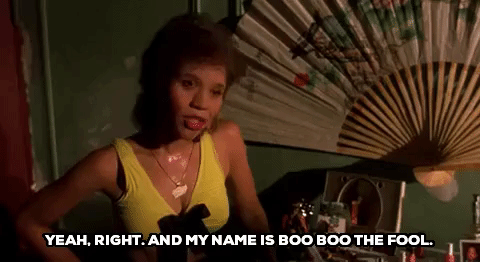 But it's true, and I can prove it two different ways: through science, and through experience.
Science first, kids — exercise increases energy basically through the law of supply and demand. Our body produces what we need to survive, and if the only thing you need to survive on the daily is a walk to the fridge and/or bathroom in the middle of your Netflix binge, guess how much energy your body is going to produce? Exactly enough to get you through the rigorous demands of season 4 of Blacklist. If, however, you start consuming more energy (in the form of exercise, not additional fridge prowling), your body will literally create more energy-producing organelles so your energy supply meets your increased demand.
Working out actually does increase energy. One of the big reasons why a little exercise can go a long way when it comes to energy is because of a little organelle known as the mitochondria. Our body responds to our energy needs. When we work out, we need far more energy than we do otherwise. One of the ways our bodies respond to that demand for more energy is to create more mitochondria. So yes, while working out obviously takes a lot of energy, it also creates a lot of it too.
The important thing to note here is that it takes a little bit of time for your body to respond to your increased energy consumption and create the necessary mitochondria to meet it. This is why that first week or two of exercise is usually such a beating — you are consuming more energy than your body is used to creating, so you feel exhausted while your body is making adjustments.
But if you've ever stuck with an exercise regimen, you've no doubt experienced the almost miraculous energy rebound that happens a few weeks in. Suddenly, you don't feel drained after you exercise — you feel energized, excited, motivated, and happy. You find yourself tackling projects you've been putting off because you haven't had the energy — like cleaning out that guest-room closet full of the remnants of a thousand half-completed puzzles, or finally switching your family's closets to summer mode and packing away all that snow gear.
The best part is, this extra energy doesn't dissipate at 3 p.m. like the effects from your morning coffee. It stays with you, pushing you through your day like that mid-afternoon slump isn't even a thing for you. As long as you stick with it (making sure to increase your exercise intensity as your conditioning improves), exercise will be like a natural battery-pack for your body, mind, and spirit. Like me, you'll find yourself exercising when you're tired because you'll know that while a caffeine buzz wears off, an exercise buzz keeps you moving until your day is done. And bonus — exercise also gives you the gift of delicious truly restorative sleep.
So the next time you're tempted tell someone — or yourself — that you're just too tired to exercise, remember the truth: you're too tired because you don't exercise. Then get out there and sweat a little!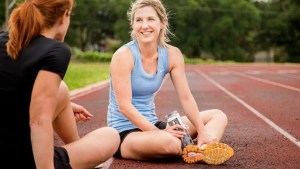 Read more:
Changing up this one thing in your workout routine will make exercise seem easier