Francis says we have to arrive at the threshold of taking a leap ...
What can God do in your life with one Bible verse a day?
Subscribe to Aleteia's new service and bring Scripture into your morning:
Just one verse each day.
Click to bring God's word to your inbox
If you're given the choice between an imitation and the real thing, who would settle for imitations? That's the question Pope Francis posed today as he started a new audience series on the Commandments, directing his question especially to youth. Mediocrity, he said, is the real danger youth face.
Springing from the Gospel passage of the young man asking, "What must I do to inherit eternal life," the Holy Father proposed a path to living truly and living nobly.
"How many young people seek to 'live' and then destroy themselves in the pursuit of ephemeral things," he lamented.
Some think the impulse to truly live is dangerous, Francis said, but, "I would like to say, especially to the young: our worst enemy is not concrete problems, however serious and dramatic they may be."
Rather, he said, the greatest danger in life is mediocrity,pusillanimity: "Blessed Pier Giorgio Frassati – who was a young man – used to say that it is necessary to live, not to get by. The mediocre get by."
The pope said that young people are meant to keep going forward, to have a "healthy restlessness" and refuse a life "without beauty, without color."
But how?
Francis reflected: "The question of that man in the Gospel passage we have heard is within each one of us: How do we find life, life in abundance, happiness? Jesus answers: 'You know the Commandments' and cites a part of the Decalogue. It is a pedagogical process, by which Jesus wishes to lead to a precise place: Indeed it is already clear from his question that the man does not have a full life, he seeks more and he is restless. What must he therefore understand? He says: 'Teacher, all these I have kept since I was a boy.'"
The pope then explained how the step to maturity, from youth to adult, is made when we begin to accept our own limits, to become aware of what's missing.
This character from the Gospel has to accept that all that he can do is relative.
"How good it is to be men and women!," the pope exclaimed. "How precious our existence is! And yet there is a truth in the history of recent centuries that man has often refused, with tragic consequences: the truth of his limits."
Francis explained that Jesus in the Gospel "says something that can help us: 'Do not think that I have come to abolish the Law or the Prophets; I have not come to abolish them but to fulfil them.'"
"The Lord Jesus gives fulfilment, He came for this," the pope continued. "That man had to arrive at the threshold of taking a leap, where there opens up the possibility of ceasing to live for oneself, one's own works, one's own goods and, precisely because full life is lacking, leave all to follow the Lord. Seemingly in Jesus' final invitation – immense, wonderful – there is not the offer of poverty, but of wealth, of the true kind: 'One thing you lack… Go, sell everything you have and give to the poor, and you will have treasure in heaven. Then come, follow me.'"
Who, given the choice between the original and an imitation, would choose the imitation? Here is the challenge: to find the original of life, not the copy. Jesus does not offer substitutes, but true life, true love, true wealth! The road of what is missing passes through what there is. Jesus did not come to abolish the Law or the Prophets but to fulfill. We have to start from reality to make the jump to "what is missing." We must scrutinize the ordinary to open ourselves to the extraordinary.
The Holy Father said that in the coming catecheses, he will consider the Ten Commandments "hand in hand with Jesus, to pass from the illusions of youth to the treasure that is in heaven, walking behind Him."
"We will discover, in each of those laws, ancient and wise, the door opened by the Father Who is in heaven because the Lord Jesus, who has passed through it, leads us into real life. His life. The life of the children of God."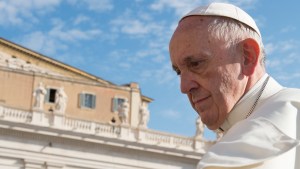 Read more:
Pope proposes this 14-word beautiful prayer for when you're losing hope