Even if you sit at a desk all day, there are ways to significantly counteract the health risks.
What can God do in your life with one Bible verse a day?
Subscribe to Aleteia's new service and bring Scripture into your morning:
Just one verse each day.
Click to bring God's word to your inbox
I turned 34 last month, and found my first gray hair that very same day.
I didn't greet the discovery with horror — I've been eagerly anticipating going gray for years, in the hopes that my hair turns solid silver and I look like a totally awesome X-Man. But I did add it to the list of "reasons I'm not getting carded at the liquor store anymore" … a list that includes the perma-wrinkle between my eyes and the smile lines around my mouth.
It's interesting, in a detached way, to watch my body begin to reflect the fact that I'm rapidly approaching middle-age. I think it would be depressing, alarming even, if I felt like I was getting older. But actually, I feel a lot better than I did in my 20s — mostly because I'm in better shape now than I was in high school, given that I spend my days constantly moving and exercising.
According to HealthyWay, one of the absolute fastest ways to accelerate the aging process and decrease our lifespans is to spend your days the way I spent so many of mine a decade ago — sitting down.
The sedentary lifestyle is literally killing us … And the problem goes deeper than a simple lack of exercise, says Heather Hamilton, MD, a family medicine physician at Memorial Hermann Convenient Care Center in Houston.

"This is not just about getting regular exercise, but also pertains to prolonged periods of sitting," Hamilton tells HealthyWay. "Recent studies show that sitting too long can lead to higher mortality and early death. One study even indicated that standing up every 30 minutes throughout the day can have similar health benefits as quitting smoking."
For people with a desk job, this presents a serious risk. Even if you religiously spend an hour in the gym before or after work, you're not offsetting the damage done through eight hours of sitting. You're not even breaking even.
Luckily, there are simple ways to address the dangers of the seated position. One of them is by using a standing desk, a choice growing in popularity throughout the US. But standing desks aren't always cost-effective or practical — particularly if your place of employment frowns on them.
If you're in that boat, you can still offset the effects of sedentary work by getting up every half-hour and moving around. You don't have to drop and give me 10 burpees or anything either (although you COULD!); even something as simple as walking down the hallway to the bathroom or water cooler, going up and down a flight of stairs, or swapping your swivel chair for an exercise ball can dramatically improve your health.
And when you do put in your gym time, don't zone out on a treadmill or a stationary bike. Cardio is good, but it's not enough. One of the best ways to prevent age-related decline in muscle strength and mass is by incorporating strength training into your exercise routine.
So lift those weights, and make sure they're heavy. Lifting heavy weights not only helps you maintain your muscle strength, it also increases bone density and can protect you from developing osteoporosis later in life. This is especially important for women, who lose bone density when their estrogen declines post-menopause.
If you want to live your best life well into your later years, it's vital to start taking steps now to keep your body healthy. Start by taking literal steps away from your desk or couch, and keep picking up heavy stuff even when people offer to give you a hand. You can still lift those grocery bags — and you should! It'll help keep you strong and young, even if you never get carded for beer again.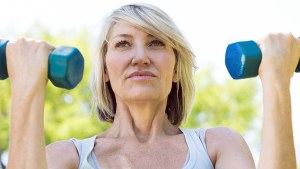 Read more:
The critical change you need to make to your exercise routine as you age