You might hate what they like, but it can bring you closer.
What can God do in your life with one Bible verse a day?
Subscribe to Aleteia's new service and bring Scripture into your morning:
Just one verse each day.
Click to bring God's word to your inbox
When I was a teen, tentatively beginning to discover who I was apart from my family's identity, I did what everyone my age was doing … I reinvented my identity around the music that inspired me. I remember feeling like whole worlds of unplumbed depth were waiting for me, hidden in the lyrics, of, say, "Don't Stop Believing."
I'd hear self-confidence in one voice, and try to imitate it. I'd hear love and longing in another, and feel so much less alone. Being a teenager is nothing to laugh at; it can be an intense and difficult time of life, and for me, as for so many others, the music I liked was a source of comfort and inspiration.
I don't think my parents, who were tremendously loving, saw it, though. Once or twice, I tried to play something for them that I thought was profound enough to stop a beating heart. But when it wasn't met with much interest, I stopped trying. I didn't want to risk further embarrassment. (In their defense, I can't even listen to that stuff anymore; it's pretty sappy.) But even though my taste in music is different now, I remember how much I wanted that shared connection, for somebody I loved to say, "Oh, I can see how much this moves you."
A study out of the University of Arizona actually confirms my experience. It concluded that while listening to music with kids of any age improves your relationship with them, "the effect was most pronounced for shared musical experiences that took place during adolescence." Sandi Wallace and Jake Harwood, co-authors of the study, say that sharing a musical experience does two things for you:
First, it "coordinates" your relationship. You're each hearing the same song, so your separate worlds have come together for the moment. For a teen, who honestly feels like he's the only one who's ever been through what he's going through, it's a powerful thing to share an experience in his own world. It's a gesture of love that won't go unnoticed.
Second, it fosters empathy. Listening to music can be a profoundly emotional experience, and listening to that music together breaks down walls. To feel an emotion is to be vulnerable, and sharing that emotion with somebody who loves you may remind you how much you still have in common. Even if you can't understand why on earth your teen loves that song so much, you can at least see that what he feels is real. It challenges you to try to understand him, and making the effort will show him that he's worth the effort.
You don't have to love your teen's taste in music for this to make a difference. And you certainly don't have to make a big deal about it. But try letting them pick the station when you're in the car together, or when they mention, offhand, that there's a particular artist they've discovered, ask them to show you a few of their favorites. You might be surprised how much they light up. And you never know … maybe you'll find a new favorite of your own in the process.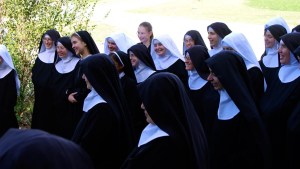 Read more:
Meet the chart-topping Benedictines of Mary and their music