Celebrities are just the tip of the iceberg.
Two celebrity suicides last week have shaken and worried many people. Social media has been flooded with reactions to the sad, shocking news about Kate Spade and Anthony Bourdain.
These tragic deaths have led many people to wonder what's going on. The fact is, these deaths are a reflection of the global increase in suicide cases, whose victims are men and women of all ages. According to the World Health Organization (WHO), there are 800,000 suicides in the world per year, and over the last 45 years, the rate has increased by 65 percent. The WHO estimates that by 2030, depression, which is associated with suicidal behavior, will be our most widespread disease.
Why is the suicide rate increasing?
Suicide is a complex problem, but there are some things we can say about the possible causes of this growing epidemic.
A changing world
First, the accelerated changes in our modern-day lives can weaken the protective factors of mental well-being, such as (among other things) strong personal relationships, healthy exercise, and contact with nature. In a globalized world, mobility for reasons of education and work can easily lead to displacement, and technological advances are creating a highly unnatural environment to which we have not yet fully adapted. We are becoming fish who have taken ourselves out of the water; it shouldn't be a surprise that many of us are desperately gasping for air.
Disconnectedness
The growing technological connectedness born of the internet and mobile technology can, paradoxically, be alienating; interacting with an ever-increasing number of people through artificial means can result in more superficial relationships and a lack of true human warmth and depth. Our relationships start to be ruled by artificial intelligence algorithms, and are therefore weaker and more fickle. They're not entirely controlled by whom we want to be with, but rather are highly influenced by how massive companies can make money off of us. This can lead to a sense of disconnectedness, unless we use online tools as means to facilitate real human, face-to-face connections.
Dissatisfaction and unrealistic ideals
People's increasing disconnection from each otherand from themselves goes hand-in-hand with a greater desire for productivity and consumption, leading people to demand more and more from themselves without letting themselves rest. The dominant culture teaches us that success and happiness look like youth, beauty, travel, popularity on social media, and owning the latest tech — and not relationships, love, compassion, faith, and making the most of what you have.
The constant feeling of loneliness
As a consequence of the above, more and more people feel empty when they realize that all their efforts to acquire and consume things fail to give meaning to their life. They feel alone, because in that quest for a mirage of happiness and success, they fail to create solid human bonds.
The presence of mental disorders
Nearly half of the people who commit suicide have been previously diagnosed with some form of mental illness. Besides genetic and other medical factors, there can be many difficult circumstances that lead to a state of depression, such as constant bullying, abuse, past trauma, the loss of a loved one, serious illnesses, a relationship crisis, etc. Sometimes, the problem can even be due to a chemical imbalance caused by medication.
Concrete advice in such situations:
Whether it is you or someone else, in cases of suicidal ideation, people need immediate treatment that effectively addresses the core of the problem.
If you are the one having suicidal thoughts …
Seek help, right away. For immediate assistance, talk to a trusted family member or friend, to your mental health professional (if you have one), and/or to a suicide hotline, such as the National Suicide Prevention Lifeline (in the USA: 1-800-273-8255). Wikipedia maintains an international list of suicide crisis lines. Once the immediate crisis is overcome, it's important to seek more long-term help through therapy from a qualified psychologist and/or psychiatrist, who can help you identify and try to remedy the possible physiological, psychological, social, and other factors contributing to your situation.
If you think someone you know might commit suicide …
Contrary to popular belief, in most cases people who think about committing suicide will warn friends or family, directly or indirectly. If you suspect that someone you know is having suicidal thoughts, there are some things you can do.
First, feelings of loneliness often contribute to suicidal tendencies, so let that person know you are there for them, and that you take them seriously. One of the most effective remedies to overcome any crisis and avoid dramatic consequences is to have support from family and friends.Show your support by your actions: listen to the person and help them find professional assistance.
To get a better feel for the level of risk, you can ask the person if they have thought of how and when they would commit suicide, and if they have taken any steps: generally speaking, the more concrete their answers, the greater the risk, and the more urgent it is that they get help. Abundant, detailed resources are available on line and by phone, both for identifying the risk of suicide and for getting immediate help.
Lastly, we should never forget the spiritual aspect. Spirituality and religious belief is no guarantee of happiness, and truly spiritual people can commit suicide. But studies show that religious practice does tend to correlate with a lower suicide rate.The reasons are being debated … the stigma attached to suicide in Christianity? The connection to a support community? Meaning given to suffering? Hope in God's help and in a final reward? Whatever the reasons, the effect is widely recognized. Those of us who are people of faith have experienced how helpful and comforting prayer and the sacraments can be in times of crisis.
Suicide is a problem for people of all social levels and practically all ages after early childhood. Many people dream of becoming rich and famous, thinking it will being them happiness, but recent events — and, in fact, all of modern history — should be enough to teach us otherwise. We should not be surprised that there are cases of celebrities who end their lives tragically, accidentally or not — be it through drug abuse, recklessness, or suicide. Like anyone else, celebrities can be profoundly unhappy, and may suffer from psychological illness. What we can do is try to create a more human, more connected world. If we ourselves or anyone we know is experiencing suicidal thoughts, we need to take it seriously, and take action. Every life is precious: a unique, unrepeatable gift.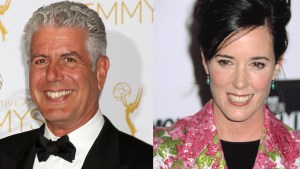 Read more:
The suicide epidemic and a message for a hopeless world
Read more:
Put these numbers in your phone to help prevent suicide