A children's Bible, animated biblical stories, coloring books -- what should you choose to introduce children to Scripture?
The Bible isn't easy to read, even for adults, primarily because of its writing styles. Depending on the translation used, the language is often archaic or contains old Hebrew idioms often incomprehensible in our time, for example, "kidney and heart" meaning "feelings and mind" (Psalms 26:2). Also, there are many parables that are allegorical in nature, and children will only learn to understand the symbolism of those stories during religion classes.
If we were to expect children to understand everything in the Bible on the first attempt, then we should wait for them to get a degree in theology.
Reading the Bible is a bit like learning to talk
When a child is born, everyone talks to him, regardless of the fact that a baby doesn't understand. But we're convinced that the more — and the more clearly — we speak to the baby,the sooner he'll start to understand and talk.
A story from one of the training sessions for parents I lead comes to mind. A mother bought a couple of storybooks to read to a newborn baby at bedtime. The father, a journalist and a historian, laughed at that idea, since he thought it didn't matter what they read to the child; he wouldn't understand anything anyway. So, the father chose books he had to read for work, sat by the crib, and read them out loud. The books were mostly historical and political. He continued that habit, and after a good few years, the child, as a kindergartener, amazed others with his incredibly large vocabulary — much more extensive than many average adults use. Over the years, he had absorbed what he heard!
In the same way, we can start exposing children to the Bible right from birth. The easiest way is to start when the baby is so small he will not understand anything, knowing that every day he will understand more and more.
What about older children? Start as soon as possible. It doesn't get easier as the kids grow. Now is the time!
The spiritual meaning of the Bible is difficult to understand, so pray for the grace of understanding of the Holy Scriptures for both you and your child. If you want your child to understand the Bible, you shouldn't hide it from him, but rather make it more accessible.
Is a Bible written for children a good idea?
A picture book Bible can be used as a storybook — we buy those for preschoolers and read them at bedtime. But these versions of the Bible are often more like a fairytale books. They have pretty pictures, and the stories happened a long, long time ago, in a far-off land … These similarities worry me. It won't be long before the child realizes that fairy tales are fictional and that Santa doesn't exist. Then, they might make a connection to the Bible, and think that Jesus doesn't exist either, and never has.
For these reasons, I think it's better to introduce children to the real Word of God straight away. It is the words, not the pictures, that matter. It's not the entertainment value of the story that matters, but the Word that the Lord speaks to all of us.
Later, we can show the children how we imagine Jesus, Moses, or other Biblical people in a book or a film, or a documentary. We can show them how we imagine their clothes, and the places where and the times when they lived.
Besides, a Children's Bible will not help kids to read and understand of the Word of God correctly, because most often it doesn't even contain it. It's frequently only a summary of the book as a piece of literature.
How not to read the Bible
The Bible has its chronology and history, and as such, could be read chronologically (which is always the order the books are presented in), from beginning to end. However, it includes many details — especially in the Old Testament — that a young child doesn't need in order to grasp the fundamentals. The Bible has layers of meaning and offers instructions on how we should live our lives. The basic principles, such as the Beatitudes, can be understood without the full historical details of the judges, prophets, and kings of the Old Testament.
With that in mind, we don't need to read all of it from the start, but rather, selected books and passages. We don't need to read to our children the detailed instructions for Temple sacrifices in Leviticus, for example. Similarly, we don't have to explain David's infidelity with Bathsheba to our toddlers for them to understand the beauty of the prayer of King Solomon, David's son, when he asked God not for fame or wealth, but for wisdom, so he could justly rule the people entrusted to him. God's answer is the proof of His goodness and generosity, and a child will understand that without knowing what Solomon looked like.
There are many approaches to the Bible, and many resources for reading it and studying it as individuals or as a family. What matters is to start reading it, and not to stay only on the level of the story, but to go beyond, opening our hearts and minds to hear what the Holy Spirit is saying to us today through those ancient words.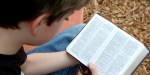 Read more:
5 Steps for having a conversation with God using the Bible