The missionary has been nominated several times for the Nobel Peace Prize.
Father Pedro Opeka, 70, is "God's bricklayer." Born in Argentina to Slovenian migrants, he learned the bricklaying trade with his father, who earned his bread by working on construction sites, building houses. Now, he does it for and with the poor. "When we open ourselves to God's grace, the impossible becomes a reality," he said, paraphrasing Pope Francis (April 27, 2018). 
Father Pedro Opeka has been in Madagascar for 48 years. He has spent 43 years of priesthood in the community of St. Vincent de Paul (1581-1660), the saint of charity. "Our main goal is to evangelize and help the poor," he explains.
He has been nominated for the Nobel Peace Prize several times.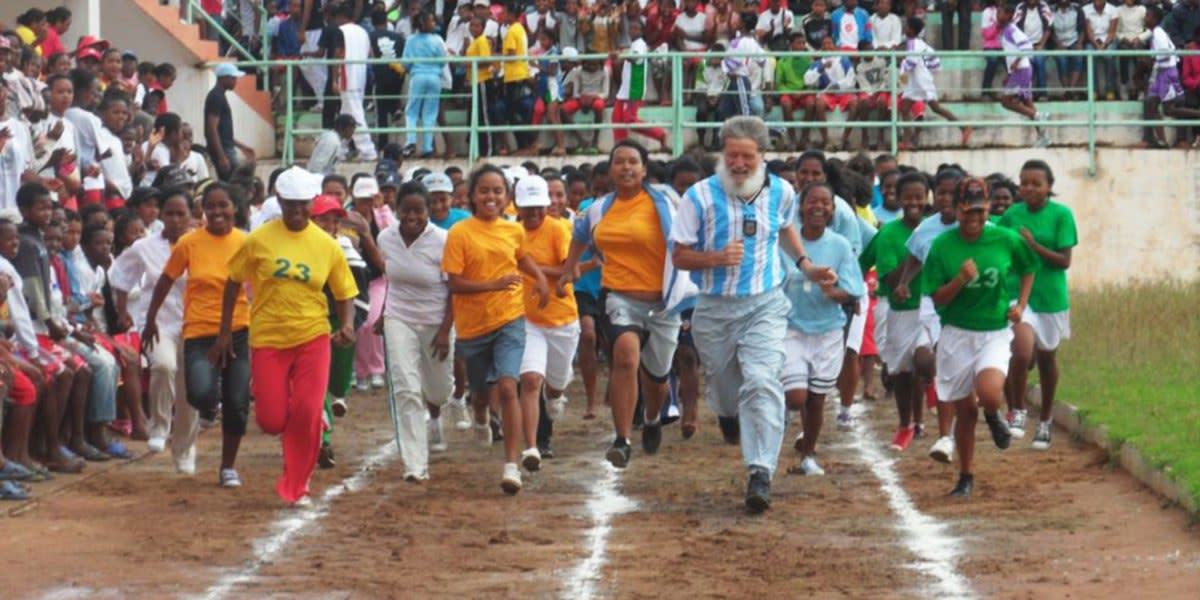 "I wanted to go to Madagascar before becoming anyone important, before becoming a priest. I asked for permission. I said, 'I am the son of a bricklayer, a builder. I want to work with my hands. I want to get to the country before becoming someone.' Because when you arrive in a country as a priest, they put you behind an altar and tell you: 'You are over here, we are over there.' No, no, I came as a young man. And the first friends that I made were through sports, soccer. And that's what I continue to do," he explained to Aleteia.
The evangelization of Father Opeka moves like a soccer ball in the field of life. He provokes mixed reactions among his adversaries, but they still respect him. On his side, he has the team of humble people, all ready to give their lives for him and protect "God's 10"  in the game which he organized to build a community. 
Even at his age, he still enjoys soccer: "I had several free kicks, about ten, and I made five goals, from right and left, into the corner, from 45 meters away. The kids shouted with joy: 'Goal!!!' And I raised my hands to heaven and said inside myself: 'Lord, thank you, thank you for giving me this opportunity, this strength, that at my age I can make good kicks to give joy. Thank you, my Lord!!!'"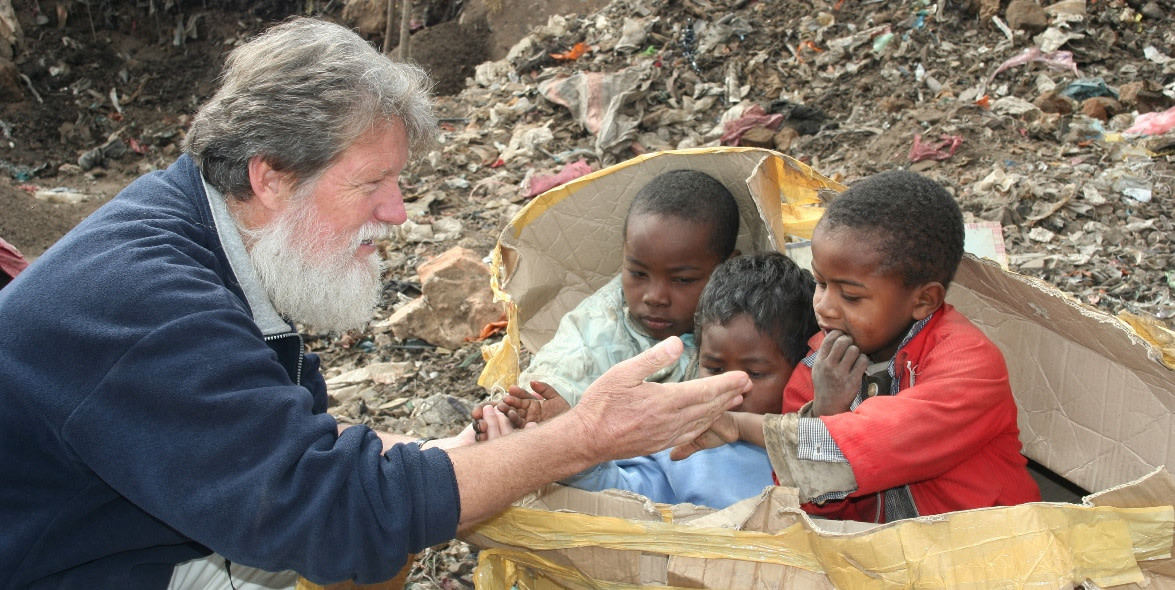 A call to Messi and the most fortunate "brothers"
And if we talk to him about soccer, we have to bring up Lionel Messi. Father Opeka tells us that the real "10" is Messi, and that he had the opportunity to meet him two years ago in Barcelona, ​​Spain.  
"Does Messi help you with your work?" we ask. "No, no, but I hope that one day the Holy Spirit will touch his heart." Should we give him a call? "And why not? I don't think he knows what we're doing. There are many people who do not know what we do," he adds. 
"Because it is not customary for a missionary to build a city, to build streets, to install electricity, to build an aqueduct, to plant trees (10,000 per year). We have four cemeteries. When does an NGO have cemeteries?"
After 30 years working "shoulder to shoulder" with the street poor, he says he has buried "more than 4,000 brothers and sisters and children."
"Those people, those dead brothers, are the ones who defend me. They're my bodyguards," he says. 
Here are excerpts of our conversation:
Where is the power of God in the work?
The power of God is manifested in the simple, humble gestures that come from the people and their everyday life. Therefore, we will always have difficulty getting help. We were born of an internal reaction: because we refuse to accept the misery, the extreme poverty of our brothers, in the street, in a garbage dump. 
When we committed ourselves to the poorest and we listened to them, we made them responsible. We have worked together, in their midst. And this way of working has a great impact on the poor. Perhaps less among the rich. Because we knew how to find a new way, away from the experts who know everything. 
Experts who predict the end of misery and poverty that only increases, with all the forecasts, ideologies, and promises made to the people. 
It is a work of God's providence. Because it is born in the heart of the poor. Because it is born in humility. Because it is born in the midst of those who suffer. And it is a continuous commitment. It is not an occasional commitment, from time to time. It is not a commitment once a month, once a week, but it is all day and every day.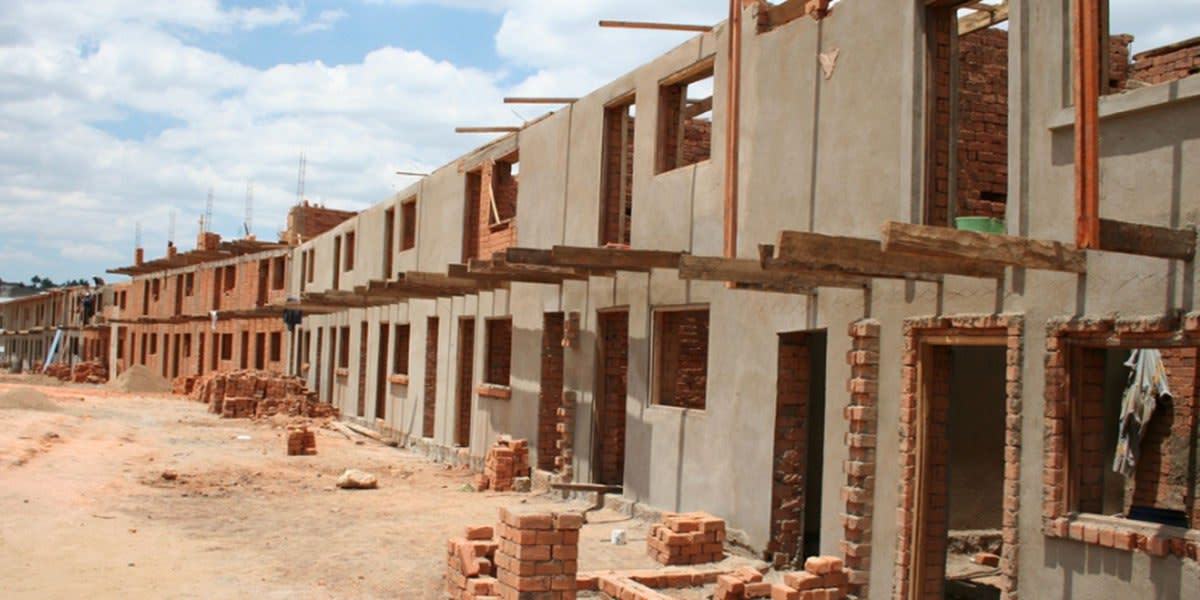 What does that commitment consist of in practical terms?
In 29 years, we have rescued and helped more than half a million people. Today, we have 25,000 people who depend directly on this solidarity movement. … And 30,000 people pass through from time to time every year to ask for help. So we are helping 55,000 to 60,000 people per year. 
To help so many thousands of people, you have to have money. So I have to go out at least three months a year to travel and give witness, to awaken in the brothers who have conscience, faith, and humanity the realization that we have to help and share with the poorest. 
That means we have a huge responsibility with the 14,000 children and young people who study in our schools. We have 3,000 fathers and mothers working, building our own city. Because we have built a city. When I talk about 25,000 people, it is no longer a small town. It is a city. 
And when you start building a city, it does not stop. That city continues to grow, grow, and grow, like any other city in the world. Therefore, we must continue searching, committing ourselves, believing that beyond a victory won over poverty, we must fight continuously. Because man tends to fall easily into leisure, laziness, selfishness, individualism. That vice pursues him continuously.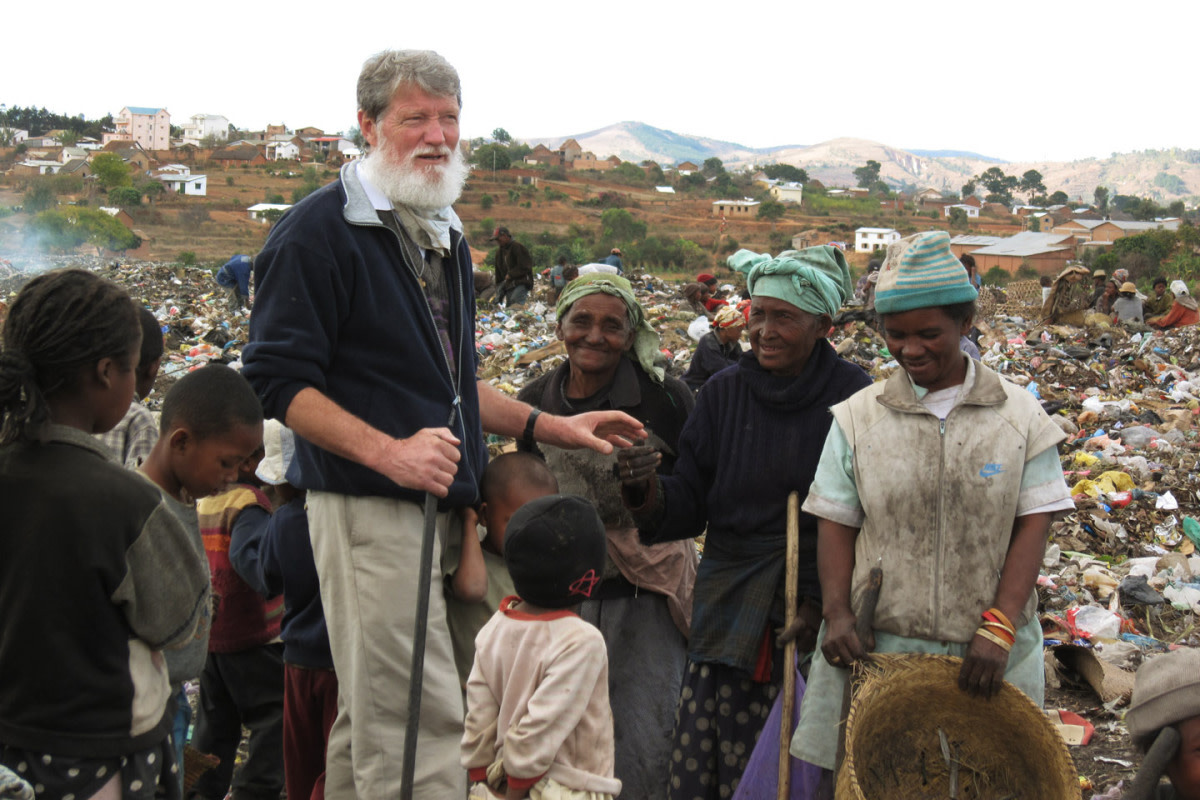 St. Vincent de Paul (1581-1660) said that the problem of charity is that it is poorly organized … How do you live this maxim that has been the call to the Congregation of the Mission?
I think he was very right. That is, justice is badly organized too. Organization is part of the solution to poverty. It's how people are held responsible, what mistakes the poor have, what responsibilities they have toward their children and their families, the challenges of life and progress. 
Now, organization is certainly very important. Because organizing is also respecting people. When I see lines of people waiting, I wonder: What's going on there? 
There, there is bad organization. Who likes to stand in line? Who likes to waste time, standing there doing nothing, just waiting for his turn to come, and maybe waiting for hours? 
And that, I think is a lack of respect for the person who has stood in that line. It is insensitivity to the hundreds of people, oftentimes older people, who have to stand outside in the sun. So, that is a very strong human insensitivity. There is no respect, there is no respect! 
We need to be more sensitive to respect for the other. The golden rule is: "Do not do to your brother what you do not want him to do to you." I do not want you to make me wait two or three hours in a line. So I will not make another person wait two or three hours there. 
I will try to get that person taken care of as soon as possible and in the most respectful way possible. If God gave us reason and imagination, he gave us everything to be able to solve this. And that is organization. 
Mother Teresa of Calcutta said that riches, both material and spiritual, can drown us if we do not use them well. Because even God cannot put something in a heart that is already full. What is your opinion on this?
Yes, of course! When we want to ensure the future in an almost scandalous way, it's because we are outside of any human connection. We are separating ourselves from the rest of humanity. Today, out of 7 billion people, there are 2 billion people who live outside of humanity. They are not part of it. 
Or in any case, they are people who cannot enjoy the advances, the progress that humanity has made in its history. And what hurts the most is how we get used to that. So much so that we say: But it's normal! Normal that we should be rich, more respected because we have more culture, more education. We feel it's normal that they are more interested in us, who have more money, than in the others who are just surviving. 
What shocks me is the insensitivity of the leaders, who don't know how to strengthen ties, who don't know how to reduce differences, when they don't know anything about living or surviving. If they are elected officials, it's their duty to speak, to uphold justice for all our brothers, and yet they do not. And we enter into a national and international hypocrisy where we take care of ourselves and praise each other.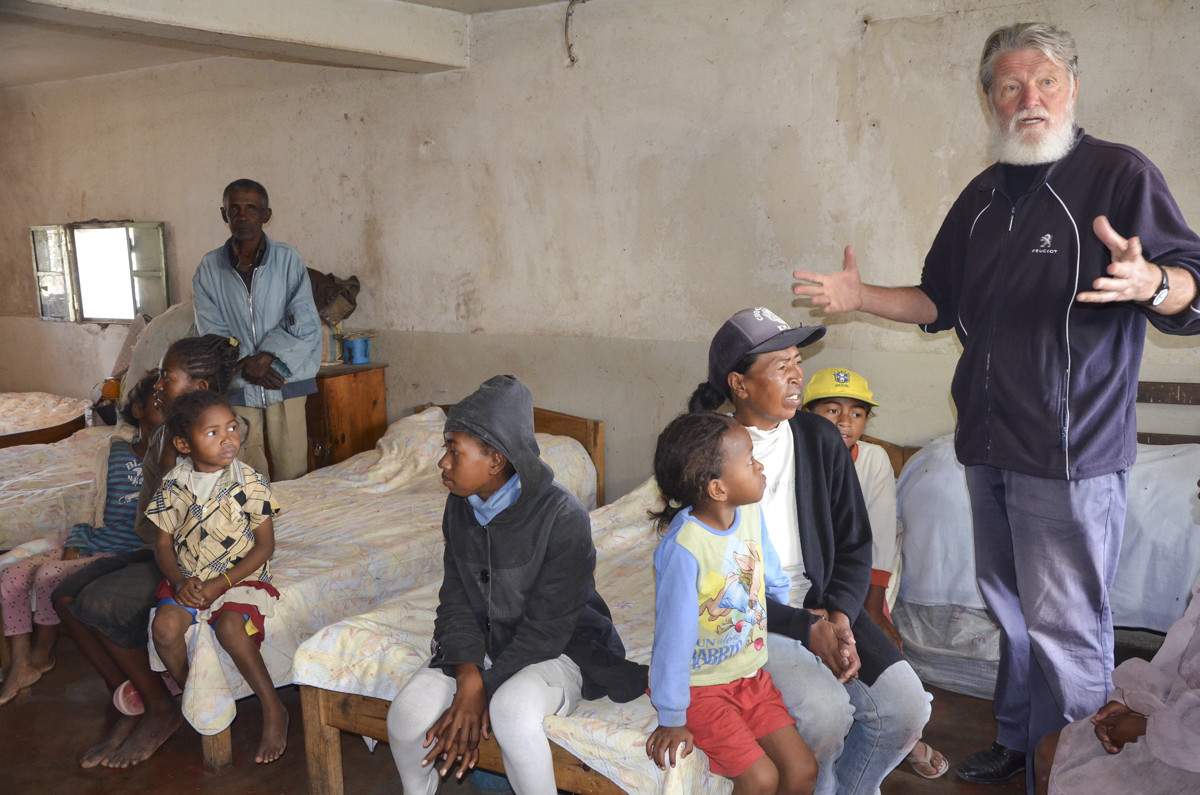 Would it seem that truth is an illusion?
The truth is so simple and we complicate it so much. There are brothers who want to complicate the truth and who enjoy complicating the truth in order to say that they are not like the rest of us. We are all equal, we are all brothers when we can say something, live something, create something from that strength of virtue, faith, hope, and love, which does not belong to us. 
We are all instruments by which God works. The Creator works among us. What a pity that we are continually kicking out the Creator, throwing him out, giving him less and less of a place in our lives, in our progress! It is as if the instrument were to say: "I can do it myself, I made myself." No, someone made the instrument. Someone has given him the means, like a robot. Someone instilled some projects in him and he works according to what was projected in him, and that's where it ends. …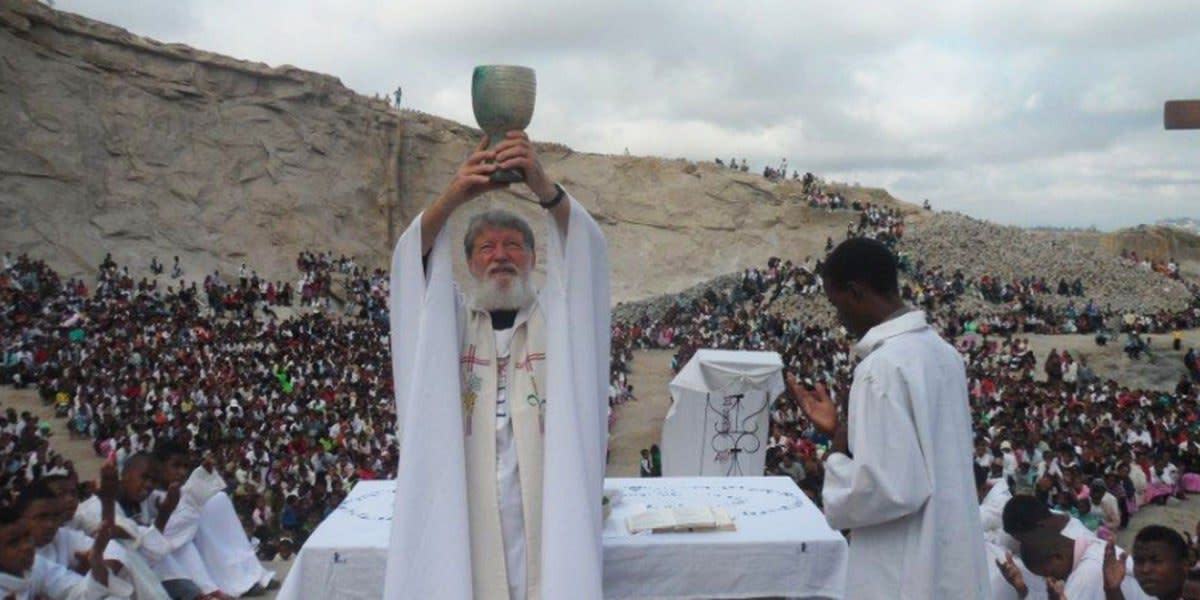 Unfortunately, in many countries, the power of money and the power of glory, the power of authority occupies a place that it does not deserve, and that is keeping millions and millions of brothers and sisters in slavery. Pope Francis said: "We shout so much about freedom and live so much like slaves."