Growing up in Poland, John Paul II enjoyed playing sports, especially soccer and hockey.
Known as the "skiing pope," John Paul II (Karol Wojtyla) was more well-known in his childhood days as a soccer player. He even earned the nickname of "Lolek the Goalie" for his preferred role on the team.
According to Soccer America, "Wojtyla played in pickup soccer games that pitted Jewish boys against Catholic boys, and Wojtyla would volunteer to play with the Jewish boys to create even numbers."
A friend of the pope related, "There usually were not enough Jews, so somebody had to play on the Jewish team and he was always sort of ready, you know."
Biographer George Weigel confirms that soccer was a favorite sport of the young Karol Wojtyla and his friends in his book Witness to Hope. "Soccer was their favorite team sport. Pilgrims to Wadowice today can see the field on which 'Lolek the Goalie' honed his skills, often playing with a team primarily made up of the town's Jewish boys."
Wojtyla and his friends would also play a game of ice hockey when the Skawa river would freeze over during the winter.
Besides playing with his friends, Wojtyla also enjoyed hitting the ball around with his father. As CNN explains, "But the father didn't forget about play. A friend remembers entering the Wojtylas' apartment and finding father and son playing soccer with a ball made of rags."
In 1979 Pope John Paul II addressed the Milan soccer team after they won the Italian Championship. He encouraged them to set a good example both on the field and off, saying, "In a world in which we sometimes behold the painful presence of young people who are weary, marked by sadness and negative experiences, be for them wise friends, expert guides and trainers not only on sports fields but also on the ways that lead to the goals of the true values of life. In this way to the satisfactions of competitive sport you will add merits of a spiritual nature, offering society a valuable contribution of moral health."
He then concluded his talk by saying, "May the Lord Jesus grant you that 'goal,' that is, that final target, which is the true and ultimate destiny of life." With these words, the Polish goalie points a group of Italian soccer players to the ultimate "goal" of heaven.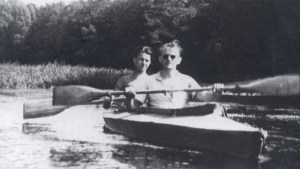 Read more:
Saint John Paul II, as you've never seen him before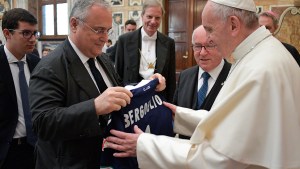 Read more:
Pope Francis urges star athletes to be good role models