She may be Italian, but she loves Mexico: "I am at home here, because Our Lady of Guadalupe lives here."
What can God do in your life with one Bible verse a day?
Subscribe to Aleteia's new service and bring Scripture into your morning:
Just one verse each day.
Click to bring God's word to your inbox
They call her "The Pilgrim Grandmother." The 94-year-old retired nurse has just prostrated herself for the fourth time in her life at the feet of Our Lady of Guadalupe in Mexico City. Her name is Emma Morosini. She is Italian, but she loves Mexico: "I am at home here, because Our Lady of Guadalupe lives here."
During May, Mary's month, the Pilgrim Grandmother arrived after walking 40 days and nights from Monterrey (north of Mexico) to the most visited Marian Basilica in the world: the Basilica of Guadalupe, which receives 22 million pilgrims every year.
The first time she visited La morenita del Tepeyac was 20 years ago. On her last trip, 10 years ago, she was 84 years old. She has been on pilgrimages all over the world for the last 25 years. When she's not on the road, she continues to support, as a nurse, the sick who are most in need.
"Praying for peace and for young people"
Her pilgrimage, aided with just a cane and a pill to control her blood pressure, has taken her to Israel, Croatia, Brazil, Argentina, Poland, Portugal, France, Austria, Spain and several other points of the world's Marian geography.
Her pilgrimage is linked to peace and to praying for young people. In fact, after kissing the floor of the Basilica of Guadalupe, Emma first prayed for young people from Mexico and around the world. And she prayed for the families, that the Virgin would protect them under her loving mantle.
She has many friends around the world who entrust her with their prayers. She walks between four and five hours a day. While doing so, alone, she prays the Rosary, meditates, and prays for the youth. Adversity doesn't stop her. And she's consistent with her ideals.
"I'm a pilgrim, not a tourist"
She told The Observer of Mexico that on her way to the Basilica of Guadalupe (a highway, the 57, which happens to be the most heavily transited road in Mexico, also known as the route of the Free Trade Agreement with the United States), the Mexican Federal Police in Querétaro offered to put her up in a five-star hotel. Emma said no, because she was "a pilgrim, not a tourist" and she stayed in a simple guest house.
Last Sunday, before entering the Basilica of Guadalupe, she was attended by paramedics and applauded by those who had heard her story a few days before and came to witness the journey.
According to Reporte Indigo, her friends in Monterrey told her that she was "crazy." But she undertook the feat, getting medical checkups provided by the authorities throughout the 40 days, and food provided by families she met on her way.
"I have never met such kind people"
Emma thanked the Mexicans who helped her on her pilgrimage and assured them that "she had never found a people so kind and generous about helping her with her goal: to promote peace and to pray for a miracle for every young person in the world."
Pope Francis had already told her that she was a pilgrimage "champion," an example of faith and hope in young people. In the interview she gave to El Observador, Emma said to them that in view of the dangers and the traps of the devil, "the best thing is to be entrusted immediately to the Virgin Mary."
Far from being discouraged by her age, Emma already plans to continue her pilgrimages, to keep praying for the youth and preaching peace, along the roads of the world.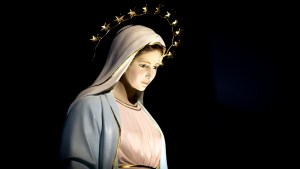 Read more:
Devil admits to exorcist: "I'm afraid of the Madonna"