It may feel a little awkward the first time, but it's worth it.
What can God do in your life with one Bible verse a day?
Subscribe to Aleteia's new service and bring Scripture into your morning:
Just one verse each day.
Click to bring God's word to your inbox
"Lord Jesus Christ, Son of God, have mercy on me, a sinner."
Twelve simple words – one powerful prayer. And after almost two decades of marriage, my husband and I have finally found that uttering this quick prayer before he dashes off to work or before we pass out into sleep-deprived comas is bringing a lot more peace to our marriage because we're oh so spiritual. Uh, ok, ditch that part in favor of something more … true. How about – because praying together is keeping us from jumping ship on this crazy, beautiful, uber-sanctifying sacramental journey called Matrimony, where every day we're being called "to die to ourselves, take up our crosses and follow Jesus."
Yes, that would be more accurate.
So then why has it taken us so long to learn to pray just us as a couple? Sure, we've led our kids in grace before meals, spontaneous prayers, countless Morning Offerings, the Rosary and even the Liturgy of the Hours. But praying alone together as a couple — meaning without our kids — this is new. Even though we're both Catholic and devoted to our faith being a 24/7 kind of thing, I'm embarrassed to say the idea hit me at first with a sense of … embarrassment.
Sure Pete and I have prayed together over the years, especially in times of crisis, but recently we started down a path of it becoming a more regular thing … all thanks to a late-night fight. Yup, one of those 2 a.m. doozies, after which neither of us could honestly offer an "I'm sorry." So by God's grace, we held hands (knowing our kids would be up in four hours), said the Our Father, turned off the lights and went to sleep.
A few more fights, a few more Our Fathers … and while the prayer wasn't instantly turning life into a bed of roses, at least we were catching a little shut-eye.
These experiences got us talking: "If praying together when we're angry helps this much, why not give it a shot during peace time." Enter The Jesus Prayer, as stated at the top of the page. I discovered it a few years ago upon Bishop Barron's suggestion to read The Way of a Pilgrim, the Eastern Catholic classic in which a traveler utilizes this ancient prayer as a method to fulfill Christ's call to "Pray without ceasing." At the time, my husband had been saying the prayer for years, stemming from his affinity with all things Orthodox.
Read more:
Praying the Jesus Prayer: Mercy with every breath
Now as a couple, The Jesus Prayer works for us because it's [insert drum roll] short. After a few failed attempts at nightly rosaries and adding a few too many spiritual/marital guides to our dusty book collection, The Jesus Prayer fell from our lips one morning while looking for Pete's keys. I can't remember who initiated it, but it's been a regular occurrence ever since. As a communicator, I once pondered – do we change the words from "have mercy on me, a sinner" to "Have mercy on us, marriedsinners?"
The answer came quickly – No, because, for better or worse, Pete and I are one flesh in the eyes of God. And each time we offer a brief hug and say this quick prayer, we're looking to God rather than merely to one another for help and fulfillment. Also, we're begging for mercies on our vocation that God will not give unless we ask ("You have not because you ask not" James 4 2-3).
Read more:
Kids fighting? Spouse a grouch? This tip from St. Benedict helps keep the peace
So whether it's on the way to Mass or in the midst of loading up the van for vacation, give it a shot. Grab your spouse's hand – it will only feel awkward the first time, but it will make you closer, and praying together will soon become the nurturing soil of your marriage, as normal and as life-giving as simply breathing the same air – "Lord Jesus Christ, son of God, have mercy on me, a sinner."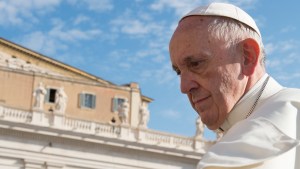 Read more:
Pope proposes this 14-word beautiful prayer for when you're losing hope