When deciding which school to attend, use this guide to help you make this important decision.
What can God do in your life with one Bible verse a day?
Subscribe to Aleteia's new service and bring Scripture into your morning:
Just one verse each day.
Click to bring God's word to your inbox
There are over 200 colleges in the United States that identify themselves as Catholic, so when you are seeking out a Catholic higher education, how do you decide which college to choose?
When sorting through college admission material, planning campus visits, and weighing the pros and cons of each academic opportunity, it's important to ask a lot of questions. Here are 10 questions to ask before, during, and after your visit to a Catholic college campus. These aren't just questions for people working in the admissions office, though — you can bring these subjects up when talking to the person giving you a tour of the dorms, the professors you meet, and even the students you see on campus.
The first question, though, begins with you asking yourself:
1. Why do I want a Catholic education? 
Before you even step foot on a college campus, know the reasons behind your desire for a Catholic education. How can a specifically Catholic education help you pursue the goals you have in your life? Take time throughout the search for a college to prayerfully discern your college decision.
"Think for a moment about what you really want out of life, and how the next four years might help you get there," writes the Archbishop of Baltimore, Reverend William Lori. "We all desire to truly know who we are, why we are, where we came from, and where we are going. We yearn for what is true, beautiful, and good — something better than what our culture offers us today."
2. How does this particular school exemplify Catholicism? 
After you've established the why behind your desire to attend a Catholic college, don't be afraid to ask the school you're visiting to prove its identity. This should be apparent in more than just the name of their institution.
The Cardinal Newman Society, which provides a guide to the Catholic colleges it recommends and its own questionnaire, urges students to dig deep when asking about Catholic education. They encourage prospective students to ask the college if the governing documents of the school comply with the Vatican's constitution of Catholic higher education, Ex corde Ecclesiae.
What is the school's interaction with the dioceses in which the school resides? How does the school specifically live out their mission in the lives of their students and in their greater local community?
The answer can't just be an explanation of their theology department, but should also include a well-rounded variety of student life activities, service projects, and opportunities for students and faculty to grow in their faith.
3. What is this college's academic strengths?
Take time to visit with the departments of the academic area you're interested while touring campus. During my college visits, I was able to pick a few classes to sit in on as an observing visitor. This experience gave me a great feel for the faculty and academic strength of the program I was interested in.
It's also important to recognize the role of Catholicism within degree programs that aren't housed in the theology department. Are Catholic ethics taught to medical students? Is social justice a teaching point for those studying business?
While you're touring campus, ask the admissions department about what classes are offered and the degree programs available to students. Do some research into the faculty who teach at the school you're looking into. What advising services are offered to students?
4.  What does the student body look like?
While the programs and faculty are key to the learning experience, your time in college is also largely affected by who you live with, work with, study with, and spend your free time with. What percentage of the student body at the college you're looking at is Catholic? What resources are available for building community within the student body, especially during the formative first years of the college experience?
One way to measure a student experience at a college is to look at a school's academic retention rate. How many of their freshman return after an academic year? This will be a good indicator of the availability and accessibility of resources for a successful student experience.
5. How can you grow in your Catholic faith at this school?
It's easy to assume that because the school you're looking at attending is Catholic, your faith life will automatically blossom. But your relationship with Jesus and His Church, and your brothers and sisters on campus require a conscious effort.
How does this school contribute to this effort? Is daily Mass available? Is there an adoration chapel available for students? Are there opportunities for small prayer groups, Bible studies, and works of service?
While visiting the dorms, take time to ask the resident staff how they would handle a situation when a student comes to them with a spiritual need. Ask the admissions office and students what a typical Sunday looks like on campus.
6. What does life look like for graduates of the school? 
Although graduation is years away, consider what life will look like after you earn your diploma. During the last years of college, what resources are available for students preparing to finish their degree? What is the graduate job placement for the school you're inquiring into?
If you plan to extend your academic career into graduate school, inquire about this during your time with both the admissions department and the department of your intended academic interest. Does the faculty and staff of the college assist in the graduate school application process?
Another area to inquire about is the school's internship programs. Swing by the school's career center, but also take time to ask graduating seniors what their experience was at the end of their academic career at the school you're inquiring into.
7. How can the college help you afford your education? 
When comparing schools, there is a huge variation of scholarships and financial assistance programs. Some schools will offer special packages for athletes, musicians, students pursuing theater, service, community involvement, and leadership.
Take into account the resources available to you before you visit a campus. Do you have funds saved away for the experience? Do you plan on taking out student loans? What need-based aid and merit-based aid is available for you as a student? While admissions can point you in the right direction, take time to visit the financial aid office. It's also worth your time to ask other students about their experience as well.
8. What is social life like for students both on and off campus?
Although the time spent at college is meant for pursuing a degree, take time to ask about what there is to do around and near campus after your study time is over. What is the environment of the college campus itself? Do students spend time together in the green space, or gather for meals together? While these are all questions you can ask the admissions department, take time to also ask students who you see whether they spend most of their free time on or off campus.
When you arrange for a campus visit, ask if you can stay the night in the dorms. Spend time with other students in their free time and see what the environment is like on campus.
9. What does life as a college resident look like? 
If you're looking at schools as an incoming freshman, you may be required to live on campus for your first year as a college student. Take time to visit the student centers and dorm rooms of different colleges. Although it's helpful to ask other students on campus about their experience on campus, this is also a question you'll be able to mostly answer through observation.
Consider what you will bring to campus living. Maybe you've grown up without ever having to share a room. Perhaps (like I was!) it's just the opposite and you've already shared a room with your siblings. But it may be an adjustment with shared wing bathrooms and other housing regulations and rules.
What are the expectations for students living in the dorm at the school you're inquiring into or visiting? How are roommate placements arranged? If you and your suite mates don't get along, how is this situation remedied by the college? This school will become your home away from home for the next few years, so it's important to be in an environment where you are able to study, make friends, and thrive.
10. How can this college help you be your best self?
It is important to know yourself before you begin searching for a college. What is your unique personality? What are your strengths and weaknesses? How can this college help you be your best and grow in holiness?
The best college campus environment is one in which it's easier to make good choices rather than harder. While the culture considers many activities as fun and "normal" for college students — such as binge drinking, hooking up, gossiping, etc. — these only hurt people and damage our relationship with God, ourselves and each other. So it's important to choose a campus environment that encourages healthy and holy living.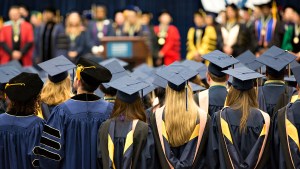 Read more:
4 Reasons to go into debt for Catholic college