A writer reflects on the unexpected joy and gratitude that comes with parenting the siblings of the child she lost.
What can God do in your life with one Bible verse a day?
Subscribe to Aleteia's new service and bring Scripture into your morning:
Just one verse each day.
Click to bring God's word to your inbox
A few years ago, the New York Times published a heartbreakingly eloquent essay about the loss of a child by writer and father Jayson Greene. In his essay, Jayson shares the devastating story of his two-year-old daughter's death in a freak accident:
"My daughter, Greta, was 2 years old when she died — or rather, when she was killed. A piece of masonry fell eight stories from an improperly maintained building and struck her in the head while she sat on a bench on the Upper West Side of Manhattan with her grandmother. No single agent set it on its path: It wasn't knocked off scaffolding by the poorly placed heel of a construction worker, or fumbled from careless hands. Negligence, coupled with a series of bureaucratic failures, led it to simply sigh loose, a piece of impersonal calamity sent to rearrange the structure and meaning of our universe."
This article articulated feelings I have a hard time giving words to, because I lost a child as well, and the structure and meaning of my universe was also rearranged. I became more aware of the fragility of life, alert to its temporary nature. As Greene so eloquently writes, "Hearing a heartbeat for the first time during the ultrasound, and then watching doctors shine light on unresponsive pupils two years later, you stop thinking of a heartbeat as a constant, and more as a favorable weather condition."
My daughter passed away as an infant, but her death was as sudden and swift as Greta's.
It is impossible to compare notes on the devastation left behind after such a loss, but I've always wondered if the shock of her abrupt death caused me to grow forever anxious over my living children's next steps. Nine years have passed since my daughter's death, and though fear has dulled over time, as grim as it sounds, my children's survival to adulthood is still not something I view as guaranteed. As Greene writes, "I do not believe anything bad will happen to him in his infancy. It makes a sort of sense: Nothing bad happened to Greta as an infant. I do not wake up in the middle of the night to check on him. I do not even flinch when I hand him to others and watch them grapple awkwardly with his floppy neck.
"However, some part of me is grimly certain he will die at 2."
Like Greene, we also went on to have a child who might not be here had our daughter not passed. My daughter was one of triplets; from the moment we saw three sacs on the ultrasound screen we felt overwhelmed by parenthood. In the hospital after they were born we went from baby to baby to baby, my husband and I exchanging glances of "Can you believe this?"
If we had left that hospital with three car seats squeezed tightly throughout our new minivan, if we had woken up for three times the nighttime feedings rather than two, we may have decided our family was most definitely complete. We may not have found out I was three months' pregnant the Christmas my surviving babies turned one.
Like Greene, I found parenting a child through the stages during which you lost another to be a surreal experience: "With his birth, I have become a father to a living child and a spirit — one child on this side of the curtain, and another whispering from beneath it. The confusion is constant, and in my moments of strength I succumb to it. I had a child die, and I chose to become a father again. There can be no greater definition of stupidity or bravery; insanity or clarity; hubris or grace."
This fall marks nine years since our daughter passed away, and on most days I don't feel the searing grief I did in those early years. There are days when I feel just as devastated as the day she left us. But most of our days I feel pure gratitude that we were ever given her at all.
Mothering a child in heaven is an honor, a constant reminder of the fragility of life. Greene writes: "I think of her hand touching my cheek and I muster up every drop of bravery I can: 'It is a beautiful world,' I tell him, willing myself to believe it. 'We are here to share it.'"
I may worry about my living children far more than is emotionally healthy, but I will never ever take a breathing moment of their lives for granted. Their sister made me a better mother. She left me with a deep understanding of the gift of life and days full of conscious enjoyment of what I've been given, both in my arms and in my heart.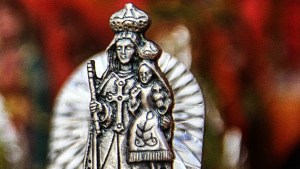 Read more:
When God brought a child back to life through the prayers of His Mother