It's often the simple gestures that can demonstrate the greatest love.
Theresa and Andrew have been married for nearly 45 years, but only recently has Andrew begun learning to style Theresa'a hair for her. After suffering a stroke 18 years ago, Theresa has struggled to style her hair the way she used to.
After a trip to the salon she was given for Mothers' Day, her new hairstyle was ruined in the shower the next morning — but Andrew wasn't going to give up.
Knowing how happy she had been with her new style, he returned to the salon, hoping to buy all the products necessary to re-create the look for her. When Andrea Gomez, the stylist who had done Theresa'a hair, realized his plan, she offered to teach him hairstyling for free so that he could do Theresa's hair at home for her.
Another stylist at the salon recorded the beautiful moment that has Facebook gushing. "Proof that true love really exists," she wrote in the caption. These small sacrifices and extra efforts are what makes true love and they inspire others to do the same for their loved ones.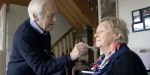 Read more:
Watch this 84-year-old husband do his wife's makeup (VIDEO)