These coaches in California are combining exercise with a sacramental view of the body.
With summer just around the corner, many of us are embarking on diets and fitness regimens so that we can feel and look fit in that swimsuit. Yet, wouldn't it be that little bit more inspiring, and maybe more attainable, if our efforts to get fit were combined with our faith?
Brenda Sigmund and Jordan Friske are trainers at Catholic Fitness Training, who boast athletic builds as well as Catholic convictions. Their program is a fusion of fitness — very popular in their hometown in California — with the Theology of the Body, which Pope John Paul II introduced to the world.
St. Paul, the nose to the grindstone

The two coaches are able to quote the letter of St. Paul to the Romans while in full exercise mode: "Not only that, but we rejoice in our sufferings, knowing that suffering produces endurance,and endurance produces character, and character produces hope!" (Romans 5: 3-4).
While many fitness programs are off-putting by the demands required, Sigmund and Friske advocate a sensible and realistic lifestyle. "Pray each day and ask God for the grace for a healthy body, not to look like a celebrity or famous body builder," is the advice they give on their site. Each of their sessions begins and ends with a prayer — yet, as there is little chance of developing muscles solely through the Rosary, this prayer is accompanied with specially adapted physical exercises and a healthy diet.
It's part of our Christian duty to be in as good a shape as possible, the two coaches say. It's not shallow to worry about fitness — on the contrary, it's a founding element. On our journey to lead a saintly life, we need to take care of the simple things that are within our reach, and we can begin by looking after our bodies. Therefore, they suggest starting off with a sense of reality, and they provide tools to help people achieve a desired level of fitness. At the center of the program is a method of calculating calories to adjust personal daily food intake, before getting to the exercise part, which can get a bit tough. But, as they point out, you can't give up when it gets hard.
Their site doesn't promise a quick-fix solution and reminds us that "old fashioned hard work is good for us and makes us more virtuous in itself." Not only do we have to accept the suffering, which goes hand-in-hand with strenuous exercise, we need to embrace it, and even love it. As we resist our favorite helping of dessert, we can unite our "sufferings, even if they might seem minuscule, to Christ's sufferings on the cross," as in Colossians 1:24.
"The future starts today, not tomorrow"

In order to succeed, the California coaches encourage simple and realistic resolutions, which should be written down and posted on your fridge. While this may seem a little simplistic, experience shows that a little reminder of goals as you open the fridge helps you stick to the program. They also recommend setting a measurable goal, such as a target weight, or amount of time spent on weekly exercise.
But the biggest key to success is to just get started. As John Paul II said: "The future starts today, not tomorrow." Forget about buying all that expensive gym equipment, or the latest juicer: start simply and build up your efforts.
Be good custodians of our body

What distinguishes their program from the many others on the market is that it's not about over-performing or worshiping our bodies, it's about addressing the challenges of everyday life with a healthy mind and body.
St. John Paul II, who was an avid soccer player and skier, explained that the body is sacramental; it's "a visible sign of an invisible reality." In other words, it is through and with our bodies that we experience and love God, and serve others.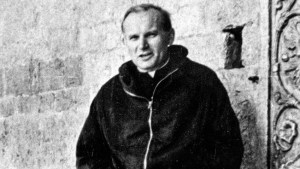 Read more:
How St. John Paul II became known as "Lolek the Goalie"