Calls on governments to use prudence, generously accepting the number of migrants they can integrate
Returning from an ecumenical pilgrimage to Geneva and a meeting with the World Council of Churches, Pope Francis took up the issue of immigration during an in-flight press-conference.
The Holy Father maintained that a balance is needed in considering the complex issues related to immigration. While he has repeatedly called for generosity and the need to see migrants and refugees as concrete human beings with particular stories and great potential to enrich their host societies, he also spoke about the difficulties governments face in welcoming these displaced peoples.
He reiterated that governments must use prudence: "A country must welcome as many refugees as it can, and as many as it can integrate: integrate, that is, educate, give work."
Read more:
Pope Francis on welcoming migrants and refugees with both generosity and prudence
He spoke of the many countries that have received great numbers of refugees: "Italy and Greece have been very generous in welcoming them. For the Middle East – regarding Syria – Turkey has received so many; Lebanon, many: Lebanon has as many Syrians as there are Lebanese; and then Jordan, and other countries. Spain too has welcomed them."
But, the pope warned, the problem of human trafficking is wrapped up in the immigration issue. He spoke of the horrors of human trafficking "prisons," comparing them to the lagers of World War II.
"But all this phenomenon is a disorder," he said. "The problem of wars is difficult to solve; the problem of the persecution of Christians also, in the Middle East and also in Nigeria. But the problem of hunger can be solved. And many European governments are thinking of an urgent plan to invest in those countries, to invest intelligently, to provide work and education, these two things. In the countries from which these people come."
Francis repeated what he has said on other occasions, that at the root of the immigration issue in regard to Africa is that "in the collective subconscious there is an ugly motto: 'Africa must be exploited' – Africa es para ser explotada. This is in the subconscious: 'Eh, they are Africans! … Land of slaves.' And this must change with this plan of investment, education, development, because the African people have so many cultural riches."
Read more:
Do we have a subconscious idea that Africa exists to be exploited?
Regarding America, the pope spoke both of those who migrate from one country to another, and those who migrate within countries, from rural areas to metropolises, creating slums.
With the issue in the United States, where national attention was focused on the zero-tolerance policy resulting in children being separated from their parents, he reiterated what he had already said in an interview with Reuters: "Speaking concretely, towards the United States, I agree with what the bishops of that country say. I support them."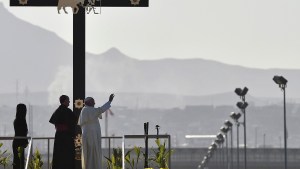 Read more:
Pope sides with US bishops in response to family separation policy at the border
Read more:
Watch the pope's video that won an international prize for best strategy