We might be surprised to know that some of our most commonly used expressions come right out of Ecclesiastes.
What can God do in your life with one Bible verse a day?
Subscribe to Aleteia's new service and bring Scripture into your morning:
Just one verse each day.
Click to bring God's word to your inbox
What do the Bible and Forrest Gump have in common? The film's soundtrack features the song Turn! Turn! Turn! (to everything there is a season), the words of which come straight from the Old Testament Book of Ecclesiastes:
For everything there is a season, and a time for every matter under heaven:

a time to be born, and a time to die;

a time to plant, and a time to pluck up what is planted;

a time to kill, and a time to heal;

a time to break down, and a time to build up;

a time to weep, and a time to laugh;

a time to mourn, and a time to dance;

a time to throw away stones, and a time to gather stones together;

a time to embrace, and a time to refrain from embracing;

a time to seek, and a time to lose;

a time to keep, and a time to throw away;

a time to tear, and a time to sew;

a time to keep silence, and a time to speak;

a time to love, and a time to hate;

a time for war, and a time for peace. (Ecclesiastes 3:1-8)
Written in the 1950s by folk singer Pete Seeger, the song has been covered by many artists, including Nina Simone, Dolly Parton, Bruce Springsteen, and Chris De Burgh. The most popular version of the song was the folk rock rendition by The Byrds, which topped the charts at its release in 1965. The first 8 verses of Ecclesiastes 3 are quoted almost exactly, though Seeger slightly modified the order. He also added the famous "Turn! Turn! Turn!" before concluding with the line, "a time for peace, I swear it's not too late" — powerful words penned during the time of the Vietnam War.
Ancient wisdom, valid today
Far from being boring and outdated, the Bible continues to inspire artists of all convictions with the beauty and strength of its texts. At once fascinating and complex, the Book of Ecclesiastes (the Greek name used in some versions of the Bible) or Qohelet (the name derived from Hebrew) is traditionally attributed to King Solomon. This hypothesis is contested, however, since the text dates from the 3rd century BC, while Solomon lived during the 10th century BC. Many phrases from the book have made their way into popular culture in more or less exact renditions, including "there is nothing new under the sun" (Eccles 1:9), "all are from dust, and all return to dust" (Eccles 3:20), or the theatrical "vanity of vanities, all is vanity" (Eccles 1:2).
Qohelet (the pseudonym used by the book's author) is preoccupied with the passing of time and man's destiny. He recognizes the fragile and ephemeral character of all things. His point of view can seem pessimistic, as he looks with disillusionment on human beings and society.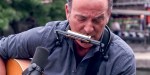 Read more:
Bruce Springsteen taps the Bible for inspiration


The listing of actions and their opposites in Ecclesiastes 3 seems to highlight the unavoidable succession of all times, good or bad, that constitute a life. But this enumeration also underlines the richness of existence and the variety of possible actions that are achievable or not, depending on how we choose to live.
Though he names various negative actions (to die, kill, cry), Qohelet also affirms that God "has made everything suitable for its time" (Eccles 3:11). Later he says that every moment of life reveals its meaning in due course. A good thing at the wrong time can be the wrong thing to do. Conversely, what seems frightening and difficult at one time can, when viewed from another perspective, be considered an opportunity for growth. For Qohelet, the rhythm of nature and life ought to be respected. There is wisdom in being patient and appreciating each moment as it comes. He extends an invitation to live in the present, without dwelling on the past or pining for the future.
In short, the popularity of the saying that "there is a time for everything" is just one more example of how the Bible, with its wealth of human and divine wisdom, has had a profound and lasting influence on Western culture.
Read more:
Aging, virtue, and tending well to God's gifts