From horror at sin to delight in love -- is this not the pilgrim's path marked out for all who follow Christ?
What can God do in your life with one Bible verse a day?
Subscribe to Aleteia's new service and bring Scripture into your morning:
Just one verse each day.
Click to bring God's word to your inbox
How often have you said: "Glad to meet you—it's good finally to associate a name with a face!" We say that upon first meeting someone we've, say, corresponded with by email or chatted with by phone, but have not yet met face-to-face. Have we ever thought of saying those same words to Christ?
We have come to know Christ, the Word of the Father, through the many words of Sacred Scripture and Sacred Tradition. Well and good. The history of Christian art shows that disciples of Christ long to behold the whole person of Christ—the depictions of him from birth to death to glory are countless. Since modern times, perhaps the most stunning (and controversial) depiction of Christ—particularly his face—comes from the Shroud of Turin. Many accounts of the Shroud can be found at Aleteia (see HERE), along with stories on the Holy Face (see HERE).
Let's look at the Shroud in terms of its depiction of the face of Christ, and link the desire to see his face with the devotion to the Holy Face and devotion to the Sacred Heart of Jesus. During June, known as the month devoted to the Sacred Heart, we should know that devotion to the Sacred Heart and to the Holy Face complement each other. Taken together, they can guide us and support us in our struggles and joys in this life.
Devotion to the Sacred Heart presents to us, in sensible form, the humanity and divinity of Christ's love for us. The wounded Sacred Heart, torn open by the lance, reveals to us the fire of divine love—love for us—at the very center of divine life. How much sin would we have avoided if we were confident in that divine love for us?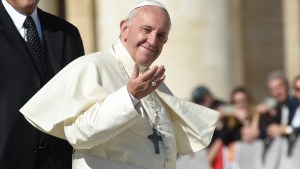 Read more:
"God has tattooed my name on his hand!" Pope Francis is blown away by God's mercy
If the Sacred Heart presents the love of Christ for us, the Holy Face presents the sorrow of Christ for us—specifically, sorrow for our sins. Luke 19:41 shows Jesus weeping over a Jerusalem he knows will reject him; many great mystics assure us that he weeps over sinners who even now scorn his love. Contemplating the face of Christ, the "Man of Sorrows," a face disfigured by sinners, we might console Christ in his agony, even as we have cultivated in us a revulsion toward the ugliness of sin.
In Luke 22:61-62, we read that Peter, having denied his Lord three times, beholds the face of Christ he just betrayed, and wept bitterly. Even a glance of the face of Christ can move a sinner to repentance. Reflecting on this, St. Ambrose wrote: "There is no doubt that Peter received the grace of conversion from the Sacred Face because those on whom Jesus gazes are always saved." St. Jerome urges us to turn to the Holy Face so that we may be moved to confess our need for salvation: "The Face of Jesus will continue to save each time we have recourse to it; invoking this aid, 'Show us Thy Face and we shall be saved.'"
And perhaps the most beloved saint of modern times, St. Therese, took the religious name Therese of the Child Jesus and of the Holy Face, explaining: "How much good the Holy Face has done me during my life … The just will recognize Him not only by the cross—symbol of salvation, which will precede His coming—but more exactly, by His Face, which will shine on the last day."
These saints show us that beholding the Holy Face of Jesus can move us to conversion, to hatred of sin, and to offer our own love in gratitude for the love revealed in his Sacred Heart.
This progression, from horror at sin to delight in love, is this not the pilgrim's path marked out for all who follow Christ? The link between devotion to the Sacred Heart and the Holy Face—is this not a map that can lead us to Heaven? Knowing this, how then shall we pray and live?
Devotions to the Sacred Heart, such as the Nine First Fridays and the Apostleship of Prayer, are well known. The Chaplet of the Holy Face should also be a daily devotion for those seeking a deeper intimacy with Christ. Visionaries of the Holy Face were promised that those who make reparation for the Holy Face disfigured by sinners will have the disfigurements of their own sins removed.
Nowadays, we too often speak of "love" and "mercy," without reflecting on the terrible price Christ paid to give us his love and mercy. Devotion to the Sacred Heart and the Holy Face can help us to treasure rightly these priceless gifts of Christ.
When I write next, I will reflect on the spiritual import of the various welcome and unwelcome transitions of life. Until then, let's keep each other in prayer.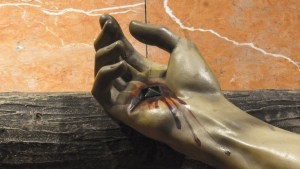 Read more:
A powerful collection of prayers to the Holy Wounds of Christ