In another installment on the Decalogue, Francis is again changing our concept of God's "rules"
Why would God start off the Commandments with an assertion that seems out-of-place with what comes next? He says, "I am the Lord your God, who brought you out of Egypt, out of the land of slavery," and according to Pope Francis, there's a profound — and profoundly beautiful — reason for such an intro.
"Why does God make this proclamation of Himself and of liberation?" Francis asked. Because "the God of Israel first saves, then asks for trust. Or rather: the Decalogue begins with God's generosity. God never asks without giving first. Never. First He saves, first He gives, then He asks. This is our Father, our good God."
In another installment on his catechesis series on the Commandments, the Holy Father continued with his effort to give the Decalogue a context perhaps unfamiliar to many of us.
This first introductory declaration, he said, is a possessive — I am your God — "there is a relationship, He belongs to us. God is not a stranger: He is your God."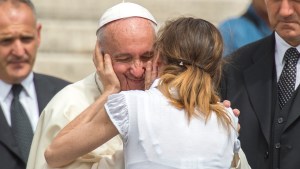 Read more:
You probably don't think of the 10 Commandments like this! Check out the pope's amazing insight
Francis referenced what Benedict XVI said in this regard as well:
The love-story between God and man consists in the very fact that this communion of will increases in a communion of thought and sentiment, and thus our will and God's will increasingly coincide: God's will is no longer for me an alien will, something imposed on me from without by the commandments, but it is now my own will, based on the realization that God is in fact more deeply present to me than I am to myself. Then self-abandonment to God increases and God becomes our joy.
This same attitude is what Christ shows us: As the Father has loved me, so I have loved you.
Thank you, Father
Pope Francis said that too many times, we fail because we start out with something other than gratitude.
"Christian life is first and foremost a freely given response to a generous Father," he said, warning that Christians who only follow their "duties," miss the foundation.
"What is the foundation of this duty? The foundation of this duty is the love of God the Father, Who first gives, then commands. To place the law before the relationship does not help the path of faith," he said.
This has practical consequences in how we share the Gospel with others, he noted:
How can a young person wish to be Christian, if we start out from obligations, commitments, coherences and not from liberation? But to be Christian is a journey of liberation! The commandments free you from your selfishness and they free you because there is the love of God that carries you forward. Christian formation is not based on the strength of will, but on the acceptance of salvation, of allowing oneself to be loved: first the Red Sea, then Mount Sinai. First salvation: God saves His people in the Red Sea; then on Sinai tells them what they must do. But the people know that they must do these things because they have been saved by a Father Who loves them.
Pope Francis asserted that "Gratitude is a characteristic trait of the heart visited by the Holy Spirit; to obey God one must first remember the benefits."
Then the Bishop of Rome reiterated what for him is a key part of the Christian life: memory. Fostering in our memory all that God has done for us.
"How many beautiful things has God done for each one of us," he exclaimed. "How generous is our heavenly Father. I would now like to propose a little exercise to you, in silence: each person answer in his or her own heart. How many beautiful things has God done for me? This is the question. In silence, each one of us, answers. How many beautiful things has God done for me? And this is God's liberation. God does many beautiful things and frees us."
Honest prayer
Pope Francis then acknowledged something difficult: Perhaps many feel that they haven't this experience of God's liberation, and feel only a sense of duty in their Christian life.
"What can be done in this case?" he asked? What must be done is what the Chosen People did.
The book of Exodus says: "The Israelites groaned in their slavery and cried out, and their cry for help because of their slavery went up to God. God heard their groaning and He remembered His covenant with Abraham, with Isaac and with Jacob. So God looked on the Israelites and was concerned about them. God thinks of me."
Read more:
The whole mystery of Christian prayer is summed up in this one word, says Pope
The pope insisted that the intro to the Commandments is precisely the answer to this lament. "We do not save ourselves, by ourselves, but from us there comes a cry for help: 'Lord, save me; Lord, show me the way; Lord, caress me; Lord, give me a little joy.' This is a cry for help. This depends on us: asking to be freed from selfishness, from sin, from the chains of slavery. This cry is important, it is prayer, it is awareness of that which is still oppressed and not freed in us."
There are many things that are not freed in our soul. 'Save me, help me, free me.' This is a beautiful prayer to the Lord. God awaits that cry, because He can and He wants to break our chains; God has not called us to life to remain oppressed, but to be free and to live in gratitude, obeying with joy He Who has given us so much, infinitely more than what we can give to Him. This is beautiful. May God always be blessed for all that He has done, all that He does and will do in us!
Read more:
If you need hope, foster your "Christian memory," says Francis