Archaeologists discover the oldest images to date of the two great apostles.
In the unlikeliest of places, archaeologists found the oldest icons to date of St. Peter and St. Paul.
In the small catacombs of Santa Tecla, located on Via Ostiense in Rome, 500 meters from the Basilica of St. Paul Outside the Walls, archeologists found the icons in the same spot where, 9 years earlier, the discovery of the remains of a man had also been documented. Archaeologists identify these remains as those of St. Paul himself.
The icons were found four meters deep undeground, in a tiny cubicle of an old tomb located under an insurance company property built in the 1950s.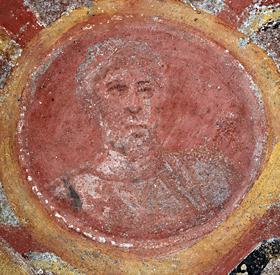 Launch the slideshow
Archaeologists have known about this cubicle since 1720, but the icons were completely covered by a thick layer of lime, which made it impossible to detect that there could be any paintings there. They were discovered using new archaeological techniques based on the use of lasers.
The discovery was presented on June 22, 2010, by the president of the Pontifical Commission of Sacred Archaeology and president of the Pontifical Council for Culture, Cardinal Gianfranco Ravasi. It had all started a year earlier, in 2009, when part of the lime layer was removed, revealing one of the icons depicting St. Paul.
[script_connatix_id_article cnx-video="540641″ token="e5373a05-8be1-470c-9dab-b2fe2c9ff1e6″ /]
Fabrizio Bisconti, professor of Christian and Medieval Archeology at the University of Rome, announced the discovery, explaining that after several attempts to find out if there were images behind the lime, the laser finally unveiled them.
"When we removed the layer of lime, we discovered portraits of three other apostles, in addition to St. Paul: Peter, Andrew, and John."
It is impressive indeed to see how early Christians could differentiate the faces of each one of the apostles with such precision. As can be seen in the images in the gallery, the way in which the apostles are represented iconographically hardly changes throughout history.