Gallup poll finds more Americans than ever are OK with pornography.
Every month or so – less often, now that some of us are married — my oldest friends and I get together for a few hands of poker. We've known each other since elementary school so we're comfortable admitting to our flaws or quirks with each other, even if we know we'll get a certain amount of chaff or rowdy belittlement for our confessions. A few months ago, however, one of our group said something that was met with a rare thing to find in a gathering of drinking Millennial men: silence.
My friend, we'll call him Billy, stated quite casually that he watches porn on his phone during his breaks at work. At first, he didn't even notice that we were all stunned by the comment, but when he looked up and saw us gaping, he seemed surprised to discover that no one else did this.
What followed was about 20 minutes of interrogation along lines both practical ("What if someone you work with saw you watching that?") and perturbed ("Dude, are you masturbating at work?"). No one thought this was a good, or usual, or unimportant matter.
Billy explained that it had nothing to do with arousal; he just liked to watch porn, and it's what he gravitated to when he had a free moment.
Setting aside the obvious implications of addiciton to which Billy's bad habit alludes, I was further surprised to find that not a single man at the table could say that they never watched porn, or that they had stopped watching it. I knew that porn usage was way up in my generation, but seeing the effects of it in my friend Billy made me wonder, "Has it gotten that bad?"
According to a recent poll by Gallup, it has. Earlier this month the research group released a study that found "Americans' views regarding the moral acceptability of pornography, which remained relatively stable for much of this decade, rose significantly this year." A 7 percent increase was seen across the board; that's on both sides of the aisle, in both genders, surprisingly, and for all ages.
However, by far the largest increase, at 11 percent, was seen in unmarried men ages 18-34. In other words, Millennials.
Gallup had no clear answer as to why they saw such a sharp increase from last year, but if Billy is any indicator, I would say it is because pornography has become a social norm – so much so that people are comfortable watching it in public.
The great porn expansion
As for how we got here, I suspect it is partly due to a deep psychological wound cut into my generation by the prevalent availability of pornography in the late 90s and early aughts.
Those years, our most formative, saw the rise of file sharing programs like LimeWire and Kazaa, which disseminated pornographic videos and images to thousands of children whose parents were not yet savvy enough to know all the ways kids could hide what they'd downloaded.
As the internet evolved, it gave way to new sites mimicking YouTube in its social community design and sharing of free media. There are an abundance of websites like this, where communities have actually formed around pornography. In these circles people who watch and make videos can find acceptance with others who have the same propensities. This has effectively normalized something that was once taboo, and not even spoken about openly.
Just like YouTube, these sites give visitors access to millions of videos, mostly amateur, as now any man or woman with a camera can post their videos online. The sheer magnitude of how much porn is around today compared to even 20 years ago is staggering.
Millennials were born on the cusp of this expansion of the porn industry, and as x-rated content became more readily available, we became more hooked. The promise of an endorphin release mixed with endless sources of pornographic material is a recipe for addiction.
Our era, which is all about instant gratification, doesn't help We've become accustomed to never having to wait for whatever we want, and this has impacted young unmarried men who – were we to do it right (dating, engagement, marriage) – face potential years of self-denial, when they have been accustomed to a "quick fix" on a daily basis.
Add to that the crippling student debt, the job markets that disappeared just as we were starting our careers, and the often ridiculous cost of weddings and it becomes clear why some might content themselves with the habits they have developed in youth and leaned on their entire lives.
What can be done?
This isn't something that cannot be changed, but as any smoker who's been at it for 20 years knows, it's hard to quit a long-term addiction. And just as the next generation will not remember rotary phones, Millennials do not remember a time before easily accessed pornography. I believe it would take a massive support movement, and possibly medicinal aids akin to nicotine gum, to make a lasting impact away from porn addiction.
The website NoFap is a good start. They help those who wish to change their habits and take their minds off porn with motivational memes and testimonials from fellow recoverees. Their community offers support much like an AA group.
Several celebrities, such as Terry Crews, Russell Brand, and Hugh Grant, have spoken about the negative influence of porn in their lives. Joseph Gordon-Levitt wrote, directed, and starred in the film Don Jon, about a man who found porn more satisfying than a real relationship. Gordon-Levitt has also decried the similarities between porn and mainstream media:
"I think there's not a substantial difference between a lot of mainstream culture and pornography … whether it's rated X or approved by the FCC for general viewing audiences, the message is the same. We have a tendency in our culture to take people and treat them like things."
The USCCB also offers resources for porn addiction recovery. They provide guides for mental and spiritual healing, as well as advice on mending relationships that have been shaken by porn addiction. The remind us:
"It is important to remember that no matter what you have done, you retain your dignity as a son or daughter of God, loved by the Father. What sin has disintegrated, grace can reunite and make whole. Thanks be to God for his great gifts of mercy and healing!"
So, yes, there is hope for Billy. But he has to want it.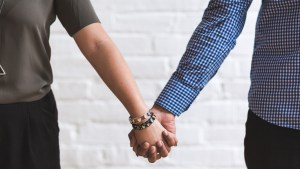 Read more:
4 Reasons to keep porn far away from your relationship