Our digital devices don't belong at the dinner table, and here's why.
What can God do in your life with one Bible verse a day?
Subscribe to Aleteia's new service and bring Scripture into your morning:
Just one verse each day.
Click to bring God's word to your inbox
Did you know that there are restaurants around the world where you get a discount on your meal if you leave your cell phone stashed away the entire time? Sushi Lounge in New Jersey is one example, according to the New York Post. The reason for the discount (20 percent for people who but their phone in a box on the table for the duration of the meal) was simple – the owners wanted to "rekindle the flame" in people's relationships by getting them off their phones for a while. It's been good for business, too; people are always coming in for the special deal.
Apparently, there are more and more restaurants adopting similar policies. The Italian restaurant Lebro's in Getzville, New York, also mentioned in the New York Post article, is famous not only for their delicious pasta but also for their Sunday special: "Disconnect to Re-Connect" offer. There are tables where all the customers turn their cell phones off during dinner — no text messages, no conversations, no photos, not to mention checking emails — and get a 10 percent discount.
Is the social media situation really that bad?
WiFi free spaces
I tend to work a lot in cafes. As a matter of fact, I'm writing this article in one of my favorite ones right now. I like the atmosphere, the smell of coffee, soft pillows, quiet music and hushed conversations in the background. Usually, I stay focused on my computer and don't pay attention to anything else other than my work.
But today I looked around. Aside from people who came here to work, like me, there are a few others who came to meet friends. They are talking, laughing, and drinking coffee. But there are also those who sit across from each other but are not even looking at each other. Their eyes are entirely focused on their smartphones. They are scrolling social media accounts, watching something on YouTube, or talking to friends on Facebook.
I finally understood that the sign I've noticed on more and more cafe windows is not really a joke or a marketing ploy. "No, we have no WiFi. Talk to each other," encourage the owners of such places.
The fact that we need such drastic solutions as entirely unplugging to look at each other and talk says a lot about us and the times we live in. But unplugging may not be enough; our smartphones are connected to the internet at all times. I remember when I changed my phone for a newer (and better) model with better internet package, the sound of notifications annoyed me. I tried to ignore them, but sooner or later I would check the phone, even when I was supposed to work, take care of my child, or simply read a book.
Parenting while online
I did a quick examination of my conscience and realized I, too, am always online. Like most people. And like most parents; in a study by Boston Medical Center, one of three parents used a cell phone practically all the time, including at restaurants during a meal with a little kid. The children try to get their parents' attention, but some of them finally accept the lack of interest and play by themselves. As scientists noted, parents are more engaged with their gadgets than with their children.
Shocking, isn't it?
Family meals are one of the most critical family bonding elements. It's a moment in time when we can stop and leave all the difficulties and work issues outside, and be together.
Incessant checking of your phone during a family meal or a get-together with friends is not only rude and against all rules of etiquette, but it's also unhealthy — especially for young children, who need to talk with their parents, not only to build a better relationship but also, it seems, to be physically and mentally healthy. According to studies cited by the Washington Post, meals where the family talks together have a beneficial impact on children's vocabulary, academic performance, and anxiety level, and even reduce the symptoms of asthma. In short, children from families where everyone talks at the table are smarter, healthier, and have fewer eating disorders.
No cell phones allowed
By now I shouldn't have to convince you that you should leave your phone far away from the dining room. No, a smartphone is not part of a table setting. Yes, I know it's difficult. I know how tempting it is to look at social media, where there is always something exciting happening. I also know that FOMO (fear of missing out) is a real thing. That's why it's important to fight.
You can do it with a sense of humor, like in the campaign by Common Sense Media marked with the hashtag #DeviceFreeDinner. In one of the videos (above), we see a family arriving for dinner at the grandparents', but before anyone can enter they go through a series of sensors, like those at an airport, which are designed to find the smartphones even if they are cleverly hidden inside a book.
So far, though, the financial reward model seems to be continuing to gain ground. According to an article in Adweek, a number of Chick-fil-A restaurants are using a "cell phone coop" where customers can leave their cell phones (in silent mode); if they manage to leave the phone there until the end of the meal, they get a free small ice cream cone. Similarly, in early 2016, Master Card joined three restaurants in Warsaw, Poland in a unique project. They proposed to customers that they lock their smartphones in a special capsule. The longer the phone stayed locked up, the more valuable the rewards became. But most of all it was good to remember what it's like to forget about everything around and simply eat a meal without scrolling the web, and talking to someone who is looking at us, not at a screen.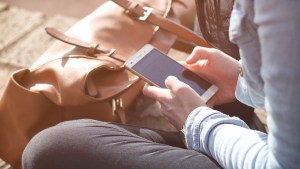 Read more:
An easy tip for cutting back on your cell phone addiction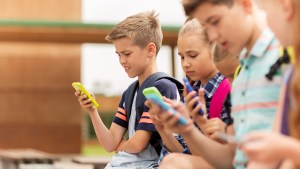 Read more:
France to totally ban cell phones in schools