As we begin the month dedicated to the Precious Blood, let us meditate on this most sublime exchange.
What can God do in your life with one Bible verse a day?
Subscribe to Aleteia's new service and bring Scripture into your morning:
Just one verse each day.
Click to bring God's word to your inbox
And the whole people said in reply, "His blood be upon us and upon our children."
Every Palm Sunday, when we as a whole congregation must together read aloud these words shouted by the crowd on the morning of Jesus' crucifixion, a chill runs through me.
Somehow they seem even worse than the preceding repetitions of "Crucify him, crucify him." "His blood be upon us and upon our children" is so specific and personal, not only directly accepting the responsibility for this unfathomable sin but gratuitously extending the guilt to the next generation.
It is sobering to think of how much power God puts in our hands when he gives us free will. But as much as I dread speaking this line aloud, it is fitting for us Christians to say it still today, because by the sins we commit we also share in the blame for that ancient crime.
And yet, paradoxically, there lies some comfort, too, in reading these words as a community of Christians. For in our mouths, they may strike us as prophetic not only of our universal guilt, but of God's wide mercy: the Blood for which we are guilty is the very Blood which renders us all righteous. It is "upon us" in both senses.
French priest Fr. Jean C. J. D'Elbée explains how, when Christ in His Passion appeared before the Father covered with our sins, he obtained for us a special right:
… the right to appear one day before the Father covered with the Blood flowing from every pore of His body … Then the Father will not recognize us as sinners, but as His children, regenerated and renewed by the baptism of this Blood.
"My sins on Him, His Blood on me," D'Elbée summarizes: Such is the "sublime exchange" by which Jesus takes our sins upon Himself and makes His merits our own. By this plan, by Christ pouring out His life's Blood for us and over us, sanctity becomes possible for every man or woman.
In our English language, the very word "blessed" actually derives from the old Germanic "hallowed or marked with blood."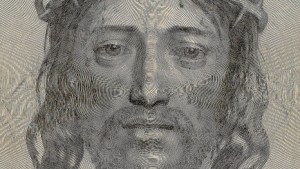 Read more:
Knowing Christ's heart through his face
Convinced of our profound need for the merits of the Passion, Pope St. John XXIII urged a revival in devotion to the Precious Blood of Jesus during his pontificate, approving the Litany of the Precious Blood and releasing an encyclical on the topic in 1960. He encouraged the faithful to renew their devotion both by meditating more fervently on the "boundless power of the Blood" and also by savoring its fruits more frequently in sacramental communion.
So this Sunday, on the date once celebrated as the Feast of the Most Precious Blood — as well as throughout the whole month of July, dedicated to it — let us take to heart more deeply those words, once a declaration of sin, now a plea for mercy: May the Blood of Christ, which has purchased for us the rewards of eternal life, ever remain upon us and upon our children.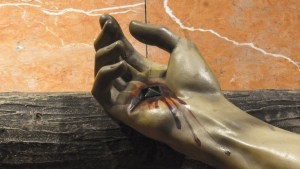 Read more:
A powerful collection of prayers to the Holy Wounds of Christ