Jonas Knudsen's teammates pulled together to make sure this new daddy wouldn't miss out.
When Danish soccer player Jonas Knudsen landed in Russia with his team to play in the World Cup, he was fully focused on the job at hand. At the age of 25, and after years of training, he wanted to help lead his country to victory. However, as with all best laid plans, his wife, Trine, gave birth to a daughter weeks earlier than expected, leaving the player with his teammates in Russia, instead of back home at his wife's side.
Luckily for the defender, his teammates understood his predicament. "As a father myself I cannot imagine how hard it was for Jonas getting that message and not being there," said goalkeeper Kasper Schmeichel, as reported by the BBC. With lots of other fathers in the squad, the team decided to club together and pay for a private jet to get Knudsen back to his wife — but not before the side had beaten Peru 1-0 on Saturday, helping them qualify for the next round in the tournament.
As Schmeichel said: "We wanted to look at the human side." As so often we forget that these world-class soccer stars, who are loved and admired by so many, still have their families to inspire and motivate them as they take to the pitch.
Thanks to the generosity of his squad, the new father was able to make a flying 24-hour visit for cuddles with his wife and new baby before returning to play for Denmark on Monday. As his team continue to progress in the tournament, we can't help thinking that Knudsen will be more than happy to return to his new family, with or without the coveted trophy.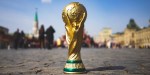 Read more:
Faith and the 2018 World Cup: little-known Christian details about soccer (football!) stars