Whether it's doubting ourselves, others, or even our faith, Thomas the Apostle can teach us a thing or two.
What can God do in your life with one Bible verse a day?
Subscribe to Aleteia's new service and bring Scripture into your morning:
Just one verse each day.
Click to bring God's word to your inbox
Do I really trust my choices? Is this the right decision? We've probably all had these questions. Doubt is a state of mind that doesn't discriminate. Even when we put on a brave face, underneath the bluster is a healthy dose of doubt. Sometimes our second-guessing is too obvious to even bother hiding it. That's when we shrug our shoulders and admit we have no idea what we're doing.
I once had a pretty epic month of life-changing decisions. I quit my job as an Anglican pastor, made the decision to become Catholic, put our house on the market, and moved my growing family halfway across the country. As I was putting our future in jeopardy and leading my wife and children into an abyss of uncertainty, did I have doubts? Yes. Yes, I did.
When we must make decisions that will affect the future, it's normal to have doubts.
Thomas, one of Jesus' 12 disciples, feels your pain. The poor guy went through a fairly normal period of doubt while trying to process the fact that his whole life was being turned upside down and that maybe his teacher and close friend had actually come back to life. To me, this seems like an appropriate moment to express a few questions and concerns. Thomas did so and had his doubt immortalized in a new nickname, "Doubting Thomas."
The funny thing is, Thomas actually went through a healthy process by which he encountered his doubts and dealt with them. When we encounter doubts of our own, the example of his life is helpful to mediate on. 
Everyone doubts
Even though Thomas was the one who got stuck with the reputation for being the doubter, pretty much everyone else around him was in the midst of their own, internal battle with doubt. At some point in your life, you will doubt something or someone. You will likely doubt yourself. We're all experts at pretending we know exactly what's going on, so even if everyone else around you is in the same boat, it can feel as if you're the only one with no clue. Knowing that doubt is far more common than people admit is the first step towards overcoming it.
Voice your doubt
Thomas is famous for being the guy who demanded proof. He was willing to admit he wasn't convinced enough to be confident. At times we need to stop fretting, trust ourselves, and take a leap of faith – which is actually what Thomas did – but before doing so it's wise to take in as much information as possible. It takes courage to admit that you aren't entirely sure what the next step is, but it's the only way to come to grips with your hesitations. Even if proof or a crystal clear answer to your concerns isn't forthcoming, simply voicing a doubt is helpful in defining and overcoming it.
Understand the doubt
Thomas was willing to express his doubt. At first, he demanded a lot of proof, but in the end, because he understood his doubt he was more willing to trust. He knew what risk he was taking. Sometimes, our doubts are unreasonable, but we'll only know this by expressing and understanding them. Why am I fearful? What's holding me back? Sometimes the answer to those questions helps us move beyond fear to confidence. Other times the answer may reveal that the doubt is well-founded. Either way, we gain clarity.
Find hope
For Thomas, what ultimately arose from his doubt was hope. He lived the rest of his life with no fear and fully committed to his mission. Hope arrives when we have a clear, well-thought out plan for the future. Even if we still see difficulties on the horizon, they no longer cause doubt. Hope transforms those dark clouds into opportunities for personal growth, courage, and victory over obstacles.
As the example of St. Thomas shows, even the most hesitant, uncertain, doubt-filled moments of our lives can become the foundation from which we rise to greatness. We all have doubts, but what matters is in how we handle them and find hope in every situation.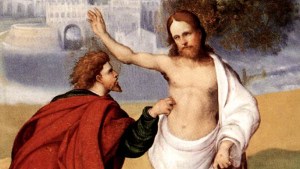 Read more:
What to do with the Doubting Thomas in all of us?