Already scoring four goals in the World Cup, the devout Catholic forward shares his faith with his team and the rest of the world.
Lukaku doesn't hold back when it comes showing his faith to the world, just like at the end of the Belgium-Panama match when he fell to his knees to pray next to the Panamanian player, Fidel Escobar, an Evangelical Christian. Under the gaze of the world's media, the two players shared in a moment of communion the behavior of the orant; with outstretched arms raised toward heaven — that also happens to be the oldest gesture of Christian prayer. Understandably, the photo went global.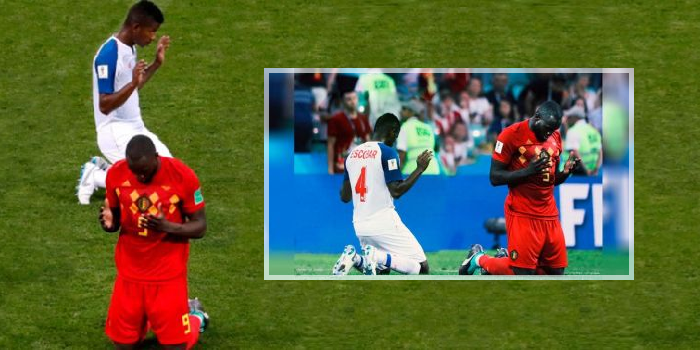 Born in Belgium to Catholic parents of Congolese origin, Lukaku grew up in poverty. "I was six years old … [my mum] was mixing water in with the milk. We didn't have enough money to make it last the whole week. We were broke. Not just poor, but broke…. But I swear to God, I made a promise to myself that day… I couldn't see my mother living like that," he shared in a recent article for The Players' Tribune.
A daily prayer

From a very young age he evolved successively, with brilliance, through the different stages leading to professional soccer. Right to the moment where he signed his first professional contract at the age of 16 with the prestigious Belgian club, Anderlecht. As of now he shines for one of the top English Premier Leagues teams, Manchester United, while living his faith with passion: in 2014 he went on a pilgrimage to Lourdes; the forward also crosses himself when he scores a goal; and when he has some spare time, he often spends it in prayer.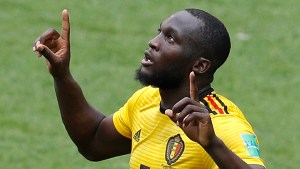 Read more:
How two promises made a 6-year-old boy a world-class soccer player
"Romelu is very religious. He always tries to give thanks to God. In total he prays 10 to 15 times a day, most often in silence. He doesn't wear any religious symbols, nor any special good luck charms. At the club, Romelu prays in the changing rooms, on the pitch and during his training sessions. Romelu never forgets to thank his family. We gave him a Catholic education, where faith and the family are important," shared his father Roger Lukaku, to the Belgian press. No doubt his values were beneficial to the mighty 6 foot 2 player when his team faced Japan this Monday evening, beating them 3 – 2. As his team play the impressive Brazilians in the quarter-finals this Friday, no doubt Lukaku will once again be deep in prayer hoping for a little Divine intervention.
Here's seven World-Class football stars who aren't afraid to share their faith publicly –
Launch the slideshow