Seminarian-team is in the UK for a tour that promotes good relationships among people of different faiths
Did you know the Vatican has a cricket team? Well, it does … made up of a group of future priests. The team has been around since 2013, and today, they are off to the UK for an "interfaith tour."
Officially known as St Peter's Cricket Club, the team will be traveling for 12 days. Their opening match is against the prestigious Jesuit-run Stonyhurst College.
On Wednesday in London, St. Peter's will join with members of the Archbishop of Canterbury's team at the famous Lord's cricket ground to play against an interfaith side that includes Muslim, Sikh, Hindu, Buddhist and Jewish players.
They will also play matches against a team of Members of Parliament, against a Commonwealth XI, and the Royal Household Cricket Club at Windsor Castle.
On July 8 they visit a juvenileprison unit, joining with them for a Mass and playing a match there.
As well as their sport appointments, the Vatican team will be visiting a Londonmosque, a Sikh gurdwara, a Hindu temple and a Jewish synagogue to strengthen interreligious relations and to highlight the vital role of faith in contemporary society.
For updates on the tour, visit the St. Peter's Cricker Club on Facebook.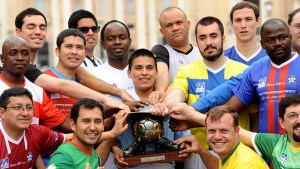 Read more:
What can the Church bring to sports? And sports to the Church?