Every apology sends the message that it isn't okay for anyone to treat you badly.
It's peak tantrum season at my house. For my three-year-old, definitely, but I've been having a few tantrums of my own. Between the sleep deprivation and the postpartum hormones after number two, I haven't been at my top game, patience-wise. It got to the point where every day, I'd wake up saying, "If the only thing I do today is manage not to yell, I'll go to bed happy." And day after day, I couldn't even manage that — until I started saying sorry.
Apologizing to a little kid takes so much pride swallowing that I broke my yelling habit in less than 48 hours. I honestly wasn't expecting that. I just figured that if I couldn't actually magically manifest the patience of a Disney princess, I should at least try to tell him that it's not actually okay for somebody to fly off the handle at you.
A good apology, whatever age you are, needs to be short and specific. "Juniper," I'll say, "I'm sorry I didn't use my inside voice. Next time I will try to speak more quietly." Or, "I'm sorry I was rude. I will remember to say 'please' next time."
I don't apologize for being angry, or getting frustrated, because those are normal human emotions. But as I work with him through his own tantrums, I keep reminding him that when he's feeling angry or disappointed, he still can't do bad things. That's a standard I should hold myself to, also. Of course, not every rule applies to parent and child alike (I can eat in the living room; he isn't getting that privilege anytime soon) but some of them do. And he needs to hear me acknowledge that.
The more I make myself apologize, the more I realize that it's one of the best things I can do for him. Kids are uniquely vulnerable. They don't have the language skills, maturity, or experience, to understand that they're not being treated well, much less to articulate how. (Don't you remember being little, and feeling like somebody had misunderstood you, but you didn't know how to explain yourself?) That's why it's enormously important that we adults help them understand that it's not okay for somebody to treat you badly — even when that person loves you.
When we hold ourselves accountable, and then express that responsibility in an age-appropriate way, we are sending the unmistakable message that our children deserve respect. We're showing them that even their parents make mistakes, and we're modeling what to do when you've done something you regret.
Obviously there's a lot of nuance to keep in mind here. A toddler can't understand what a middle-schooler can, and you don't want to confuse them. I try to keep my apologizes limited to times that I break our established "house rules." In my house, we speak nicely, we say please, we don't yell. That sort of thing. But to the extent that he can understand it, it's a powerful message, and it's been great for both of us.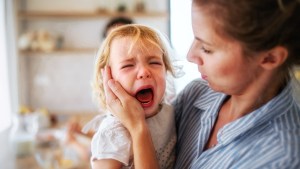 Read more:
4 Quick questions to ask when your toddler is melting down