The shocking experience of Ciril Čuš proves the extraordinary power of forgiveness.
Father Ciril Čuš, a parish priest in Žetale, a small Slovenian parish on the border of Croatia, comes from a traditional Catholic family with two brothers and a sister. The first-born daughter in the family died as an infant. They lived a very simple and humble life, working on a farm and surviving on bread, milk, and water.
His father worked as a builder and one day took a fall from 16 feet, spending a month in a coma. After the accident, he wasn't the same. He started drinking, becoming very aggressive — and young Ciril was often the target. Between the ages of 7 and 10,  Ciril's head was fractured with a blunt object 14 times.
"When I was 10, I had to wear a cap in the summer heat so that people would not notice the wounds," Ciril said.
When his father was sober, he was a wonderful man; he taught his children a lot. But when he was drunk, he wasn't safe to be around; the family tried to leave him completely alone.
Ciril had to escape through the window several times and spent many nights in the barn. He was afraid to sleep because he had terrible nightmares. He had learning difficulties and barely finished school.
Where should I run?
"When I was 10, my life lost its meaning. I wanted to kill myself, but something stopped me."
At 12 years old, he no longer qualified for aid to attend school, so he got a job picking strawberries, sour cherries, apples, mushrooms and chestnuts to help pay for his education. When he was 14 he wanted to run away from home because life no longer seemed to have a purpose, but he had nowhere to go. "I was beaten many times, whatever I did was wrong, and I was always afraid of my father."
The abuse and distance from his father led Ciril to take up karate in school. Determined to prove himself — and protect himself — he won the national kickboxing championship and became a kung fu coach.
After secondary school, he got a job and moved to an old house in the town of Rače. "My friends at that time were rats and mice. But Monday to Friday I was okay, whereas at home it was a proper hell."
Ciril no longer went to church. "I was very quiet, sad, I did my best to avoid people. I felt abandoned, unwelcome, and all this had a great impact on me."
But, with a lot of time on his hands, he would often visit the local library. It was there that he started reading the Bible. "I was drawn to the word of God, more and more every day."
Out of curiosity, he travelled to Medjugorje. He was not particularly touched there, however, he made a good confession. When he returned home he felt at peace, but nothing extraordinary happened … until …
The realization
One Sunday, a fellow pilgrim from his Medjugorie journey paid Ciril a visit, and convinced him to accompany him to a Catholic Charismatic Renewal prayer group. "Everyone there lifted up their hands and praised the Lord. I thought they were on drugs, that they were not normal. I was definitely not used to that." He decided never to enter a church again as people there were "completely abnormal."
But his friend convinced him to try it a second time, and being that it was freezing outside, Ciril had no choice but to step inside the church. He heard a woman speaking about her husband who beat her and cheated on her, but she was still able to forgive him.
"For the first time in my life, I realized what my biggest problem was — that I was not able to forgive my father. I was so angry that I even considered killing him."
This testimony touched him deeply and he kept returning to the prayer group every week. When other people prayed for him, he cried like a little child and his wounds began to heal. In order to be able to forgive, the priest suggested he pray. He prayed a Rosary for his father every day. During this time his father entered rehab but he did not get any better — in fact, he became even more aggressive.
A holy promise
"I wanted God to do something with my life. This was the only chance I could see for myself." He prayed the Rosary at the cross, on his knees. He says this was incredibly difficult and he only managed to do it because he made a solemn promise to God that he would pray until he could forgive his father.
"For me, this was a sacred promise. I did not want to break it. Most of the time it was really difficult, I was not able to see any change. Everything seemed so pointless. I did not feel like praying; I would prefer watching the TV or going to the disco." But, as he later found out, all of this was just a step away from his problems.
After a year and a half he realized that prayer alone was not enough, that he had to go to his father and tell him he forgave him. "I fought with myself, I fought with God, telling Him I was not able to forgive. But a month later I received mercy from God, I was able to approach my father and shake his hand." Nothing changed; there was no mutual forgiveness, and this led Ciril into deep spiritual crisis. But from that point on he prayed two rosaries a day instead of one.
Overcoming fear
After three years of praying rosaries, he realized that he had to tell his father how much he loved him. Initially, he resisted the urge, and then he asked the Lord to heal his heart from any lack of love for his father. "This is how my faith grew. I had neither courage nor mercy to approach my father straight away. I kept having visions in my head of how badly he had treated me," he said.
He received more mercy and approached his father yet again. He told him that he had been very angry with him. He apologized for everything he had done wrong. He told him that he was his only father and he loved him very much.
"It was at that point that the worst suffering in my life began," Ciril said. "My father grabbed a knife and said: 'I will kill you like a pig!' I ran to my room and father went to the garage to get the chain saw and kill me. For the first time in my life I stepped in front of the crucifix on the wall and started thanking the Lord Jesus: thank you for giving me a father like that, an alcoholic, thank you that I am so unworthy." He escaped through the window.
From then on his father's words no longer hurt him. But there was still no forgiveness. He started praying three rosaries a day. His father entered rehab for the fourth time but escaped after a few hours. Once again, he tried to attack his family with an axe.
After praying three rosaries a day for nine months, Ciril thought: your love was not shown in deeds. "I knew then that I had to give my father a hug." At that time, his father would drink a quart-sized bottle of liquor every day, sometimes not even returning home. He suffered from cirrhosis of the liver, coughing up blood. His doctors told him he only had a month to live — it was his choice to determine how he'd live it.
The power of forgiveness
"I asked to forgive him before he died. One day, after prayer, I went to meet my father when he was coming home from the woods. I had always been afraid but at that moment I felt at peace. I took his hand, looked him in the eyes, told him I forgave him, that I was sorry for everything, and that I loved him. I held his head close to my heart. It was the first time in my life that I hugged my father."
From that moment on his father stopped drinking and peace returned to the family. "His eyes opened and he wanted to fix everything. For the first time in our lives the children saw mother in father's embrace – we cried tears of joy.  He told us, his children, that he loved us." He lived another 16 years.
"Once I forgave, I was happy, joyful. This real encounter with God is more powerful than any hatred, curse, suffering or distress," says Ciril. He never stopped praying, either.
Priesthood? Not for me, thank you
But Ciril's journey was not over. He had always wanted a big family. He and his long-term girlfriend planned to marry and start their own family, but suddenly that direction felt wrong. He had never considered becoming a priest, either, as he barely finished secondary school.
When the Lord called him originally, he hesitated. But he soon made up his mind.
Today, Ciril realizes that he had to walk his path of suffering to be able to understand and help people who go through similar experiences. His life bears a powerful witness. He travels a lot around the world, witnessing about his experience of forgiveness.
"If we do not forgive, we stop God's blessing from entering and God cannot work within us. Forgiveness means establishing a new relationship with another person. And that is a great gift from God."
"But everyone has his own path. Jesus will provide mercy when he sees the necessity. Sometimes it takes a long time. If Jesus had granted me mercy after two weeks I might have become the same old me. But after three years I was happy to pray. And when forgiveness came I did not stop praying."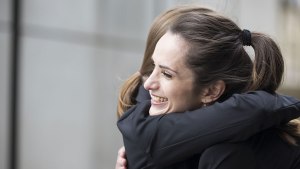 Read more:
How science is discovering what religion has known all along about forgiveness