A paralyzed young mother asks the Lord for a sign to carry her cross. This is what happened.
The story of Natasha Sanna, the wife of Simone and the mother of Ilaria, Gabriele, and Maria Giulia, might make you angry and might bring you to tears, but it will also leave you amazed, joyful, and hopeful. Natasha has lived with a severe disability for six years, and in this interview she tells us with generosity and humor about her (mis)adventure and how she had to start all over again to continue living and loving.
Natasha, tell us your story.
I went to see the doctor over a menstrual problem— I had the feeling that the blood was staying coagulated in my belly instead of going out and flowing well. My doctor, who is a gynecologist, prescribed the pill for this problem and reassured me that everything would be solved in a few months. She prescribed it to me without running any tests beforehand. Unfortunately, I had a genetic problem of coagulation which had worsened. I took the pill and I got a cerebral thrombosis.
I already had my three children then. And I had six others in heaven. I suffered from recurrent miscarriages, but no one was alarmed. I started taking the pill.
About a month later, shortly after my nephew's birth, we went to Mass on Saturday night. (My husband and I are part of the Neocatechumenal Way.) When we returned home, I remember that I fainted. When I came to in the hospital, I was completely paralyzed on my right side. I was no longer able to speak and my mouth was all bent to one side. It's much better now and you don't notice it so much unless you stare at my lips, but my right eye unfortunately does not see anymore.  
At first, they told me I would recover, but the hemiparesis soon became hemiplegia. I did a lot of speech therapy and a lot of physiotherapy for my face. In intensive care, I didn't realize how bad I was. I thought I was speaking correctly but those who listened to me didn't understand what I was saying, because I was moaning. But in my mind I thought I was expressing myself normally. Only when they brought me a little blackboard one day did I finally understand. After a series of visits, they screened me for thrombophilia, and diagnosed the causes of my pathology.
Launch the slideshow
Did you report the doctor?
No, I didn't. Even though the doctors told me I could. I think she made a human error. A serious one, but still an error. How often I make mistakes, too. I didn't want to judge her. One day the Lord will do it. It's said that sin generates sin, so I surrendered her to God's will and keep her in my prayers.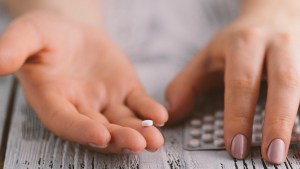 Read more:
Why Millennial women are rejecting the pill
How did you feel after the stroke? Who was particularly close to you?
Before getting sick, I was a chef and I earned good money and helped my family. I suddenly found myself in an unfamiliar world. I was catapulted into a reality that is difficult to explain and with which I had to learn to live.
Illness and suffering are scary, and in fact my family of origin grew a bit distant after the thrombosis. I always pray for them. My husband Simone has always been close to me, which is priceless, and also my community. The pain didn't damage our relationship; instead, it united us even more. I didn't choose it; God allowed it for me and it could only be a good choice. We have been together since I was 17 and he was 23: 20 years have passed! In August we will celebrate 16 years of marriage, and I'm still in love with him.
Are you in a lot of pain?
I remember that at a certain point in my illness, when I had difficulty doing things for my children, the housework that every mother does, I prayed and asked God:"If all this is in Your will, you must send me a sign. I don't want a sign like a breath of wind coming into the house, a leaf that flies, a sun beam. I want something that is almost a slap because otherwise I can't keep going. The disease is breaking me. I can't carry this cross."
Then I met with a speech therapist, and I remember that the first exercises were really difficult, because I was ashamed. I couldn't do what she asked, even though she treated me with incredible sweetness. I had to learn how to write with my left hand, and I had to start over as if in kindergarten. She told me that if I set a goal I would learn right away.
At that moment in my heart, I decided I wanted to write to Pope Francis. It's been four years since then. I remember that it was hard to write with my left hand, but I didn't want to send him one of those letters typed at the computer or on a machine. So, I wrote by hand on lined paper torn from my son's notebook.
What did you write to the pope?
I wrote to him that illness had come to my family and that absurdly, it had healed me. I had understood that this suffering was making me see life from another angle: the perspective of a wheelchair. And I remember that I also told him that my family of origin had distanced itself and that I was praying for them. In the post-script, I left him my cell phone number: "I know you like to make calls to people, so I'll leave you my cell phone number. Do what you wish with it …"
I gave the letter to a friend of mine who works in St. Peter's because he knew where to send it and who to direct it to. I remember that I went to the community and told them about what I'd done, and the priest (Don Luca) told me: "Listen Natasha, if the pope doesn't answer you, don't be upset. He has so many things to do." My husband poked some fun at me and told me: "Okay, let's see if the pope writes to you."
Did the letter reach the Holy Father?
The letter arrived in the Vatican in the care of Cardinal Comastri. He wanted to know everything about me and my story. I was told that he deposited my note in one of the boxes full of mail that the Holy Father reads personally. Then my parish priest called to tell me that a package had arrived for me from Cardinal Comastri: there was a book about the Virgin Mary with a dedication for me. I showed the gift to Don Luca who immediately said to me: "See, the cardinal sent you this gift, but now don't ask for the impossible." I replied: "Nothing is impossible for God, right?"
And then what happened?
It was the Sunday of Christ the King; I remember that we had been to my in-laws' house and then came back to our house. It was about eight o'clock in the evening when the phone started ringing. Simone told me to go and answer, but I had to remove my brace and all the straps—I'm a bionic woman and it takes me some time—so I answered: "You go!" and he said: "And what the hell! You never answer this phone!"
I thought it was the usual annoying sales call but then I heard my husband say, "Yes, yes, Natasha. I'll get her on the line." He brought me the phone: "It's for you, someone with a strange accent." I took the phone all ticked off and said: "Hello!"  and on the other side a voice said: "I was looking for Mrs. Natasha." I interrupted him all irritated and said: "That's me!" and he responded: "I'm Pope Francis." I looked at Simone and I told him, "Simone, it's not a sales call—it's the pope!"
Natasha, what a thrill! What a gift to receive a phone call from the Holy Father. What did you tell him?
I was really happy, and I said to him: "How wonderful! I've been waiting for your call for a long time," and Simone scolded me from the door: "You don't speak in the informal 'tu' to the pope!" Whenever I think about that scene, I find myself chuckling.
The Pontiff told me that he had my letter in front of him … and I interrupted him, saying: "Yes, I wrote to you to say that God gave me a gift with the disease, because I'm experiencing humility, the strength of forgiveness, the power of prayer that reaches everywhere."  
And he answered: "How nice to talk with you! How nice to hear you say these things. Thank you." I couldn't believe it and said: "It is I who thank you. I'm a drop in the sea and you called me." And then he said: "No, Natasha, you're very important, and do you know why? Because in you there is everything that the Passion of Jesus Christ represents."
I'll always remember these words. I replied that I didn't feel so important, but since he was the pope, I was nobody to contradict him.
"Listen Natasha, here I read that you have three pearls," he continued. I refer to my children that way because each of them has his and her own nuances and personality. The pope said the names of the kids.
I had him on speaker and then they called out: "Hi, Pope Francis!" And he answered, "Hi, pearls! Hi, pearls!" This will always remain in my heart, the pope who said "Hi, pearls" to my kids.
Then I passed Simone to him, otherwise I would have risked a divorce request from him! While they were talking I could see that he was bending his head whenever he said "Your Holiness," as if the pope could see it. Scenes we laugh about!
Before ending the conversation, I thanked him for the call and he told me something that remained in my heart: "I called to console you, and I was consoled." Simone was literally walking on air. Then I asked him: "What did you and His Holiness say to each other?" He said, "I don't remember!" He had talked on the phone with the pope and didn't remember their conversation because he was so excited.
This was the sign I was waiting for from God, the strong caress I was waiting for.  From that moment, I completely entrusted myself to the Lord, I accepted His will, I found consolation. But it's often hard. It would be even harder if I didn't have the community, the faith, and a husband who preaches at me whenever he sees me down, and to whom I say, "Okay, okay, you're right," just to get him to stop.
The disease has taught you humility, you said. Explain this to me.
When I was well, I worked, I earned money, I went out, and I thought I could decide everything. But illness humiliates you, and that's why it teaches you humility. And humility is a gift. One thing I didn't tell you is that I told the pope on the phone: "I would like to carry this cross as Christ carried his. Christ fell and got up three times, but in the end, he kissed his cross. And I too, with Christ's same dignity, want to carry mine."
To do this, I need to see the disease with fresh eyes: I have to look at it as if it were something that saves me, that makes everything more beautiful and true. I don't want to have the heart of someone who gives up and gets trampled by events.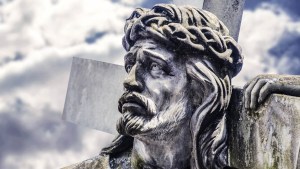 Read more:
Our Lord is "the great humiliated." And we want to be different?
What are the difficulties of your everyday life?
Since September, I can't leave the house anymore. I live in Gallicano, and the municipality hasn't removed the architectural barriers. I was also removed from the housing where I had the electric wheelchair. I had to bring it home. I can't go out alone anymore, except with Simone. When I could go out and take the children to school, the people who met me always told me: "Every time I see you, a weight is taken off my shoulders, every worry, every thought." Life is life.
The first thing I did when I came home from the hospital was to prepare pasta sauce for my children. Simone wanted to go to my mother-in-law's house to get something to eat, and was amazed that I had cooked. But I told the kids: "Look, your mother is not a half mom. She used to do things with the force of her strength, and now she is forced to do them with her heart, because she doesn't have strength anymore."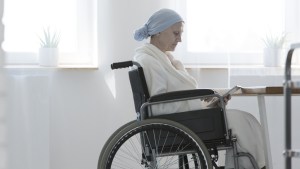 Read more:
A powerful litany for those sick and suffering