The popular children's author, Laura Ingalls Wilder, is under fire for being racist in some of her work.
Laura Ingalls Wilder, author of the beloved Little House on the Prairie books, was the first recipient of an award given by the Association for Library Service to Children back in 1954. For the next 60 odd years, the award was named in her honor. But no longer. Her name was recently removed because of what the ALSC says are racist attitudes toward Native Americans. In particular, Laura records of her mother that, "Ma hates Indians."
It's helpful to remember that as the Ingalls family moved west they encroached on land that was already occupied. They were unwelcome guests and the reception was often fierce. This is the context in which Ma formed her opinions – she had heard of the danger and the violence. She may also have been unaware of the full impact of colonization and, in her mind, was simply seeking a better life for her family. So, the issues are complex. I'm not willing to call Ma a racist, but the question remains, how should we deal with examples such as this in literature? Should Little House be erased from the history of literature?
It's not uncommon to look back on some books with embarrassment. We wonder how anyone could have ever talked that way or thought such things. Here, for example, is a list of books that have at one time been both classic, required reading in school but at other times banned entirely (including The Catcher in the Rye, Call of the Wild and The Adventures of Huckleberry Finn). These books have a lot to offer and our libraries would be poorer without them.
It would be easy to express outright indignation about the decision to remove Wilder's name from the award – and I will say that I personally don't agree with the decision – but the issue of how to handle difficult sections of books has many layers. Short of having a massive book burning in a fit of righteous puritanism, we do have other options for helping our children read and understand classic books …
Let them read and ask questions
My daughters have read Little House several times now and they ask questions about why someone said a certain thing or thought a certain way. The price of allowing them to read widely is that they're going to ask hard questions and I'm going to have to do my homework and be ready to have those conversations. The advantage of letting children read widely is that they're exposed to lots of opinions and diversity of ideas. They also come to understand that life is complicated, and that throughout history groups of people have been treated poorly, unjustly, and downright horrifically. It can be hard to discuss these things, but it's an opportunity to teach our children about human dignity, right and wrong, cultural differences, and the events of history.
That's Little House, though. There are other books I'm not willing to let them read yet (if ever).
Read abridged versions
This might be a good compromise option between letting children read books they aren't mature enough for yet and becoming over-protective. It may seem a poor choice but I want to point out that we all do it with the most important book in the history of the world – The Bible. Scripture has sections that are easily PG-13 or above and there's no way I'm letting my young children read those parts yet. By avoiding parts of it, we aren't saying the Bible is bad, simply that it takes a certain level of maturity to read. We'll get there one day, but an innocent, sensitive child needs to be protected. With Little House, for instance, even though my daughters have no problem with it, other children may very well come to dislike Ma or feel like her disapproval is aimed towards them.
We must be careful, though, not to underestimate our children and keep them from difficult books when they're ready. That's a judgment call for each parent to make. One caution I do have about abridged versions is that the editors can remove material that fundamentally changes the book. As the unfortunate example of Robinson Crusoe shows us, an abridged version can be a real shipwreck.
Keep it age-appropriate
Banning a book is a simple, safe way to protect our children, but at some point we can't shelter them from everything. We don't want them to enter adult life unprepared. Even beyond that, books like Little House are classics for a reason and it would be an unexcusable shame to erase them from history. We would lose out on so much by banning these books that it simply isn't worth it.
Perhaps a better approach is to delay our children from reading certain books until they're age-appropriate. For instance, I read Huck Finn in high school. As a class, we talked about the racist language and asked ourselves about Huck Finn's attitude and growing friendship towards Jim. We talked about overcoming prejudices and how people can grow and change. It was a productive conversation. I was introduced to the book at the right time in my intellectual development and found that reading it was a positive experience.
In the end, I suspect that most parents are using some combination of all these options. People aren't perfect, and we can't expect the characters even in our great literature to be perfect. What we can do, though, is introduce our children to timeless characters like Laura Ingalls Wilder in a way that helps them grow to love these books for what they are — classics that have been loved for many reasons for generations.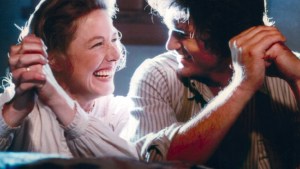 Read more:
9 Great reminders from Laura Ingalls Wilder about how to be truly happy