There are many kinds of leaders and each one contributes a particular gift to a group.
What can God do in your life with one Bible verse a day?
Subscribe to Aleteia's new service and bring Scripture into your morning:
Just one verse each day.
Click to bring God's word to your inbox
Group dynamics is a fascinating field of study and offers insights about units as small as a married couple and as large as a multinational company. Every group is unique, not just because the individuals who make it up are so different, but because of how the members "combine."
Think of it like this: hydrogen is a unique element. So is oxygen. Put them together, and you have something unique, greater than the sum of its parts: H2O — water.
Teams are not so different, and one of the interesting dynamics within teams is how leadership emerges organically from personalities colliding and connecting.
There are many kinds of leaders, just as there are many kinds of intelligence, and each one contributes a particular gift to the group. Which one do you identify with the most?
Instrumental leaders vs. expressive leaders
An instrumental leader is the person who directs the team toward its goals. This is the person who is most visibly "in charge" of the team, often in a direct managerial role. Or it can be the person who is not a manager by title, but who tends to take the lead and organize the team members. This person tends to be decisive, focused, and goal oriented.
Expressive leaders, by contrast, are focused more on the quality of the relationships among the team. An expressive leader is more attuned to how team members feel and relate to each other, and will look for ways to ease tensions, improve communication, smooth over ruffled egos, and boost discouraged hearts.
Both leadership styles are essential and complementary. The instrumental leader provides clarity and demands accountability, and the expressive leader watches over the team's morale and tends to be the "glue" that holds it all together.
Sometimes these complementary leadership styles follow gender lines, with men tending more toward instrumental leadership and women leaning toward expressive leadership. But this is not always the case; it's more a matter of personality than of gender.
Are you more of an instrumental leader or an expressive leader?
Leadership styles
Regarding leadership style, sociologists also distinguish between the authoritarian, "laissez-faire," and democratic leader. It's a classic Goldilocks situation: one is too much authority, one is too little, and one is just right.
The authoritarian leader
The authoritarian leader is so focused on goals, rules, and outcomes that he (or she) can tend to become rigid and controlling, stifling the team's creativity and even micromanaging their work.
This personality tends to take a black-and-white view of problems that are often complex and nuanced, and is so attached to conventional beliefs that he or she is just not open to original ideas or new approaches to problems.
This type of personality may also have a negative view of other people and can be unduly suspicious of team members' motives. Authoritarians may also project their own feelings of inadequacy onto a scapegoated group or person. In general, authoritarians tend to be overly focused on having power.
However, there can be moments when the authoritarian leadership style is the best fit for the situation. In times of chaos, when a strong hand is needed to put order and establish systems, it can help to have one person establish the ground rules and demand compliance. The authoritarian leader's clear and decisive outlook – while too simplistic for some contexts – is sometimes just what is needed to cut through all the noise and lay down some ground rules.
The laissez-faire leader
Unlike the authoritarian, the laissez-faire leader wants to be hands off and tends to offer little guidance or direction to the team.
The laissez-faire leader expects group members to solve problems on their own. This approach can work if the team is highly experienced, skilled, self-motivated, and able to work independently with minimal direction – and if the task to be done is a familiar one that does not require a lot of group deliberation.
But most work tasks are not so clear cut, and too little authority is just as damaging as too much. Laissez-faire leadership often leads to role confusion in the team and low group cohesiveness. The team leader's example sets the tone, and if the leader seems detached and uninvolved, most team members are less likely to get deeply invested in the work.
Researchers have found that laissez-faire leadership usually leads to the lowest productivity and worst outcomes for teams.
The democratic leader
In a work setting, democratic leadership is the golden mean between the previous extremes. Exercising authority well means striking a delicate balance between clear direction and respect for the ideas and contributions of others.
A democratic leader does not just hand down the law and the rules, but consults extensively with the group to get the members' input first. So the final decision is based on a strong situational awareness of the team's reality and perspectives; it is the result of a group discussion, but the leader is accountable for the decision. The democratic leader encourages creativity and original ideas, but also keeps projects on track toward a clearly defined goal.
Research suggests that men and women are equally capable of being good leaders, but one specific study (Eagly & Carli, 2007) found that women are more likely to be democratic leaders, while men are more likely to be authoritarian leaders.
Transformational vs. transactional leadership
Another way to look at leadership – and this can fit within the democratic leadership style – is to distinguish between transformational and transactional leadership.
A transformational leader is essentially an inspirational visionary. He or she wins the team members' trust and respect, inspires by personal example, motivates people to achieve goals, and is an expert at conflict resolution. He or she looks for innovative ways to solve problems and bring out all of the team's potential. Some defining traits are courage, empathy, emotional intelligence, and creativity. Think Vince Lombardi.
While transformational leaders are ideal for defining a vision and reframing the team's big-picture approach to problems, transactional leaders are good at working within an existing system and maintaining the status quo. They tend to solve challenges by applying their experiences to a known pattern in a step-by-step approach. While transformational leaders are about vision, transactional leaders are focused on specific tasks, using rewards and punishments to shepherd their team members toward the goal.
Transformational leaders certainly get a lot of attention, but a good transactional leader can also play a strong role at the head of the team as well. A lot of athletic teams are based on transactional leadership: the rules define the boundaries of the game, and there are clear penalties for breaking them. Moments of genius can happen on the court because the rules set such clear boundaries.
Each leader has a gift
Do any of these leadership styles resonate with you? If so, bear in mind that no one person has to have the complete package of all leadership gifts. Some people are more expressive, while others are more instrumental; some are more transformational, while others are more transactional. We all have our own gifts, and the great thing is that teams will often have people who are strong in complementary areas.
Leadership styles also depend on context: a good leadership style for one group – or circumstance – could be all wrong for another. The key thing is to know what type of leadership is needed when, and to adapt accordingly.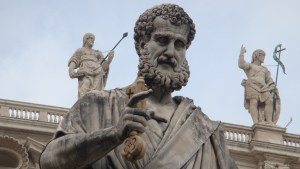 Read more:
5 Leadership lessons from the least likely leader in Christianity