The tick population is exploding, and so are cases of Lyme disease -- but prevention is the best medicine.
What can God do in your life with one Bible verse a day?
Subscribe to Aleteia's new service and bring Scripture into your morning:
Just one verse each day.
Click to bring God's word to your inbox
Every summer, my Facebook feed begins to fill with horror stories from my friends up north about the annual explosion of the tick population. These range from relating the number of ticks found on the dog after a day outside (17!!!) to the terror of finding a tick attached to a toddler's head with no idea how long it had been there.
Growing up, I didn't even know what a tick was. Texas isn't really host to lots of forests or hiking trails, and we weren't an outdoorsy family. The closest to hiking we ever got was our yearly excursion to Colorado's Garden of the Gods — a dry, rocky destination inhospitable to ticks. I first heard of Lyme disease in college, when a friend suffered a tick bite one summer and returned a semester late, 20 pounds lighter and almost unrecognizably frail from the illness.
That was 2005. Fast-forward to 2018, and Lyme disease is everywhere. I know at least 10 people offhand who suffer lingering effects of Lyme from tick bites years ago. Ticks are not merely a nuisance — they're an active threat to human health and well-being, made all the more pernicious because of the medical community's general failure to acknowledge the debilitating effects of Lyme disease.
As a recent article in Scientific American pointed out, Lyme disease is grossly under-researched. The current treatments are inadequate at best, and the long-term effects are often downplayed or flat-out disregarded by doctors. That's a pretty grim reality to face during peak tick season — after all, keeping kids (or ourselves) indoors on devices all summer isn't without significant health hazards as well, which poses a dilemma.
But as the old adage goes, an ounce of prevention is worth a pound of cure, and that goes double when it comes to ticks. There's no sure-fire way to prevent tick bites, but there are some things that can deter ticks and help discover them more quickly, before they've had a chance to transmit a potentially hazardous disease.
Live Science notes that DEET is useless against ticks — while they won't bite skin covered in DEET, they will scurry across it to find an untreated patch of skin. Permethrin, however, is highly effective against ticks — so much so that investing in permethrin-treated clothing is one of the most effective ways to prevent tick bites. Another surprising strategy in the fight against ticks is to change the environment around your home in order to make it inhospitable:
Tick nymphs have leaky cuticles, or outer covers, that rapidly lose moisture. As a result, they can't survive in environments with lower than 80 percent humidity for more than eight hours, Mather said. As a result, nymphs congregate in leaf piles in shady, humid environments, so sticking to sunny areas can reduce tick exposure, he said. To keep the yard tick-free, use landscaping that deters mice, deer, woodchucks and other rodents that carry ticks, he said. People should also remove tick habitat such as leaf piles, shrubs and ground cover near the house. Play sets should be kept in the sun, away from the shade, he added. Ticks won't cross a barrier of wood chips placed around the yard's perimeter, perhaps because the dry material makes them dry out too much, he said.
This explains why so many tick bites happen during camping and hiking excursions — shady, wooded trails are the perfect environment for humidity-craving ticks. So while it's worth investing in permethrin-treated clothing if you're an avid hiker, if you're just worried about keeping ticks off your kids in the back yard, these solutions are much simpler.
Encouraging your kids to play in the sun and moving all their play equipment out of shady areas might be less comfortable, but it's far safer. And a circle of wood chips is definitely worth a trip to the hardware store.
Some people swear by essential oils, which can repel ticks. Recipes can be found online and used on dogs and pets, as well as sprayed along the perimeter of your property.
No matter what, you should always check your children, pets, and yourself for ticks after being outside. Ticks usually take several hours to begin transmitting any kind of disease, so quick identification and removal is essential. Wearing light-colored clothing can help you identify the nymphs trying to find a patch of skin even before they bite, and any ticks in clothing can be killed by five minutes in the dryer on high heat — so dry your clothes before you wash them!
Above all, don't despair — it might seem like a daunting prospect to check your kids, pets, and selves for ticks every day (or multiple times a day), but vigilant prevention could save you from a lifetime of health issues.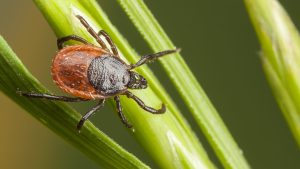 Read more:
4 Ways to reduce your anxiety about ticks