Or at least, you should make sure you're doing this as well.
What can God do in your life with one Bible verse a day?
Subscribe to Aleteia's new service and bring Scripture into your morning:
Just one verse each day.
Click to bring God's word to your inbox
Many people try to tell us what we're made for. How to follow our dreams. Find our passion. But nobody gets to the heart of it like St. Peter. He puts it pithily and mysteriously: We are to "become partakers of the divine nature" (2 Peter 1:4).
The reason for our being is union with God.
In light of that, the confession I'm about to make takes on a weight it wouldn't have if I had just mentioned it casually: I am not good about making time for prayer. Often I get to the end of the day and realize I haven't yet spent that quiet time with God that I know I need, so, as I lay in bed, I begin an Our Father, but pass out somewhere around "our daily bread." I am simultaneously consoled and horrified by the knowledge that I'm not alone in this struggle.
The root of the problem is not simply that I fill my day with too many other things—though I certainly do that. If I took a fraction of the time I spend commenting on Twitter or watching Netflix and invested it in reading Scripture, I could work my way through the whole Bible twice a year. No, the root challenge is that I spend so much time on things related to the life of faith that I can all too easily convince myself I've been "engaged with my faith" all day.
Read more:
How 15 Minutes of Prayer Can Change Your Life
What do I mean? I enjoy reading and writing about the life of the Church, and I can spend hours reading reports and commentary on what this or that cardinal or bishop said, or writing about whether the actions of a given Vatican dicastery were prudent or not, or commenting on the latest theological controversy on Facebook. 
These are all part of the life of the Church, aren't they? Isn't this how I can contribute to the life of faith and the building up of the Kingdom of God?
That's certainly one sort of temptation.
I also think of a friend who told me that during his undergraduate days, he was constantly involved in service projects, but never spent time in prayer. So he told himself, "My work is my prayer." And couldn't we say we are spending time with God when Jesus has told us that when we serve the least, we serve Him?
But could I look back on a day of such activities and think, "I have given myself to God today?" Even if some of these activities could be beneficial in some small way to the life of the Church (maybe my Twitter thread convinced someone of the truth of Catholicism!), if they dominate my time to the neglect of prayer, I'm missing the point of it all. It would be as if I were to occupy all of my evenings with home improvement projects rather than with my family, and I responded to their pleas to spend time with them by saying, "But I'm doing this for you!"
The point, the end, the purpose of the life of faith is certainly not to be found in blogging or reading articles about faith. It's not in the work of catechesis, though that's important. It's not even in serving the poor and needy, essential though that is.
Certainly all of these activities, from service to parish work to internet commentary, can be done in a spirit of prayer, but they are not substitutes. The reason for our being is union with God, and prayer is simply the raising of our mind and heart to Him, as St. John Damascene said. And without prayer, the works themselves will wither and fade, becoming dry and lifeless. 
Surely at first Martha was energized by the honor of serving the Lord, but soon she grew tired, and irritated—not only by her sister's inactivity while she was so busy, but perhaps also by her lack of satisfaction: If her service to the Lord was so important, why did it not fulfill her? Why was it not enough? Every youth minister or church volunteer who has experienced "burnout" can identify with Martha here.
Jesus reminds Martha that, though there are many things to be done, there is only one that is truly needed: to spend time with Him. Everything else is secondary, or instrumental, or, very often, optional. But union with Him is what we were made for.
St. Peter got to the very heart of it with those six words about partaking in divine nature. We are to share in the very life of God, and begin that here and now, through the life of prayer and the sacraments. We can only do that if we stop busying ourselves about many things, even Church-related things, and take the time to sit at the feet of our Master.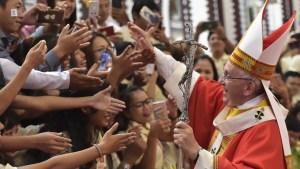 Read more:
Just 2 min a day with the Gospels, and your life will change, says Francis
Read more:
The 4-step formula for reading and digesting scripture: Lectio Divina