He didn't carefully create the world, set it in motion, then add us to it in a final flourish.
Evangelization is not an option for Christians — it's a must — and this Sunday's readings for the 15th Sunday in Ordinary Time Year B explain how to get it done.
"Every Christian is challenged, here and now, to be actively engaged in evangelization," Pope Francis writes in Joy of the Gospel.
He even explains why. The Gospel "is the message capable of responding to the desire for the infinite which abides in every human heart," he wrote, and "Every person is worthy of our giving. Not for their physical appearance, their abilities, their language, their way of thinking, or for any satisfaction that we might receive, but rather because they are God's handiwork, his creation."
This Sunday's Gospel is a great example of the saying that "God doesn't call the qualified; he qualifies the called."
In a crisis like Thailand's Tham Luang cave rescue, highly trained experts are called upon to solve the problem through careful preparation. In a disaster like post-hurricane Puerto Rico or Houston, everyone is called upon to solve the problem with little or no preparation.
In Sunday's Gospel, Jesus sends his apostles out to the world that turned away from him. They're like rescue units after a spiritual typhoon. They can't bring food. They can't bring extra clothes. They must just go, trusting in the mercy of God and their fellow men.
But when they do, God rewards them with such an abundance of spiritual power that the beggars become benefactors and their benefactors become beggars. "The Twelve drove out demons and they anointed with oil many who were sick and cured them," the Gospel says.
God calls each of us, knowing his call will change us.
When a boss lets you know that you have caught the attention of management, or a neighbor tells you they look up to you, the experience isn't just flattering, it's challenging. Once you know that more is expected of you, you work harder to keep from disappointing expectations.
God takes the same approach in his preparing us for our mission in Sunday's second reading, from the beginning of the Letter to the Ephesians.
God "chose us in him, before the foundation of the world, to be holy and without blemish before him," it says, and he "has blessed us in Christ with every spiritual blessing in the heavens."
St. Thomas Aquinas, in his commentary on the passage, points out that God's choice of us "neither has nor can have any cause but the will of God alone."
God doesn't call us because he needs our help to reach his full potential; he calls us because we need his call to reach our full potential.
We see how this dynamic works in Amos.
In the first reading, we meet the prophet Amos, who explains that he is no great man. Before he was a prophet, he was a shepherd and a dresser of sycamores. Shepherding was a low-level job, and a dresser of sycamores — a low-quality fig — was arguably worse.
From these humble beginnings Amos became a singularly effective prophet.
"Amos's message stands as one of the most powerful voices ever to challenge hypocrisy and injustice," the Confraternity of Christian Doctrine even says. "He boldly indicts kings, priests, and leaders."
Amos had no royal lineage or extensive education — he was part of no "company of prophets." He became great simply because he saw the urgency of the situation and stayed faithful to God's call.
That simple power is available to everyone.
Because, ultimately, God didn't call helpers based on what the world needs. He built the world based on what we can offer.
God "chose us," says Paul, "before the foundation of the world." God didn't carefully create the world, set it in motion, then add us to it in a final flourish. He created the world with us in mind. The things we encounter aren't random hazards — they are planned helps for us, if we use them properly.
So, when God sends the apostles out two by two with nothing, he isn't sending them out inadequately prepared. He is sending them out to discover that the world was made to meet their needs.
And when he sends us out to our neighbors, we are meant to discover the same thing.
As Pope Francis put it, "Anyone who has truly experienced God's saving love does not need much time or lengthy training to go out and proclaim that love."
We just need to see the need, hear the call, and act.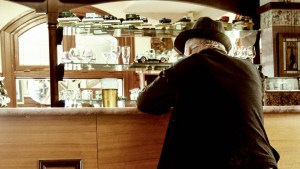 Read more:
His miswired brain has screwed up his whole life