I discovered that my two-year-old child knows a lot more about my marital life (and the world) than I would have guessed.
What can God do in your life with one Bible verse a day?
Subscribe to Aleteia's new service and bring Scripture into your morning:
Just one verse each day.
Click to bring God's word to your inbox
Every night my son gets a bedtime story. On a recent evening, he chose a book with two bears, father and son, who hug all their friends as they encounter them; a simple tale about something ordinary, but very important for learning the general concepts of appreciation and affection. I asked my two-year-old,
"Who do you like to cuddle?"
"Mommy! Daddy!"
"And who does mommy like to hug?"
"Daddy!"
I was startled, expecting him to name himself. It amazed me that this little child of mine, barely speaking, running around the house like a wild thing, and living in his own world — he knows that mommy likes to cuddle with dad. A simple fact, but one that means my little boy knows a lot more than I realized.
Of course, children are little mimics. They watch and take in everything: What makes us laugh, how we tell a joke, or who and how we hug one another. And these are all good things for them to learn from mom and dad. But if children don't just register and remember gestures associated with pleasant emotions, they also take note of things that are upsetting: When we yell or use bad words, when we frown or fight or apologize. Those little eyes see it all.
One of the things I remember clearly from my early childhood is my preschool teacher. I remember her smile and the warmth always surrounding her. I also remember the janitor, who made me tea with lemon in an enameled cup. After class, I used to help them clean up. Just thinking about it brings a small rush of affection. But, honestly, I cannot remember a single lesson or conversation I had with them. But that doesn't matter: These women are embedded in my emotions, and I will always have positive associations with them.
It's personal proof that more important than the specific words a child mimics are the emotions and meanings behind them. Those are the things that stick. Which means there are a few important questions worth asking yourself: What emotions do I regularly display in my home and in front of my kids? What colors would my child use to draw me or my husband?
As you go through these questions you'll begin to realize: they're 99 percent about your marital relationship, innately and subtly intertwined with your parenting practices.
But that's not to say you should try to shield your kids from your emotions. Some days as a parent, it's only natural to feel like you're going to explode. And while you can certainly try to vent about a bad day while you're away from our kids, it doesn't always work that way. Difficult feelings and situations happen. That's life. And it would be naive to think children won't collide with those feelings sadness, anger, disappointment, and shame, sooner or later. So instead, your job as a parent is to guide them through this emotional world in a realistic, empowering and intelligent way. The goal is for your child to feel that they can embrace their feelings, and control them; you want them to be able to choose to feel brave, optimistic, or thankful, even on a bad day. And that it's okay to cry when something is sad. Or snort when they laugh.
And the best way to do that is to demonstrate constructive emotions in your own marriage: How you are affectionate, how you disagree, and how you apologize. I stress apologize here, whether the fight is about something trivial or not, because reconciliation is one of the most important social and emotional things a child must learn … and we all know it isn't easy even when we're adults. To argue is human; to reconcile, divine.
So if you happen to have a fight in the presence of your children, make the apology just as passionate as the fight. If there was a fair amount of shouting and angry words, don't skimp on warm gestures and kind words when you make up. You can even agree on a ritual for how to make up after a fight. It could be a sentence, "Forgive me. I'm sorry for …," then add a hug, a kiss, a dance, a declaration of love, or whatever feels most natural to your relationship.
The bottom line? Fill your children up with positive emotions. Let your children feel that their parents, albeit not perfect, love each other; parents are people who can not only fight against each other, but for each other. Because showing that arguments can't break your love for one another creates a feeling of safety in your family. Your child will see that sometimes emotions can be as strong as a tornado, but your home won't fall, because it is based on something far more permanent: the foundation of your love, faith, honesty and lifelong commitment.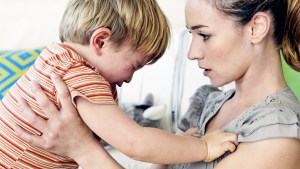 Read more:
Here's a great technique to teach your kids to regulate their emotions