Minimalism has come to our kitchens, not just as a fad, but as a way of life.
What can God do in your life with one Bible verse a day?
Subscribe to Aleteia's new service and bring Scripture into your morning:
Just one verse each day.
Click to bring God's word to your inbox
The days of uncontrolled buying are becoming a thing of the past. After decades of taking advantage of all the available goods, sometimes to an enormous excess, and ignoring that so much of what we buy is often wasted, we are finally beginning to appreciate minimalism. We see it in interior design, in lifestyle and … in the kitchen. However, this is not minimalism for its own sake, but a very wise culinary trend with positive effects called "zero waste," also known as "no food waste." This means food that is ecological and economical while being tasty and healthy.
Dinner without waste
What "zero waste" means in this case is, among other things, trying to take advantage of all the food we buy, even things we might usually throw away. This does not imply rummaging through garbage bins in search of food or eating things that are unhealthy for you. It's about changing your approach: buying only what you need, and making the most of what you can use, instead of throwing some of it in the trash. It's about cooking with all parts of the food and throwing away the least possible.
On packaged food with a "best before" date, we will not get poisoned by eating the food a day or two after that deadline, or in some cases even later. (This is different than "consume by" date, which means we should not usually eat it past this date.) If your bananas are getting overripe, use them for a tasty desert (banana bread, for example) instead of tossing them in the bin. That, in short, is what this philosophy is about.
We throw away tons of food!
Staggering statistics should convince to us adopt this better way of eating: on average, in the entire world, we throw away as much as 30 percent of food, including what is discarded by supermarkets. In the US that number is closer to 40 percent. We can do better.
If we make a meal plan, it's possible to make a shopping list specifying what we need to buy down to a literal ounce, which will make us more resistant to all the supermarket temptations like a two-for-the-price-of-one promotions. This often guarantees wasted food (unless it's a staple in your diet and will last long enough to be used) and money.
We don't need to fill the refrigerator and the pantry to the brim; it's better to focus only on what is needed, without buying in bulk or five different varieties of something. Free space in the fridge is not shameful. It's proof of conscious eating and caring about improving the scary statistics above, being responsible with how we use God's creation.
You can also approach food the way our grandparents did in times when food and the work of human hands that made it were much more respected. The fish was used whole, from head to tail, and even the bones were used for cooking soup. Carrot tops are edible, as are radish tops. Potato skins can be used for chips, and apple peel for a compote. These are just a few ideas, but you can find many more on the internet; just enter "zero waste recipes" in your browser.
Zero waste
The zero-waste trend is not limited only to cooking; it's an entire philosophy of life without leaving waste. It manifests itself in everyday choices, such as taking reusable bags when you go shopping, or bringing your travel mug to your coffee shop, instead of using the disposable cups.
Bea Johnson, with her book Zero Waste Home, helped make zero waste a global phenomenon. She pioneered the 5 Rs as a summary of the most important steps to take to work towards a "zero-waste" lifestyle: "Refuse, Reduce, Reuse, Recycle, Rot." It essence, it means not buying more than you need or using wasteful packaging, etc.; reducing what you buy to what you really need; reusing what you can; recycling what you can't reuse; and composting organic kitchen waste. A more detailed explanation can be found here, among other places.
The concept of zero waste draws people in. It's a small chain reaction; when you start taking one step, you feel the desire to do more, and your mindset begins to change to a more recyclable/waste free mentality. It makes discovering your own ways of reducing waste a creative challenge. Are you in?
Read more:
Churches Help Government Reduce Food Waste, Greenhouse Gas Emissions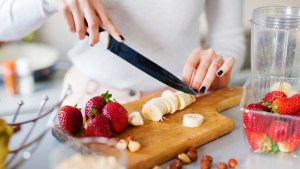 Read more:
Healthy eaters are the most wasteful — here's what to do about it