When worn in faith, the sacramental is strong weapon against the Evil One.
Among the many sacramentals of the Catholic Church, the Brown Scapular is one of the most popular ones. It is a piece of brown cloth that is worn around the shoulders and fosters a deeper relationship with Jesus Christ and his mother, the Blessed Virgin Mary.
Read more:
Is the brown scapular just a Catholic "lucky charm"?
Throughout history it has aided a countless number of Christian souls and has proven to be a powerful defense against Satan. In the booklet Garment of Grace, evidence for this claim is found in the life of Venerable Francis Ypes. According to the story, "One day his Scapular fell off. As he replaced it, the devil howled, 'Take off the habit which snatches so many souls from us!' Then and there Francis made the devil admit that there are three things which the demons are most afraid of: the Holy Name of Jesus, the Holy Name of Mary, and the Holy Scapular of Carmel."
As an example of the scapular's sacramental power to "snatch" souls from the devil, St. Peter Claver used the Brown Scapular in his missionary adventures. Each month "a shipment of 1,000 slaves would arrive at Cartegena, Colombia, South America. St. Peter used to insure the salvation of his converts. First, he organized catechists to give them instructions. Then, he saw to it that they were baptized and clothed with the Scapular. Some ecclesiastics accused the Saint of indiscreet zeal, but St. Peter was confident that Mary would watch over each of his more than 300,000 converts!"
These and other stories echo what various exorcists have experienced. Famed exorcist Fr. Gabriele Amorth related that the devil said to him during an exorcism, "I am more afraid when you say the Madonna's name, because I am more humiliated by being beaten by a simple creature, than by Him."
Consequently, when the wearing of a Brown Scapular leads a person to develop a "habit" of faith, it becomes a strong defense against Satan as it draws a person closer to the Virgin Mary, whom the devil vehemently abhors.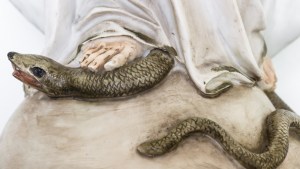 Read more:
This is why the devil hates the Virgin Mary
Read more:
3 Things you might not know about sacramentals