If you're one of the lucky few who sweat the bed like it's a Crossfit box, here's a few things you can try to turn down the heat.
True confession time, y'all — I sweat horribly while I sleep.
Yes, yes it is.
Throughout the years I've done lots of things to try and alleviate this phenomenon, including ridding myself of blankets entirely (bad idea) and getting an allegedly "cool sleeping" memory foam mattress (even worse idea). I've even asked my doctor if there's something wrong with me that leaves me waking up drenched in sweat and feeling like I need to take a shower, and after doing some thyroid tests he shrugged it off and said "it must be genetic."
But it turns out that lots of things can contribute to night sweats beyond a thyroid imbalance, according to Furthermore:
Working out too late
After a sweat session, it can sometimes take two to four hours for your body temperature to return to normal, explains Gottschalk. If you go to bed in that window of time, it could be the reason for your sweaty sleep. The best time to exercise (vis-à-vis sweating the bed) is five or six hours before bedtime, he says, because those extra hours mean you're going to sleep on the cooling curve of your body's core temperature. Note that regular exercise improves sleep as long as you leave a sufficient buffer between your workout and your bedtime.
Eating too late and/or spicy foods
If your evening meal is on fire, you could be in for a long night. Foods that can trigger GERD or heartburn can also bring on sweaty sleep, as can eating too late in the evening. Just as you don't want your body to be busy snoring while you're sleeping, you don't want your digestive system working overtime either, as that's another common cause of night sweats. "You want to eat fairly early in the evening to avoid taking too much digestive activity with you to bed," Gottschalk says. "More than 70 to 80 percent of your heat is generated from your internal organs, so if there's activity stirring the pot inside you, there's going to be more heat generation."
Interestingly enough, when I started taekwondo and kickboxing I was often in class until 8 or 9 in the evening. I always tried to be in bed no later than midnight, which meant I definitely didn't get that five to six hour window "cooling curve." But I tended to sweat less than on the nights when I didn't go to class. My working hypothesis is that I had sweated all the sweat I had to give and my body refused to relinquish another drop of moisture overnight, which is obviously super scientifically accurate.
The one thing I did notice when I worked out late at night is that I absolutely could not eat spicy foods when I got home. Not only did it cause night sweats, it gave me terrible heartburn if I tried to lie down too soon afterward. Bland food was the way to go — or even better, eating a big lunch and just having a small snack after class and before bed.
But ultimately, the genetic theory proved to be the actual winning hypothesis in my case. My dad sweats like a champion in his sleep too, and so do my sister and half of my kids. So if you also suffer from night sweats and nothing from arctic AC to a horsehair mattress (which is an actual thing) has helped, you might have just rolled a genetic 7.
Don't worry, you're in good company! We can form a support group or something. Or start a GoFundMe for a horsehair mattress.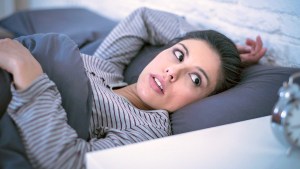 Read more:
Got insomnia? Here's a meditation for when you can't sleep