St. Faustina said she wished she would have had one from the start.
The example of St. Faustina speaks powerfully about why a spiritual director is important. Her spiritual director was instrumental in developing one of the most beloved devotions of the last hundred years, which came through the writings and teaching of this Polish saint: devotion to Divine Mercy.
St. Faustina wrote, "If only I had had a spiritual director from the beginning, then I would not have wasted so many of God's graces."
Jesus told St. Faustina "From the moment when I gave you this priest as spiritual director, I endowed him with new light so that he might easily know and understand your soul."
There are many reasons that a spiritual director is a great gift, but here are eight results I think are worth considering:
1. Learn the spiritual life faster:Researchconfirms that we learn faster when we have a personal teacher to guide us through a topic. This especially applies to the spiritual life that involves interior phenomena that cannot be easily discussed in a group. When heaven is at stake, why wouldn't we choose the best way to learn?
2. Navigate your inner world: In Discernment of Spirits, Fr. Timothy Gallagher writes that we all have an "interior spiritual world of affective movements and thoughts," but "without helpful instruction regarding them we tend to have only a generic and vague sense of their existence in us." This "helpful instruction" is best given by a spiritual director because we need the intimacy of a private conversation to feel comfortable revealing the movements of our heart.
3. Discern like a pro: The devil loves to disguise himself as an "angel of light" bringing consolations by suggesting "holy" initiatives. While praying more or volunteering are good in themselves, they can leave us little time to fulfill our bona fide duties to God. A director is invaluable in helping us realize if the suggestions that come into our mind during a consolation are actually from God.
Read more:
Why you shouldn't be doing so much church stuff
4. Uncover the hidden obstacles blocking you: You may consider yourself "results-driven," which probably means you are proud of your work, leading to every form of anxiety and worry when you fail. Or, perhaps you consider yourself "focused-on-others," but this may be motivated by wanting people to like you. With the help of a spiritual director we can sift through all the half-truths we tell ourselves and begin to offer our wounds to the Divine Physician.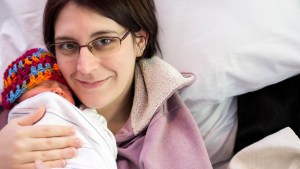 Read more:
Prayer is not about self-improvement, as my newborn reminds me
5. Practice "true" devotion: Because, as St. Francis de Sales writes, "everyone paints devotion according to his own passions and fancies," we can be sure that we will do the same unless we seek the help of a spiritual director. Even the apostles fell into this trap! James and John asked to be great, and Peter opposed Jesus' plan.
6. Maintain a sustainable pace: Without a spiritual director's help even the Introduction to the Devout Life, which the Church recommends highly and which I love, can easily be overdone by a zealous young convert trying to become a saint in a week. This certainly describes my own case and, instead of a loving Father, God becomes a taskmaster requiring devotion upon devotion, or so it feels. That same book can be seen as an impossible ideal by someone who doesn't believe what God is capable of doing in his life. But, if a person proceeds with the help of an experienced director, that director will ensure that a person moves at the pace God intends.
7. Choose the right spiritual books: I'm not speaking just about books with dubious orthodoxy. St. Phillip Neri prohibited the future Cardinal Baronius from giving talks about the last things because of the morose effect that subject had on the future cardinal, recommending instead that his follower speak about Church history. Not all spiritual topics will benefit our souls and a spiritual director can help us avoid what will harm us.  
8. Find God's will more easily: St. John of Avila writes about spiritual direction, "Although you seek God's will, you will never find it with such certainty as on the path of that humble obedience so highly praised and practiced by all devout writers." The word "humble" is key. It requires us to say when we think a suggestion of our spiritual director would be too much for us.
Read more:
Is spiritual direction for everyone?