Alexis Ohanian posted the message about his wife on Instagram Sunday: "I couldn't be more proud."
Send us the names of your loved ones who are sick or suffering. The Aleteia prayer network of 550 monasteries will take them to prayer for the World Day of the Sick.
Click here to share your intentions
It was hard to watch a tearful Serena Williams concede defeat to Angelique Kerber in the Wimbledon Ladies Singles final last Saturday. Everyone was rooting for the new mom in her return to championship tennis, following the difficult birth of her daughter, Olympia, by cesarean section, and the medical complications the tennis champion endured afterward. That she could return to this level of play so fast and so successfully was amazing in its own right, silver plate or no. As she said, "For all the moms out there, I was playing for you today."
But it was her husband's message both to his wife and the world on Sunday that was so reassuring and helped to put things into perspective. Alexis Ohanian Sr., who is the co-founder of Reddit, posted a photo of his wife with the phrase, "Just getting started" (quoting her own words after the Wimbledon final), with a touching message:
"Days after our baby girl was born, I kissed my wife goodbye before surgery and neither of us knew if she would be coming back. We just wanted her to survive — 10 months later, she's in the #Wimbledon final," the message began. You can read more below…
"This is what a confident & strong in love, respect & honor looks like. Yes! Miss Olympia is the better trophy. I know when she gets to hold her again it will be pure heaven," one fan responded.
"You two are such an inspiration to the world!" said another.
Williams, 37, has said that her daughter is her new priority and that motherhood "changes the game" … in a good way.
"Knowing I've got this beautiful baby to go home to makes me feel like I don't have to play another match. I don't need the money or the titles or the prestige. I want them, but I don't need them. That's a different feeling for me."
This likely won't be the last we'll be seeing Williams on the courts, with her husband and daughter cheering for their wife and mom on the sidelines no matter what the outcome on the scoreboard.
"I was really happy to get this far. For all the moms out there, I was playing for you today"

Grace, poise and emotion. A runner-up's interview given by a true champion.@SerenaWilliams 👏 #Wimbledonpic.twitter.com/jjtw3cWyEq

— Wimbledon (@Wimbledon) July 14, 2018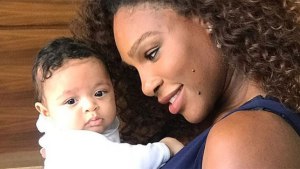 Read more:
Serena Williams wants to teach her daughter a lesson she was late to learn