The project has helped people open up about their loss, and achieve healing.
Susana Butterworth found out about her son's illness in March 2017. He was her first child, and for 36 weeks had been growing inside her, below her heart. Then, he was diagnosed with a rare genetic disease: Edwards syndrome.
Sadly, a few days later, her son was stillborn.
The trauma that Susana and her husband Dallin experienced caused them to act. They created a project called Empty Photo, showing the stories of life and death of unborn children in a beautiful way, full of peace and hope.
In each of the images, a mother or father holds a mirror at the level of his or her abdomen. The mirror reflects the outside world and is a symbol of the emptiness they feel in the place of the lost life. The photos are accompanied by stories full of sorrow, gratitude and hope, and also incredible longing.
Miscarriage, and the consequences for parents
More than 40 percent of women who miscarry, especially those who found out about the death of their child brusquely and who regard their hospital stay as traumatic, develop post-traumatic stress disorder (PTSD), according to psychologist Izabela Barton-Smoczyńska.
When people around them are unsure how to react, they sometimes avoid the topic and pretend nothing happened. But that only deepens the parents' trauma, because they starting loving their baby long before he was born. People who lose a child can't heal their wounds if they feel abandoned and unable to talk about it, explains Susana in an interview with the Huffington Post.
That's why the words the parents in this campaign speak to their babies are so important. They include messages such as, "I am your father. Mom and Dad love you. I love you, sweetheart." Even if they died many years ago, they are still remembered and wanted. They are still members of the family.
Can we learn to talk about them?
Pregnancy and Infant Loss Remembrance Day
October 15 is observed annually as the Pregnancy and Infant Loss Remembrance Day. Many churches offer a holy Mass for the intention of the parents and children. You can see more photos and read more stories on the emptyproject.com webpage.
Read more:
Celebrities speak publicly on finding hope after miscarriage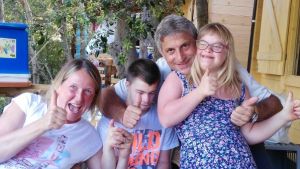 Read more:
How a mother's miscarriages prepared the way for joy in adoption