Here's how to use those dating apps ... without getting more frustrated.
What can God do in your life with one Bible verse a day?
Subscribe to Aleteia's new service and bring Scripture into your morning:
Just one verse each day.
Click to bring God's word to your inbox
Love it or hate it, online dating is a useful tool. I work for CatholicMatch and the most enjoyable part of my job is working with couples on their success stories. What was their first message like? Who contacted whom first? How long did it take for them to meet? Was their first date awkward? Or was it love at first Skype meeting?
Each success story is so different, which gives me a bit of insight into how online dating works for people. So over time, I've picked up some tips on what works and what doesn't in online dating, and most of it has to do with how you approach it (your attitude, expectations, etc.) regardless of the specific app or site you are using. So here are a few ideas to get the most out of using dating apps … without it leaving you still single and more frustrated.
Don't hang all of your hopes on it
If you view online dating as a surefire way to find your husband or wife, that puts a lot of unnecessary pressure on your experience. Think of dating apps as one way to help you meet new people. It's a great way, for sure, especially when you have already met every eligible Catholic in the neighborhood and found them wanting. But if you are not also allowing your sister-in-law to set you up with that one cousin of hers, and going to local meet-ups or groups that interest you, and getting to know your coworkers and neighbors and fellow parishioners, then you're missing out. Online dating shouldn't take the place of trying to date people you meet other ways as well. And it most certainly shouldn't take the place of or supersede daily human interaction!
Put in the time
If you're serious about finding a spouse, and you are using a dating app or site to do so, you need to put forth some effort. Whether you are a guy or a girl, message people. Interact with other daters however the app allows you to do so. Be active. Update your pictures and your introduction on a regular basis. Don't use dating technology passively. Talk to people! Make connections. Set up dates. Ladies, a man can still be the leader in a relationship even if you send him an opening message. I mean, do you refuse to say hello to men in real life if you notice them, or refuse to make eye contact until he approaches you of his own accord? I hope not. Sending a message is simply a way to say "I'm interested." And gentlemen, the same goes for you. Send messages also.
Remember it's an online meeting — save the dating for face to face 
Yes, online dating has dating in its title, but a successful couple doesn't move from messaging online to setting a date to be married without interacting in real life first. Online dating is a way to make an introduction, but then, after some messaging back and forth, you need to date in person. Now, what if you're far away and can't meet quickly? Or you just want to get to know each other a little bit better before you buy that plane ticket or drive the five hours to meet up? Then video call each other. Watch how the other person talks in real time. See them laugh. Discover their quirks and ticks — how he pinches his nose when he's thinking, how she shakes her head when she's searching for the right word. Whatever you do, don't spend too long without a face to face (or Facetime to Facetime) meeting. That way you know who you're actually dating, not just imagining who a person is based on their email replies.
To sum up, remember to put in the effort. You won't find someone by standing on the sidelines. Next, you should be online dating in addition to meeting people other ways in your daily life. And finally, don't talk online endlessly with someone. The goal is to date face to face in real life. Good luck!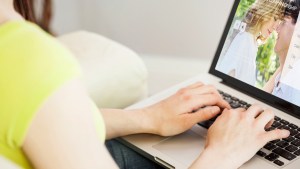 Read more:
4 Online dating tips if you're seeking a serious relationship