Six years after her death, the Diocese of Rome has taken the first step toward the beatification of this wife, mother, and victim of cancer.
What can God do in your life with one Bible verse a day?
Subscribe to Aleteia's new service and bring Scripture into your morning:
Just one verse each day.
Click to bring God's word to your inbox
"…I'm very happy for her to belong more and more to others, and a bit less to me," Enrico Petrillo said, referring to his wife, Chiara Corbella, when we interviewed him a year ago. And that's exactly what's happening, today more than ever: Chiara is in everybody's heart! Her testimony has changed the lives of many who are now rejoicing because of this great news.
Read more:
On the road to sainthood: The widower of Chiara Corbella talks about his wife's faith and their marriage
Read more:
Interview: The husband of Chiara Corbella on his wife's sacrifice and possible canonization
The start of her cause of beatification
The Diocese of Rome has taken the first step in the process of beatification of Chiara Corbella Petrillo. The diocesan vicar, Cardinal Angelo de Donatis, signed the edict announcing the opening of her cause, six years after the death of the young mother who has moved Italy and the world with her testimony of unconditional love, of entrusting herself entirely to God, and of a holy death.
"A lay woman, wife, and mother with great faith in God."
Chiara, as the edict says, was a "lay woman, wife, and mother with great faith in God" who always trusted in the Lord's Providence, even when suffering overtook her life with the death of her first two children, Maria Grazia Letizia and Davide Giovanni.
After their marriage in 2008, Chiara and Enrico discovered that they were expecting a baby girl, but unfortunately, right from the first ultrasound, the baby was diagnosed with anencephaly. The couple welcomed Maria Grazia Letizia full of love and joy, and accompanied her, just a half-hour after her earthly birth, to her birth to heaven.
A short time later, the Lord granted Chiara and Enrico another child, Davide Giovanni, who, they discovered, did not have any legs and was affected by grave deformations that, again, would cause his death. In this case too, the young spouses welcomed their second child with love, and accompanied him shortly after his birth on earth with his birth into heaven.
The third pregnancy: Francesco
The third pregnancy didn't present any problems; the baby was in perfect health, but unfortunately, during the fifth month, Chiara was diagnosed with tongue cancer. The couple wasn't discouraged, and they defended little Francesco's life, even though this meant accepting risks for Chiara, who only started to receive treatment after giving birth.
Francesco was born healthy but Chiara's disease progressed.
Eventually, it took her life; Chiara died on June 13, 2012, at midday. Enrico asked her, "My love, is the Lord's yoke truly sweet?" Breathing and speaking was difficult for her, but she answered clearly, smiling: "Yes, Enrico, very sweet."
A shining of light
The edict reads, "Her self-sacrifice remains as a shining light of hope, a testimony of faith in God, the Author of life, an example of love greater than fear and death." Indeed, Chiara wrote: "What God wants for us is much more beautiful than what we could ask for with our imagination."
Many people already pray to Chiara, entrusting their joys and sorrows to her and invoking her intercession. Not just those who had the chance to know her or meet her, but also those who have become her friends through books, videos on YouTube, and the testimony of her family members.
The document continues: "As her fame of holiness has notably increased over the years, and since it was formally requested that the Servant of God's cause of beatification and canonization be begun, while we make [the opening of the cause] known to the ecclesial community, we invite each and every one of the faithful to communicate directly with us, or to send to the Diocesan Tribunal of the Vicariate of Rome all the information which could in some way bring to bear elements in favor or against the Servant of God's fame of holiness."
What matters in life isn't to do something, but to be born and let yourself be loved.
Chiara strongly believed that suffering was an occasion to meet Jesus Christ, to let yourself be loved by Him, Who is the only one who can do great things.
"In marriage, the Lord willed to give us special children, Maria Grazia Letizia and Davide Giovanni, but He asked us to accompany them only until their birth. He allowed us to embrace them, to baptize them, and to entrust them to the Father's hands in peace and in confounding joy.
"Now, He has entrusted us with this third child, Francesco, who is healthy and will be born soon, but He has also asked us to continue trusting Him despite a tumor that I discovered just a few weeks ago, and which seeks to make us afraid of the future, but we continue to believe that God will do great things this time as well." (Chiaracorbellapetrillo.it)
Her cause for beatification could be examined in the light of the motu proprio Maiorem hac dilectionem ("Greater love than this"), published in July 2017, which opened a third path for beatification: the heroic offering of one's life.
Read more:
Who will take the pope's new road to canonization — offering one's life?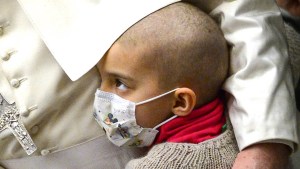 Read more:
Why do the innocent suffer? Pope Francis gives this answer